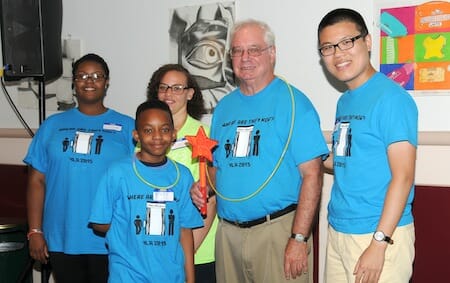 Meet Daily Point of Light Award honoree George Whitehead. Read his story and nominate an outstanding volunteer or organization as a Point of Light.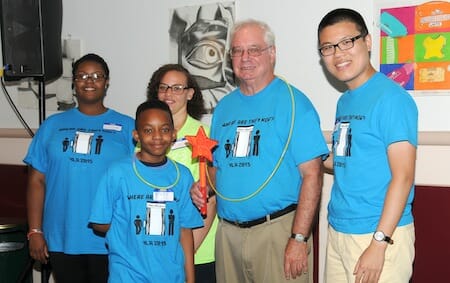 George Whitehead, second from right, celebrates with recent Youth Leadership Academy graduates. From left, Lena Ward, Noah Hughes and Zoey Mckenzie. On the right, Derek Wu.
George Whitehead uncovers young leaders who, without encouragement, might never discover their ability to lead.
"Sure, if you join the Boy Scouts you receive leadership training," says Whitehead, 69, a psychology professor at Salisbury University. "The same for if you decide to participate in student governance. But if no one steers you in those directions, how do you get there? We want to make sure that those nontraditional candidates don't fall through the cracks."
Long involved in education – having participated in the state and county parent-teacher associations, on the Wicomico County board of education and with the local chapter of the youth-focused America's Promise Alliance – in 2005 Whitehead founded the Youth Leadership Academy in Salisbury, Maryland.
During the last decade, about 500 middle and high school students – evenly split between male and female but skewing toward young people from minority backgrounds – have used their Youth Leadership Academy training to benefit their schools, communities and beyond.
One graduate became a student representative for the Maryland State Board of Education, another was chosen to bear the Olympic torch in 2010. Several interned on Capitol Hill and others earned scholarships to college.
"I think the skills we introduce – public speaking, working with teams – are really important in building confidence and determining what it is you'd like to do with your life," Whitehead says.
Each summer, the program selects about 60 students, through recommendations from principals of the county's four high schools, on-site recruitment and word of mouth. The academy invites the students to a three-day, all-expenses-paid, intensive program.
Academy students meet with civic and business leaders and listen to motivational presentations. As a group, they conduct research related to their year's theme, such as world leaders or diversity. Then they leave behind their own "footprint" – papier mâché versions of Transformer toys representing the theme of transformation, for example – as a gift to the community.
At the conclusion of the program, students are invited to come back in January (about half do), when they make arrangements to meet regularly to choose a theme and schedule speakers for the next year's academy program. For many, the effort is their first attempt at applying their newly acquired leadership skills.
"I think we all need to invest in our communities to make them work," Whitehead says." For me, it's always been really important to help young people reach their potential. Experiences like this level the playing field."
Share this post