Giving Bouquets of Smiles to Cancer Patients One Paper Flower at a Time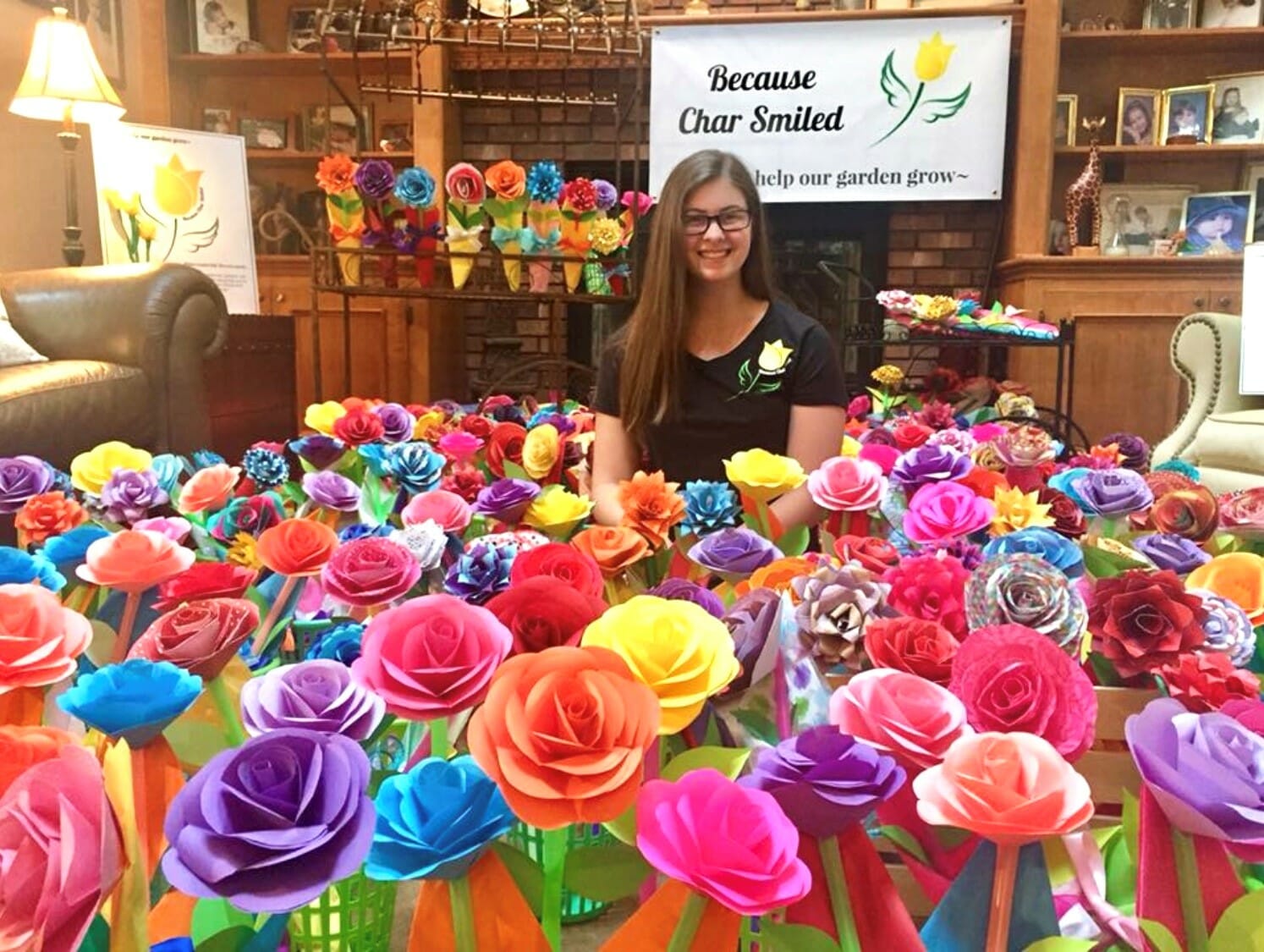 Sarah LoCurto believes that when words fail, flowers speak volumes. By the time Sarah was 15, she had lost her grandfather and a close family friend to cancer. Wanting to do something to make a difference, Sarah dreamed up the idea of giving hand made paper flowers to cancer patients, who because of their compromised immune systems, can't be around fresh flowers or plants.
Last year she started Because Char Smiled named for Charlene Weishaupt , the friend who lost her battle with cancer. What started as a local project delivering paper flowers to Roswell Park Cancer Institute has grown across the state and beyond, with Sarah traveling to provide training workshops to groups from the Girl Scouts to 4-H clubs, churches and even the state's Federated Garden Club chapter, a ripple effect that would certainly make Char smile.
Sarah is committed to making a difference in her community and is today's Daily Point of Light Award honoree. Points of Light spoke with Sarah about her commitment to service.
What inspires you to volunteer?
You do something for one person and it impacts them, and that has some kind of effect on all the people they know and are connected to, and so on, affecting people on a large scale. And maybe one person in that network is inspired to volunteer, too, or maybe more than the one. Something that starts small becomes a movement that has the capacity to change the world.
Describe your volunteer role.
I am the founder/creator of Because Char Smiled. We hand make paper flowers and donate them to brighten patients rooms at Roswell Park Comprehensive Cancer Center. For about a year, I've been traveling throughout Western New York to more than a dozen different towns and cities, giving flower workshops to people of all ages. Through Because Char Smiled, groups such as Girl Scouts, 4-H and summer camps learn how to make these paper symbols of hope and love. I get to be a leader, a teacher, an artist, and even a bit of a gardener. Each role is unique, but they're all me, and more importantly they all help bring a bit of happiness to the world.
What's been the most rewarding part of your work?
The opportunity to truly become involved with the community. Each workshop is more than just a day of flower making. It's a way to inspire people and encourage them to be kind, follow their passions, and believe in their ideas. That might mean intensive volunteering, but it could just as easily be a conscious effort to smile at people and make connections. So I'd say the biggest reward is the possibility that Because Char Smiled will have a positive, lasting impression on someone.
What have you learned through your experiences as a volunteer?
So many things! I've learned that it takes a lot of work to turn an idea into a reality. I've learned about many great programs that promote leadership and volunteering, and I've met some wonderful people through them. I've also learned that there is absolutely nothing better and more important than true human connection. Hearing people talk about their struggles and their triumphs is an amazing opportunity to connect on an important level. To be able to empathize and understand where they're coming from and have a stranger become a friend is a beautiful thing.
Are there any future partnerships, programs, or events that you are excited about?
Recently, I've had the privilege of meeting with the Federated Garden Clubs of New York State, Inc. to give tutorials to local chapters. The 8th District has more than one thousand members – that means a lot of flowers for local patients. But this is especially exciting because the NYS Club President introduced Because Char Smiled at their annual statewide meeting, and that kind of exposure means flowers could be donated to hospitals statewide. Not to mention, it's pretty cool that people who are professional gardeners and work with live plants want to get involved with paper flowers.
I'm also excited to be invited back to work with the Leaders in Training Program at the WNY United Against Drug & Alcohol Abuse, Inc. It's a summer camp of seventh and eighth grade students, and with 100 kids attending, it was the largest workshop to date. I'm looking forward to returning next summer.
Why do you think it's important for others to give back?
Not only do you help other people through your actions, you feel a sense of fulfillment. You know that you bring a little more light to a world that can be chaotic at times, and that's something to be proud of. When we give back, we're creating a better world for someone, somewhere, and that's an amazing feeling. There's nothing else like it.
What do you want people to learn from your story?
I would hope people learn that the only thing stopping them from achieving their dreams are the limitations they place on themselves. It's crazy to look back and see how far this project has come. At one point it didn't exist, then it was just an idea, and now it's grown so much that it's actually hard to believe. It's hard when you're young- you know you want to do something, but you don't know what, or how. I started Because Char Smiled when I was fifteen, but the dream had been there for years. I just hope it shows people that we truly can accomplish whatever we aspire to, we just have to start believing that it's possible.
Do you want to make a difference in your community like Sarah? Visit All for Good for local volunteer opportunities.
This post was written by Beth D'Addono.
Share this post