Giving Students Their Voices and Confidence in Oral Communication
Meet Daily Point of Light Award honoree Siyona Singh. Read her story and nominate an outstanding volunteer or family as a Daily Point of Light.
Since Siyona Singh was a child, she found a passion for both written and oral communication. She enjoyed delivering speeches standing on the couch of her living room, and writing novels and short fiction. As Siyona grew older, she found communication to be an incredibly important mechanism for change. Throughout her life, Siyona has used her communication skills to facilitate meaningful discourse around difficult issues in the community.  
Through Forensics, a competitive speaking league, Siyona researches, writes and delivers oratories on confronting psychological biases like generalizations, groupthink and deindividuation to improve the diversity and equity of society. 
Understanding that public speaking is a major debilitating fear for many, Siyona made a goal to support youth as they navigate the world of communication and give them more confidence in their voices. Since 2021, Siyona has served as the Chief Executive Officer of Speech for Public Education, Action, and Knowledge (SPEAK).
Since its inception, SPEAK has equipped over 1,100 students internationally with the tools to overcome fears of public speaking. By providing individualized curriculums aligned with students' needs and a network for speakers to access growth opportunities, hundreds of students now have a greater sense of pride in self-expression. 
Siyona also writes a blog called Keynesis, where she explore important topics within policy and economics that raise awareness about what's going on worldwide and how her readers can help facilitate change.  
What inspires you to volunteer?
I always knew how central communication skills are to engaging with one's community in a proactive way and succeeding in both an academic and professional realm. Communication skills allow us to form connections, influence decisions and motivate change.  
But despite its many benefits, the reality is that public speaking is still one of the biggest fears across the world today. It can be extremely difficult for children to find confidence in their voices without an adequate support system in school. I actually saw this firsthand with my sister, Aanya, who had a fear of speaking in public so intense that she would become nauseated before any type of school presentation and refrain from ever asking questions in class. Aanya was so intelligent, but wasn't able to express herself or her ideas effectively, and her performance in class suffered as a result.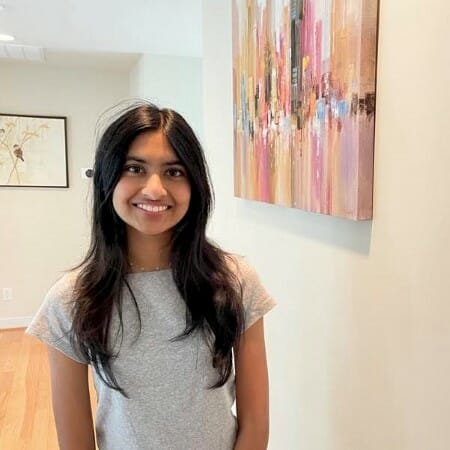 Though it's still a work in progress, I helped Aanya slowly come out of her shell and speak up, by pushing her to be uncomfortable and find power in expressing herself. 
With the goal of amplifying other unheard voices in my community and beyond, as well as providing tools for youth advocacy, I lead Speech for Education, Action, and Knowledge (SPEAK). 
Describe your volunteer role with SPEAK.
As the Chief Executive Officer of SPEAK, I'm responsible for overseeing the operations of all departments: outreach, education, tech and more. I plan monthly calls and direct the program of work for each department. I coordinate partnerships and workshops with schools or other organizations, and help design curricula to ensure they're meeting the appropriate standards. I train our teachers through virtual check-ins and instruction to maintain the quality of our student-run workshops.   
What's been the most rewarding part of your work?
We've done so many different workshops but one that was especially meaningful for me was one that we hosted in coordination with a Virginia Department of Education nonprofit called "I'm Determined."  
I redesigned our SPEAK curriculum to cater towards nontraditional learners. I, along with other members of the SPEAK team, was able to work with more than 15 James Madison University (JMU) students impacted by disabilities to help them develop self-advocacy and self-determination.  
By giving them the tools necessary to articulate speech and by actively listening to what they had to say, we created an environment where they felt immensely more comfortable speaking up for themselves and feeling heard. Knowing the immeasurable barriers they face on a day-to-day, it felt so fulfilling to be able to empower them. 
What have you learned through your experiences as a volunteer?
I think more than anything else I've learned how to be adaptable. As a teacher of students who struggle in regular academic settings, it's not enough to just execute on a one-size-fits-all approach. I have to be willing and able to adjust the curriculum and cater my teaching to the students and their unique needs.  
Are there any future partnerships, programs or events that you are excited about?
We've taken a bit hiatus as we get back into the chaos of school and senior year, but we are in the works of a program in partnership with a local STEM education nonprofit. We are envisioning this to take on almost a Model UN-like format, where the students will research on a given topic from the lens of a particular country/official and report out on their claims in a debate setting. 
Why do you think it's important for others to get involved?  
Volunteerism is important because it enables us to mobilize underserved communities while learning critical skills for ourselves.  
I learned how to work with diverse and unique student populations, and as a result, grew in my ability to be resilient and adaptive. Not only am I helping students find their voice, I am also helping them feel empowered to succeed in the environments in which they belong — and I think that's super valuable and fulfilling. 
What do you want people to learn from your story?
Sometimes something as simple as sharing what you love with others can make all the difference in someone's life. Little did I know that a desire to share with others my passion for communication would lead to a nonprofit that's been able to help more than 1,000 students overcome public speaking fears and advocate for themselves. But impact comes in so many different forms, and if there's one thing someone takes away from my story, I'd hope it's that.  
Do you want to make a difference in your community like Siyona? Find local volunteer opportunities.
Share this post