Special Olympics Volunteer Inspired by Stories of Sportsmanship, Inclusivity and Unity Among Athletes
Meet Daily Point of Light Award honoree Briana Haines. Read her story and nominate an outstanding volunteer or family as a Daily Point of Light.  
Briana Haines, a manager at KPMG, had no idea that she'd one day be working closely with golf athletes in the Special Olympics. When she was approached by a KPMG partner with a volunteer opportunity, she jumped in "with both feet," eventually serving as a Special Olympics Missouri board member, unified sport delegate for Special Olympics International and more. 
Briana is always willing to volunteer her time and skills to Special Olympics and has played a significant role in KPMG's sponsorship of the Special Olympics Inclusive Youth Leadership Summits. Whether she is acting as the KPMG keynote speaker for the Special Olympics Digital Summit or a mentor to Special Olympics youth leaders, Briana leads with passion and purpose.  
Brie is an active member of KPMG Business Resource Group, Abilities in Motion (AIM) where she continues to promote an inclusive culture by being an advocate and ally for people with disabilities. She has used her voice and leadership skills to impress the importance of people-first language, to influence decisions around accommodations and to make information accessible for people of all abilities. In addition, Briana is very involved in her local office's Community Impact initiatives and can often be found with her fellow KPMG employees giving back to their communities in meaningful ways.
Describe your volunteer roles.
I volunteer for Special Olympics North America and Special Olympics International,  as well as Special Olympics Missouri. I have a few different roles. On the Special Olympics Missouri side, I serve on their board of directors and chair of the Development Committee. I do a lot to help raise funds, I'm very involved with the athletes across the state – they're honestly my driving passion behind the volunteer work I do.  
For Special Olympics North America, I'm part of a volunteer group that is the national golf tournament leadership team, and I manage the volunteers there. Since I'm a member of the leadership team, I also have input on the golf courses we select, if we're discussing rule changes, etc. which is really neat.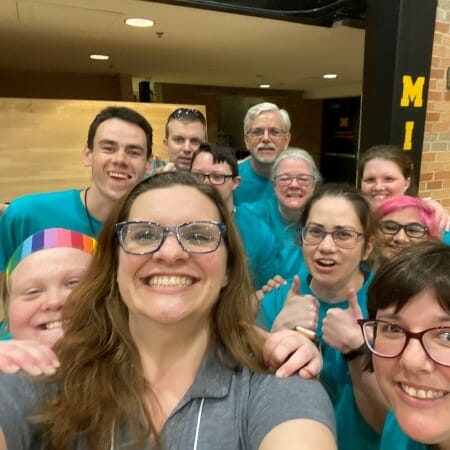 For Special Olympics International, I'm a unified sport delegate for the sport of golf. Part of that is I get to go to the World Games every four years! I went to Abu Dhabi in 2019, I'm going to Berlin in June 2023 and I actually went to Berlin this past June for their national games as a test for the World Games next year. So that role is making sure that any unified team is playing with the principle of meaningful involvement as their main focus. How unified works in golf is you have a unified pair, so it's one athlete – a person with an intellectual disability – and a unified partner, who is someone without an intellectual disability. They play alternate stroke golf together. They have to collaborate, plan their shots… it's a very strategic game. I make sure they're working together, that they're truly playing unified, that no one is dominating the play. I really love it because it gets me out there interacting with the athletes and their unified partners and spreading the message of being inclusive. 
How did you initially get involved with The Special Olympics?
I'm a terrible golfer… I blame it on my left-handedness! I got passionate about golf because of the Special Olympics. It was kind of a big start! It was through my work at KPMG, when I had a partner approach me soon after I started working there, and she had heard through my former role with the mayor of Kansas City, that I was really involved and connected with the community. She's very involved in corporate giving, and I didn't know this at the time but her sister is a Special Olympics athlete. So this partner was very involved and was getting a partnership going between Special Olympics and KPMG on the national level. 
We were sponsoring a golf tournament and she asked if I would help her with the management of the volunteers. That sponsorship is how I met my golf team that I'm with now – we've been inseparable since 2013, and we have a core group that's really close! That led into the USA Games in New Jersey in 2014. My role just grew, because I was really good with the volunteers and the athletes. My excitement about working with the athletes rubbed off on our volunteers. 
The experience is not about you; it's really about the athletes and making sure they're having the best experience they can have. They're competing at a high level and they need volunteers in order to succeed. We have a lot of repeat volunteers who travel all over the country to volunteer for golf! From there, people started saying my name in good ways! I got nominated to be on the board for Special Olympics Missouri. The CEO of Special Olympics Tennessee put a word to Special Olympics Missouri to recommend me as a board member, so I started volunteering locally, in my own backyard, too.  
That also led to me getting connected to Special Olympics International. Someone recommended me for unified golf because of how passionate I am about inclusivity. Having all of that experience helped when I interviewed for the board seat. I may not have tons of money to donate, but I'm a great fundraiser and I don't mess around with causes I'm passionate about, and the Special Olympics athletes make me passionate.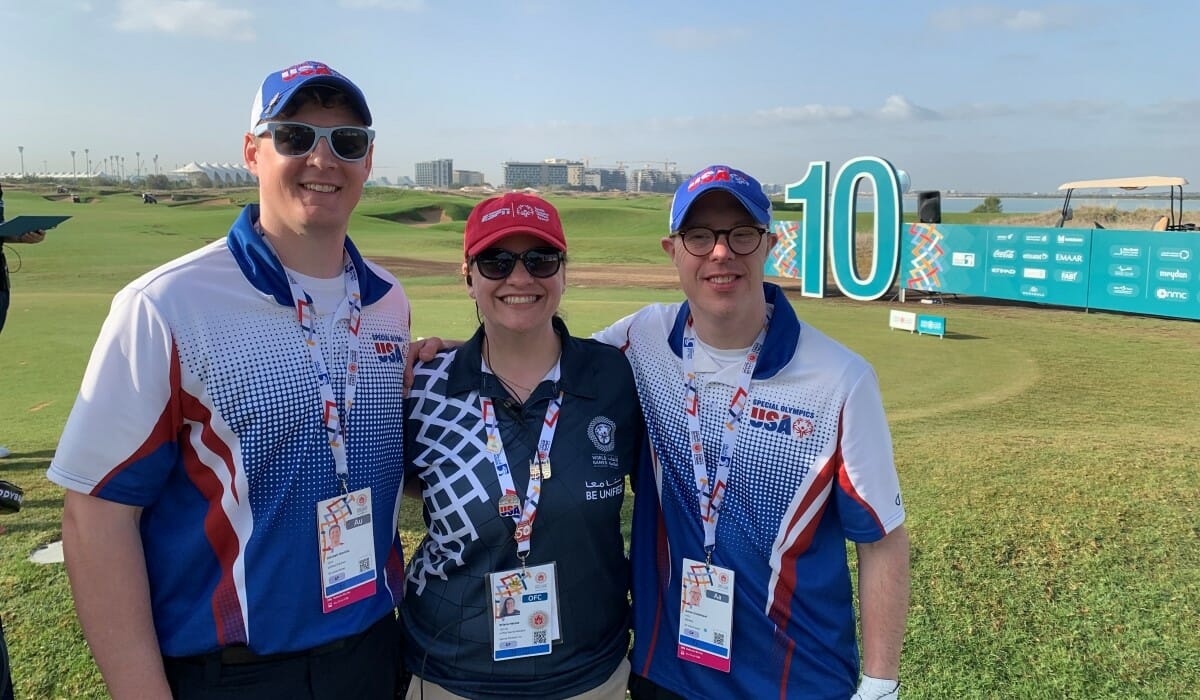 Any rewarding stories/experiences from your work?
I have so many stories. Overcoming language barriers on the international level, promoting unified in countries that don't have strong unified programs, and so much locally. 
The first one I want to share is from Special Olympics Missouri, locally. I was at a Special Olympics regional swim meet as an event manager. It was a long day of swimming, emotions were high. You're competing against yourself and against everyone else! I love the athlete oath for Special Olympics, "Let me win, but if I cannot win, let me be brave in the attempt." One of the athletes was really struggling. You could tell she kind of wanted to give up and be done, and Abby, one of the athletes, saw a fellow athlete who was struggling and she swam to the center, and just cheered her on, after having already finished her race and gotten a gold medal in her division. The important thing to her was that everyone finished. The athletes got out of the pool, and they hugged. Everyone was so emotional! 
From the unified golf piece, I was in Seattle in 2018 for the U.S. games. It was a unified pair, Doug and Cade. Doug is Cade's dad and they play unified golf together. They were divisioned with another father-son unified pair. The athlete was Jared. Cade and Doug were second, and Jared and his dad were in first. It was after everything was said and done, time for medals, on this huge stage, with so many people there. I was the person passing out the medals.  
They called the third-place winners, then called the second-place winners, Cade and Doug, then called the first-place winners, Jared and his dad. Jared got stage fright, and he did not want to get up on the podium, and Cade looked over and went over to Jared and said, "Come on buddy, I'm right here, let's do this together." And Cade led him over and walked up the stairs together and they just hugged. Jared's dad came over and looked at Cade's dad, and the emotion came over him and he just started bawling. It was so special and so amazing. There wasn't a dry in the place. In that moment, so many people in the audience who didn't initially feel that pull had their "aha" moment. 
Any advice for people who want to start volunteering?
I mean, honestly, just do it. Just jump in with both feet. Don't be scared. Ask questions if you're unsure. I think people who have never had an experience with a person with an intellectual disability in a setting like Special Olympics can sometimes be scared or unsure they're going to say or do the wrong thing. I guess my advice is to put that all away. If you are unsure, just ask. You're just volunteering with other people. Special Olympics athletes are people first. All they want is the same experience that everyone else is getting. Why wouldn't you want to be a part of that?  
Do you want to make a difference in your community like Briana? Find local volunteer opportunities.  
Share this post