Hawaiian Volunteer Makes Crafts for National Tropical Botanical Garden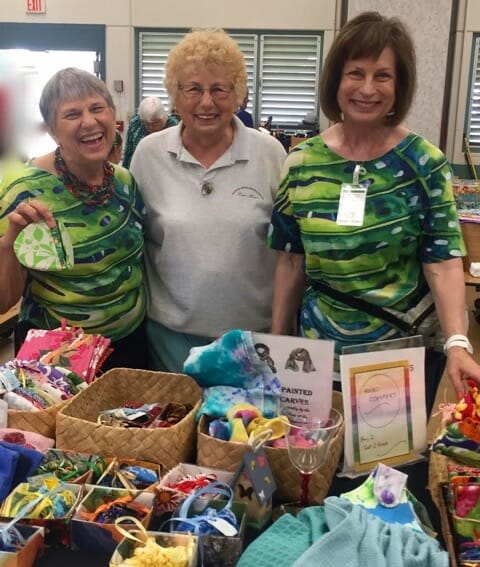 Living in Hawaii, 70-year-old Margaret McGinty sees beauty in many corners of the tropical 50th state. Holding a special place in her heart, however, is the National Tropical Botanical Garden on the island of Kauai, where she is the lead member of the Oshibana Arts and Crafts group.
Making a variety of crafts, the volunteers, many of them seniors, create pieces of beauty to help the not-for-profit conservation science and research organization fundraise at the gift shop and events. According the Margaret, a retired school teacher who says crafts have always been a part of her life, her volunteerism is a way to remain active, and tap into that passion for good, as the organization dedicates itself to discovering, saving and studying the world's tropical plants, and sharing that knowledge.
Margaret is making a difference in her community by empowering other senior volunteers like herself to stay active and social, while contributing to NTBG, and is today's Daily Point of Light award honoree. Points of Light spoke to Margaret to learn more about her work with NTBG.
What inspires you to volunteer?
I've always volunteered in very many things, it's just part of what I do. I volunteer for NTBG and I also volunteer with other groups. I volunteer about 1,000 hours of my time annually, both at NTBG and at the local Kauai Humane Society. I am an active foster parent for kittens there.
Describe your volunteer role with National Tropical Botanical Garden.
I serve as the coordinator for our group of volunteers. I work together with the organization's volunteer coordinator to maintain and administer the budget, and plan out when we will participate in craft fairs. I volunteer once a week at the NTBG, but sew my craft projects each day at home.
You've described yourself as a "green" person – how does that intersect with your service?
Years ago, when recycling first started, I would collect other things for people. I wanted to save the world. I like to be thrifty in the sense that I recycle and reuse. The garden and their mission is for the most part, aligned with those values as they are trying to save particular plants.
What's been the most rewarding part of your work?
Pleasing the public by what we make and certainly, I like to please the volunteers we work with in our group. I really like it when they respond, and are enthusiastic about the projects we are working on. Since we sometimes have the opportunity to go out to the community with these craft fairs, and show off our work, those of us who are behind the table are representing the garden and its mission. We are proud to demonstrate what we are doing and share more about the gardens with the public.
What's your favorite flower at NTBG?
The orchids (laughs). In Hawaii, we just have them out in the garden and they just grow beautifully. Anywhere else you live, the humidity and sunlight isn't always ideal for them.
You sew each day. What's your favorite craft that you've made?
It was the first project I ever made, and I still make the most of as opposed to any other craft. It's a small jewelry bag that was unique in that nobody else had seen it. Our group makes a variety of crafts – not everyone sews. From hand-sewn baby balls, to beautiful pressed dried flower bookmarks, the group is incredibly talented.
Is there an upcoming event for NTBG that you are excited about?
We have our holiday craft fair in December on the garden grounds. Please check our website for more information: https://ntbg.org/.
What have you learned through your experiences as a volunteer?
I just enjoy it from day to day. I know I learn more each day.
Why do you think it's important for others to give back?
It's so emotionally rewarding to be unselfish, and to think of others.
What do you want people to learn from your story?
If you have passions in your life and you happen to have a career that rewards them like I did in Special Ed, you certainly can transfer them to other areas. I didn't grow up thinking I'd work in a botanical garden. But here I am.
Do you want to make a difference in your community like Margaret McGinty? Visit All For Good for local volunteer opportunities.
Post written by Marlena Militana.
Share this post