Helping Others is an "Easy Call" Through UMPS CARE
Meet Daily Point of Light Award honoree Deanna Reynolds. Read her story and nominate an outstanding volunteer or family as a Daily Point of Light.
As the volunteer coordinator for Major League Baseball's UMPS CARE, Deanna Reynolds donates hundreds of hours of time each year to support their events. Deanna's husband inspired her to be part of UMPS CARE. In fact, she has been with the organization since day one. UMPS CARE was started as a grassroots initiative to help Major League Baseball umpires and umpire families get back on their feet. The organization has since expanded beyond its original scope. When it comes to being a volunteer coordinator for UMPS CARE, Deanna says she is all in.
In addition to organizing their signature fundraiser, the UMPS CARE Golf Classic in Arizona every January, she plans smaller fundraisers at area restaurants and stores, participates in monthly conference calls, assists with ordering new apparel and attends UMPS CARE events at ballparks across the country. Whether it is spending a few hours at Phoenix Children's Hospital to distribute Build-A-Bears to kids undergoing treatments or making sure everything is set up properly at the Golf Classic at 5 a.m., Deanna makes things perfect for this amazing organization.
"Whatever is asked of me whether, by my husband or board member or staff member, I am willing to do," she shares. "I look at this as not just that I'm volunteering, but it's my passion – it's my unpaid passion."
Deanna coordinated her first event at the Phoenix Children's Hospital. She had a group of volunteers and Arizona Diamondback umpires visit children with a terminal illness. They gave the children teddy bears and shared words of encouragement. During her first event, Deanna went into 'management mode' and helped coordinate everything between the volunteers, hospital, and patients. After having her own son the following year, Deanna had a whole new perspective on the impact UMPS CARE could have on other people's lives.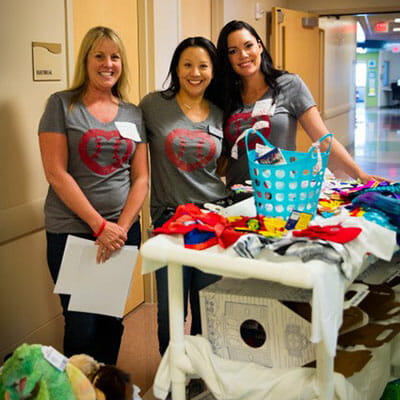 "During that second event—that's when it really hit me," says Deanna. "This organization is going to do so many more wonderful things. I became more all in—not just because my husband is part of it. Now I truly want to serve these children, these families. I came home and looked at my two-month-old son and thought 'Whatever it is I need to do, I'll do it' because I am so blessed to have a healthy child'."
Now she's been helping with the Phoenix Children's Hospital event for ten years. Even after a decade, Deanna says her volunteer work still has the same impact on her. She describes her coordinator role as fluid, coordinating with hospitals weeks in advance to make sure everything is on point. She also helps out with various committees tied to the organization helping to brainstorm ideas. Deanna says that the hospital visits have a positive impact on the umpires too.
She remembers her experience with an umpire who was particularly scared and did not want to participate in the hospital visit. "I had to buckle down and coach him through it," she said. "I even got him on some local TV stations to do interviews. By the end of the hospital visit, I had a moment to sit down with him and talk about his experience. He just burst out into tears when it was the two of us—because obviously we're not allowed to cry in front of the children and their families—and said this was the greatest day of his life and he was grateful I made him stay."
Deanna has been moved by how much the organization has grown since it started. They now serve 16 children's hospitals, provide ticket programs to underserved communities, and expanded into minor league baseball. They've recently begun the All-Star Scholarship, which is open to children adopted at or after the age of 13 to provide increased opportunities for advanced education. Each year, they select one student who is eligible to receive up to $10,000 annually to go towards tuition, books, and other college-related expenses. They've also reached out to other sports organizations such as NHL, NBA, and NFL to have referees participate in their own CARE programs.
Deanna says the biggest takeaway she wants people to have is to not be afraid to put themselves out there. "It doesn't matter your background, your experience, or your age, you can make a difference. Whether it's five hours out on the golf course whether it's two hours at this event – it doesn't matter the time. It takes a village."
Deanna is continuing to expand UMPS CARE through golf and hospital events.
Do you want to make a difference in your community like Deanna Reynolds? Find local volunteer opportunities.
Share this post