Senior Serves Underprivileged Children with "Heart"
Meet Daily Point of Light Award honoree Judy Welch. Read her story and nominate an outstanding volunteer or family as a Daily Point of Light.
As a former school nurse, Judy Welch worked on the south side of Tucson, Arizona, where she met many students whose families were just barely scraping by. Realizing that some underprivileged families weren't able to support education and provide resources for their children, Judy decided to serve similar children in need.
Volunteering since 2016 for Angel Heart Pajama Project, an organization which supplies pajamas and books to underprivileged children, Judy has been able to share comfort, love and the importance of literacy with hundreds of children across southern Arizona.
What inspires you to volunteer?
After I retired I was still looking to be involved in the community in some way. Volunteering for Angel Heart Pajama Project was just a natural step, because I'd helped children in my former career, and now as a volunteer, we make sure the neediest children are served. In providing pajamas and books to children, we are letting them know that someone cares.
Explain the story behind the Angel Heart Pajama Project.
A former colleague of mine is the co-founder of the organization, and their mission is based upon her mother's story of survival. Her mother, who immigrated to the U.S. from Cuba with her two children to escape political, religious and economic distress, took care to find the money or means to purchase new pajamas and books for the children at Christmas no matter how much or little they had. Understanding that their Christmas tradition provided them with stability and a love for reading, the organization was created to share this family tradition with other families who are struggling to make ends meet.
Describe your role with Angel Heart Pajama Project.
As a volunteer, I pick up pajamas from donation centers and partners within Tucson and across southern Arizona. Additionally, I fold, package and distribute pajamas for donation. I also am a pajama shopper, I will spend hours shopping for pajamas when our stock is low, sometimes purchasing as many as 80 pairs of pajamas for children at one time. We package pajamas and books for children and then distribute them to partner organizations.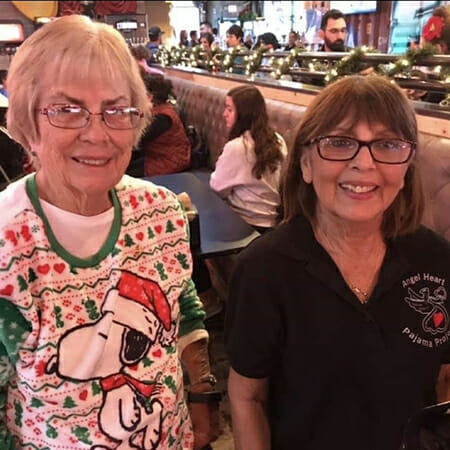 Share one personal story with me from your volunteerism.
We help children in shelters, foster homes or children that have been abused, but we'll also help any family in need. At Christmas, we supply around 30 agencies with items that fulfill children's wishlists. Each child receives a drawstring bag with their name on it, with a pair of pajamas and a book inside.
What's one way you hope to inspire others in your service?
I want to inspire others through our advocacy for underprivileged families. Working in the school system as long as I did, I saw kids that could barely read at the end of elementary school because of instability in their lives. Service of any kind that helps growing children should be an inspiration.
What's been the most rewarding part of your service?
It's rewarding to see all the agencies pick up their orders and see how much they appreciate the donations. They sometimes share the reactions of the kids to our donations, some of the kids are so amazed that they have a book of their own that they can take home and don't have to give back.
In one word what does volunteering mean to you?
Sharing.
How can readers help?
Please visit the Angel Heart Pajama Project website for more information.
Do you want to make a difference in your community like Judy Welch? Find local volunteer opportunities.
Share this post