Helping to make STEM opportunities available for all
Meet Daily Point Award honoree Andrew Gao. Read his story and nominate an outstanding volunteer or family as a Daily Point of Light.
The way Andrew Gao sees it, careers in science, math and tech should be available to all. And that starts with opportunities in school. The gifted teen saw clearly that less advantaged students weren't given the access to STEM opportunities that more privileged students were afforded. This inequity translates to an inequity in the job market as well, which in turn deprives all communities of the brain trust needed to affect change. He decided to change that by founding the Helyx Initiative, a non-profit focused on providing STEM workshops and opportunities to all students. Because of the COVID-19 pandemic, many families struggling financially, making it even harder for students to get into STEM. Now, more than ever, Andrew believes it is critical to open STEM doors and promote socioeconomic equality to everyone, not just those who can easily afford it.
Describe your volunteer role?
I am the CEO of The Helyx Initiative so I help run the organization and keep everything going smoothly, from our educational blog to our workshops. I also get involved personally by creating science courses, organizing workshops, and more.
Why is it important to you to support your community in this way?
I wanted to provide research opportunities for other teens. I realized last year that so many of my peers are interested in doing science research but they don't know how to get started. Many science research programs for high school students are expensive or highly selective. Overall, it is important for all students to have access to free science programs. STEM jobs are generally high paying and economic inequality will only be worsened if only wealthy students can enter STEM. I want to use my science knowledge and leadership skills to help those who aren't as privileged as I am.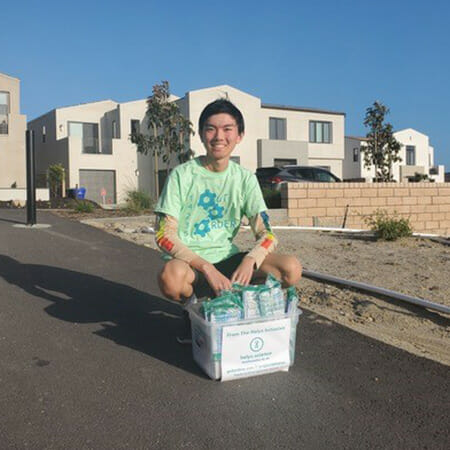 What's the most challenging aspect of your volunteer service?
The most challenging aspect of my service is to reach a diverse audience. Initially, we had poor gender and ethnic diversity at our events but through active promotion and outreach, we've been getting closer to equality. For example, at our hackathon, more female-identifying students than male-identifying students registered. We have been seeing around 50/50 gender ratios at our recent events.
Why do you think it's important for others to give back?
I think it's important for others to give back since we should be appreciative of our privileges and how others helped us. I certainly wouldn't be where I am today without the help of countless generous people, many of whom I'm not able to directly help in return. I want to pay forward their kindness by giving back and helping others.
What's been the most rewarding part of your work?
Seeing students who were initially unconfident about bioinformatics finish a lesson or workshop with a smile and feeling like they are on their way to becoming a scientist. Science can seem very intimidating to young people and many think that you have to be a genius or have perfect test scores to become a scientist. This is of course untrue and I enjoy seeing people realize that and become more confident in themselves after attending Helyx events. It's always very heartwarming to read the event feedback.
What have you learned through your experiences as a volunteer?
I have learned about empathy and communication. My volunteering work primarily focused on teaching science, including often advanced concepts, to high school students with minimal experience. I learned to be able to boil down complex topics into easy to understand sentences. This has been really valuable to me since it will aid me in the future. Many scientists often have trouble communicating their findings to the public so this training will definitely serve me well.
Are there any future partnerships, programs, or events that you are excited about?
We have a few events coming up, such as the 2nd International Youth Research Summit. This is a three-day virtual research conference hosted by Helyx that provides a platform for teen researchers to present their work. At the last International Youth Research Summit in June 2020, around three hundred people registered and more than fifty students presented their science projects.
What do you want people to learn from your story?
I want other high school students to learn that they can make a difference too if they're willing to put in the work. Before I started Helyx, I often thought that I would only be able to make a difference when I was an adult. We often hear things like "you'll do great things when you're older" which conditions us to think that we can only make change when we're a certain age, or have a million dollars, or know people in the right places. I want teens to know that this is all untrue; you can make a difference no matter your age.
Do you want to make a difference in your community like Andrew? Find local volunteer opportunities.
Share this post