Helping Veterans Heal with Support and Service Dogs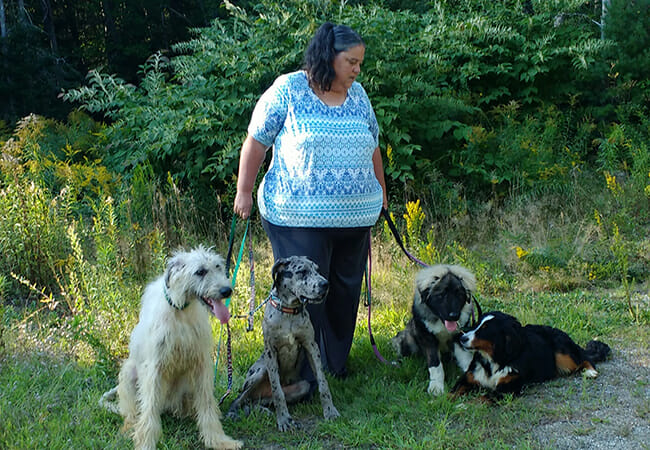 When Kathy Hecht's father unexpectedly became legally blind, she and her family began to brainstorm creative sources of joy to help him cope with having more empty hours in the day. Kathy, who had rescued and trained dogs with her father while growing up, found the answer quickly: a retired Australian shepherd show dog named Eddie, who was no ordinary companion.
Eddie was not just her father's service dog and loyal companion for more than 10 years, his presence was a transformative source of light to everyone. "Training Eddie was an incredible gift of love for my dad that was so personal and special," said Kathy. She believes that a connection with animals can be a powerful healing tool for anyone, and she has proved this through Salute of Service, a nonprofit that seeks to help veterans train their own service dogs at no charge. While working as an adjunct professor teaching animal science at the University of Maine Machias, Kathy received a grant from the Maine Community Foundation to help disabled people through service dog programs. In time, veterans began to seek her out after hearing about the success of her program and knowing the impact Eddie had made in the life of her father, a veteran of the Korean War. She couldn't let the opportunity to help these brave men and women pass by. "Our veterans have paid enough with their service, so we want to offer them this free training as a thank you," said Kathy.
Motivated by statistics surrounding suicide rates for veterans, the idea of supporting their healing process with the help of service dogs was a no brainer. So she created Salute of Service, intentionally using the abbreviation S.O.S. to communicate the urgency of the help our veterans need.
After returning from deployment, veterans often feel both physically and psychologically wounded, and this has a huge effect on how they are able to interact with the world. Salute of Service's training process has quickly become a large part of the healing process for the veterans who participate in the program. They are able to take ownership of training their dogs, and gain the skills and ability to fight feelings of isolation. Veterans can go to the movies, run errands and attend public events, feeling confident that their service dog will be by their side to support and help them.
"The benefits of involving veterans in the training process and providing them with the peer-to-peer support of the other veterans who have similar or shared history and experiences cannot be understated," Kathy said.
Today, Salute of Service has graduated three classes of more than 30 veteran and service dog teams, and Kathy hopes that this year there will be close to 50 graduating teams. She runs three training classes each week, plus monthly weekend education and awareness events. Participating veterans can bring in their own dogs to be trained, or the organization will match them with a dog from a local humane society or breeder. When pairing a service dog team, she listens to each veteran with a warm heart, and considers what unique environments they like to spend their time in. From beaches to snowy terrains and everything in between, Kathy uses Salute of Service to pour love and support into the lives of the people who deserve nothing less. ­
To commemorate the organization's first graduation class, and to honor her father, Kathy created a yearbook celebrating the stories of the veterans who participated. Each veteran received four pages of the book, showcasing how their service dog made a difference in their lives. There is no denying that Salute of Service breathes life into the community.
A year and a half ago, she saw firsthand the fruit of her hard work when a recently graduated service dog alerted community members after his owner had a seizure in a grocery store parking lot. "The dog's behavior with the first responders, his behavior riding in the ambulance and the way he went into the hospital was absolutely exemplary," Kathy said. "People couldn't believe how wonderful he was."
Kathy has turned her passion into a powerful tool of healing, and through that, she is changing lives. The organization is constantly seeking creative ways to fund its service dog and veteran teams, and Kathy is at the forefront of ensuring that the organization will always be around to give back to the community. Salute of Service is a beacon of humble love and leadership, and it's not only a call to action – it's a powerful legacy sparked from the memory of Kathy's father, who recently passed away.
"I love what I do. I love that I am helping others to help themselves, and it is so rewarding to see these teams develop throughout their training," she said. "They've already served our country. Giving back to them for the sacrifices they've already made is something I feel very strongly and passionately that we should all be doing."
Do you want to make a difference in your community like Kathy Hecht? Visit All For Good for local volunteer opportunities.
Share this post