Herbalist Dedicates Life to Providing Accessible Health and Wellness to the World's Underserved
Meet Daily Point of Light Award honoree Denise Cusack. Read her story and nominate an outstanding volunteer or family as a Point of Light.
Denise Cusack has made her volunteer work into full-time job of sorts, spending at minimum 40 hours a week volunteering for the multiple health and wellness-based nonprofits she is passionate about. In times of great need, she even puts in up to 70 hours of volunteer work, all while also working on her Deerfield, Wis. farm and raising teenagers. Many of those hours are put into Herbalists Without Borders, a nonprofit that brings holistic care to communities in need around the world, and for which Denise serves as the volunteer executive director.
Additionally, Denise volunteers as a clinical herbalist with one of Herbalists Without Border's clinics, the Veterans Resiliency Holistic Clinic, which serves veterans suffering from PTSD. She also volunteers for Integrative Medicine for the Underserved, a nonprofit that promotes accessible healthcare in underserved communities, as well as the American Herbalists Guild, an educational nonprofit organization that represents herbalists specializing in the medicinal use of plants.
Describe what Herbalists Without Borders does.
Herbalists Without Borders is a membership-based international network of herbalists and complimentary alternative medicine providers — activists, medicine makers, traditional healers, herb farmers, ecologists, people like that. Our focus is on the role of plants and holistic wellness in primary health and wellness, sustainable agriculture, and the preservation and restoration of traditional healing. What we like to do is often blend Western science with traditional healing and traditional practices, so that we can support herbalists around the world. The World Health Organization says 80% of the world still relies on herbalism as primary medicine, so that's part of our mission in education, resources, and support for people around the planet. For us, we know the focus is on people who have a lack of access to health and wellness due to poverty, or being refugees, or displaced from their homes, war, drought, all of that. We feel that healthcare is a human right and not just a privilege, so that's what all our work is focused on — access to holistic health and wellness solutions through education, empowerment, and advocacy. We have members and coordinators that are all around the globe. A lot of what we do is that education and advocacy within our own network. We connect people in Australia, the U.S., Mexico, Central America, and Europe. Not only do we work on knowledge sharing and resource sharing, but we also support each other when we're responding to natural disasters or catastrophic events.
What is your role within the organization?
I started as the volunteer executive director in 2017. In the beginning, our focus was on continuing the existing programs, so I worked a lot with free clinics, community apothecaries, education, community gardening, trauma trainings, and medicinal seed preservation. Over the past three years, I've created a few new programs. … I welcome new members, I do all of the nonprofit management, grant applications, grant writing, working with all of our donors, working to manage all of our programs, and then also working with members and coordinators around the world to help them implement programs in their own communities. What that might look like is one of our programs might be on accessible community gardens. I also run the U.S. community seed grants program which is where we intake donated seeds from around the U.S. and we distribute them back out to programs so people can get gardens growing in their communities. We know that food is medicine as well. You can tell someone to eat healthy, but if they don't have access to healthy food, all of the holistic wellness and herbs in the world aren't really going to make as big of an impact as if they're also having a healthy lifestyle. So being able to share with people how to start community gardens, how do you grow certain plants that you maybe have no experience growing, how do you work with your community to get a community garden space and make community events and get support. As nonprofit volunteers, we can't all do this alone, so finding ways to get local community involved to support the work we're doing is going to make the most impact. We also work on medicinal seed saving.
Here at my farm, I also grow herbs to donate to Herbalists Without Borders free clinics throughout the U.S., and I save seeds that are redistributed to our inner-city seed grant programs to help people get medicinal plants growing that are native to their areas. I also have the U.S. Community Apothecary donation distribution here at my farm. I intake donations from around the U.S. from larger companies who don't necessary want to send one box to this free clinic and one box to that free clinic. … We have people create wishlists of what they need from our inventory of donations and then I share boxes back out. It could be supplements, like whole foods vitamins can be really helpful and important to people especially if you're homeless, maybe elderberry syrup, maybe herbal teas, maybe chest rubs to support people battling with upper respiratory issues. A lot of times, if people don't have homes, they're dealing with a lot of health risks being out, especially right now during COVID. We ship donations all around the entire U.S. A lot of that stock is here so that we can mobilize quickly if there's a disaster.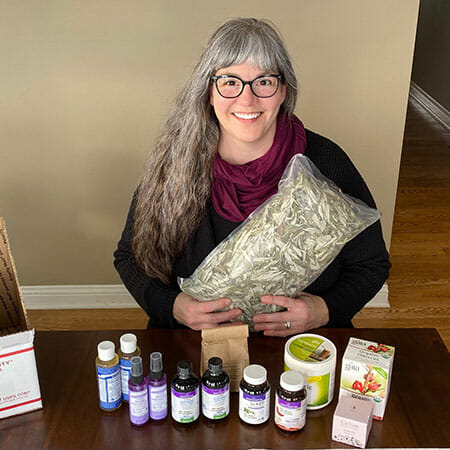 What first drew you to this organization?
I am an herbalist and I also have always been someone who grows food. We've always as a family grown food and had extra where we would take it to the local food pantry. That was something that was really important, to show that we can give back and that we can do something in our own communities that is pretty powerful. Being able to grow food and share it, where people can have fresh and healthy food, I think is really an amazing and important thing for kids to do. That's kind of where we started. When I found Herbalists Without Borders, I thought it really aligned with a lot of what we're already doing, and I thought that the work that they did was really important. … Because I practice as an herbalist in the community, I see there are people that can't afford general holistic support or wellness. It's kind of an elitist modality in the U.S. just because of accessibility. So when we're working to make free clinics accessible to all, we're talking about the people who may be living along the border in tents at this time. They deserve to be able to have access to health and wellness support, healthy food, and be able to feel that they're empowered and can take control of their own health and wellness. We also a lot of times partner with Western medicine as well, and integrative health, because it is so important to have access to healthy food and good habits with our food and our recipes and things like that. Food is medicine and a lot of the herbs and spices we use in our kitchens are also used medicinally in many cultures.
With that also, it addresses culture, which is a big part of healing multigenerational trauma and trauma that's happened to people not only for natural disasters or issues, but also that type of trauma based on racism and different types of -isms that exclude and marginalize people around the world. Being able to include culturally relevant practices by having someone who is a healer in Puerto Rico with traditional knowledge and experience working with their own people, that's going to be so powerful compared to people descending into communities that's not theirs to help. It's always important for people to help wherever they can, but when we can empower people in their own communities to work with the people who they're imbedded with, it makes more longterm change and more systemic and longterm impact. It's also culturally relevant because people are using plants, recipes, and traditional knowledge that is important to them and their culture and their language, which can make people feel more connected and I think have more impact on being healthy and well overtime.
What other volunteer work do you do?
I volunteer with Integrative Medicine for the Underserved because I think it's really important for herbal health and holistic wellness to be partnered with Western medicine so we can make a greater impact on communities. I also volunteer with the American Herbalist Guild, because I think again it's really important we bring the idea of free clinics, community service, and community outreach into our practice as herbalists. I also volunteer as a clinical herbalist with one of our Herbalist Without Borders clinics, which is the Veterans Resiliency Holistic Clinic, which serves veterans who have experienced and are suffering from PTSD. We combine a bunch of different holistic modalities — like somatic practice and mindfulness meditation, yoga, herbalism, aromatherapy — that help give people tools so they can feel they have more control over their own wellness.
Are there any future partnerships, programs, or events that you are excited about?
One of the projects we're working on for 2021 is online training programs for coordinators around the world so they can get additional herbal education that is science-based but supports traditional knowledge as well. That will help them be more effective and more knowledgeable in their communities. Whether it's Kenya or Uganda or Zimbabwe or Australia or the U.S., we want people to have access to education. Those of us in first world countries, we're pretty lucky that we can go online and take a class whenever we want and there's free webinars and we all have Zoom and streaming access, but a lot of places in the world don't. So that's what we're working on, too — finding ways to get educational programs to other countries where they really are in need of additional education and really interested in it. We are working on street medic training. We're working on webinars that do additional training in herbalism, trauma, supporting communities, and all of that. That's really exciting because it's something we wanted to do already, but COVID made us really focus on that more now because we aren't able to go out and host big events with 120 people showing up in person.
What's been the most rewarding part of your work?
A lot of people who are on the ground, they see people they're working with and feel that connection with community, and it's been a little different with COVID for me working in my bubble here at my farm. The most rewarding thing for me is working with the folks who I work with when I volunteer for the Veterans Resiliency Holistic Clinic. I've developed longterm relationships with some of our veterans. It's been over three years now of working with people, and knowing and seeing first hand the benefits and support that people feel. A lot of times, it's not just our health and wellness through fruits and herbs we need, but it's also often our connection to other people. That connection to other people is really where you start seeing the most reward as a person that makes you proud of the type of work you're doing. I can say, "Oh, well I shipped $120,000 worth of supplies from my family room last year," but it's not the same as working with someone one-on-one and making an impact on somebody's life.
What do you want people to learn from your story?
A lot of people look for ways to volunteer. I've seen particularly during COVID people are unsure how they can help or work in their communities. Often people think they need to go travel somewhere and help people somewhere else, and that maybe everything is fine where they are. I think one of the most important things to realize is that there are people in need in all of our communities. There are people who are homeless. There are people who are living in their cars. There are people who are struggling in getting healthy food to their families. By every single person focusing on where they are and what they have, it actually can make a bigger impact than trying to spread our efforts out everywhere else. I know it feels good sometimes when you're like, I'm going to go over there and help those people, but really what we should be doing is helping our people. That can be as simple as growing an extra row of vegetables and donating it to your local food pantry every single week all summer long. It can be as simple as working with a nonprofit where you can put in a few hours and make such a big difference. Our nonprofit is all volunteer. We don't have any paid staff, so even just a few hours a month makes such a big impact on nonprofits that really need help and support to keep their work going. We can all work from where we are and still make a big difference around the whole world that way.
Do you want to make a difference in your community like Denise? Find local volunteer opportunities.
Share this post