He's Gone From Bullied to Bow-Tied With a Purpose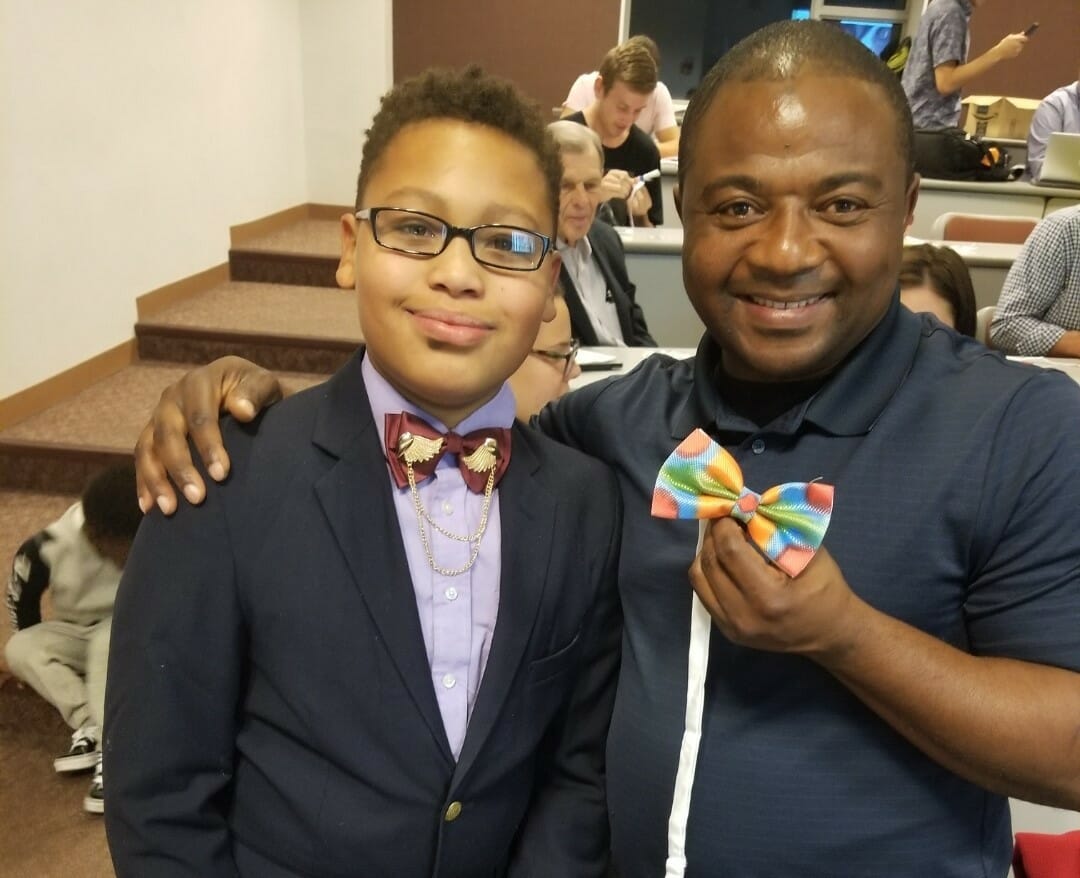 Most 12-year-olds aren't fashion trendsetters or philanthropists. Which is what makes Alex Hart-Upendo so special.
The young entrepreneur, who was diagnosed as both gifted and on the autism spectrum when he was five, founded Build-A-Bow after he was beaten up and bullied for being autistic. Resolved to turn taunts of "nerdy" into a positive self-image, Alex expanded his bespoke bowtie business into a community workshop program, Build-A-Bow for Purpose, offering free workshops to Racine residents every month. Participants learn bowtie design, with their handiwork sent to a rotating list of non-profits, more than 2,000 bow ties to date. When he lost his grandfather, University of Wisconsin-Madison football player Eddie "The Pony" Hart to cancer in 2016, Alex became especially passionate about supporting cancer related causes along with his anti-bullying initiative. Alex is also the author of "Bullies Bowties And Brilliant Alex," a multicultural picture book that encourages children to be kind while bringing awareness to bullying.
Alex is committed to making a difference in his community and he is today's Daily Point of Light Award honorees. Points of Light spoke with him about his commitment to service.
What inspires you to volunteer?
When a house fire took away our home, my mom told me that when God got us out of our situation our job would be to help others through theirs. After my grandfather passed away from cancer, I was inspired to bring joy to others battling incurable diseases. I have also been the victim of bullying and wanted to help and uplift others in the same situation.
Through my free community workshop program Build-A-Bow for a Purpose, I teach people how to design bowties, which I then send to different awareness groups – for example, September is childhood cancer awareness and October is breast cancer awareness. When people receive their bows they know that someone took time to make them something special. I'm just the organizer. Without people taking time to design bows my workshops would not exist. I also tour schools to bring awareness to bullying and have donated hundreds of my books in hopes of inspiring other kids to be the change.
Seeing the smile on people's faces! I'm not paid in money – I'm paid in smiles. I know that I am bringing joy to others battling through a tough time and that's all that matters.
What have you learned through your experiences as a volunteer?
I learned that just because you are one person doesn't mean you can't make a big impact. It's all about taking action! Just get out there and do something.
Are there any future partnerships, programs, or events that you are excited about?
I'm super excited to have recently partnered with U.S cellular. I was chosen to be part of a national campaign for their Future of Good program. I was featured in a national commercial on their platform and tell the world about what we're doing here in Racine to give back. More than a million people have seen the commercial and I'm just amazed by that!
Why do you think it's important for others to give back?
I think it's important because helping others is contagious. When you help someone, they are inspired to help someone else. It makes you feel happy inside when you know you made someone else smile.
What do you want people to learn from your story?
No matter how old you are or what you may have overcome, you can make a difference. I started doing this when I was nine, I was labeled as autistic and people wanted to put me in a box with what they thought I was capable of. You can do anything you put your mind to regardless of obstacles. You just have to believe and work hard to achieve. Because nothing comes from a dream unless you make a plan of action.
Do you want to make a difference in your community like Alex? Visit All for Good for local volunteer opportunities.
Post written by Beth D'Addono.
Share this post