High School Senior Helps Fill the Gaps in Healthcare and Accessibility
Meet Daily Point of Light Award honoree Dhwani Kharidia. Read her story and nominate an outstanding volunteer or family as a Daily Point of Light.

Dhwani Kharidia is in her last year of high school and has already dealt with the reality many Americans only discover when they're looking for their first job away from home. Healthcare in the United States is simply not accessible to everyone.  
She was denied care on multiple occasions because the hospitals in her area didn't accept her insurance. Once, they admitted that they weren't on good terms with her insurance company. 
"I was astonished to see how regular people like me were unable to get basic healthcare because two big companies weren't getting along," she says. 
It was these experiences that led her to start a local chapter of Get a Cane, a nonprofit her brother founded in San Diego two years ago. Get a Cane connects people struggling with mobility issues with DME (durable medical equipment) like walkers, crutches and, of course, canes. 
Initially, she was doing most of the work herself: getting the word out to places like libraries and senior centers, asking for donations, seeking out recipients and more. Today, after collecting over $15,000 in DME donations and 100+ devices, and with a consistent volunteer staff of six or seven, she focuses on managing inventory and scheduling pickup and delivery for her team. Her favorite part, however, remains talking to seniors and others with physical challenges about their needs.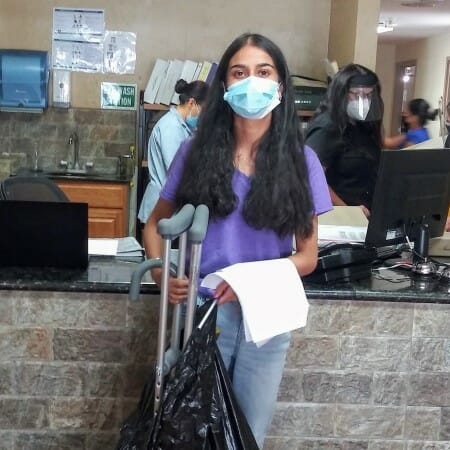 "I knew fixing the problem itself might have been super hard, so I tried to mitigate some of the negative effects of the problem," she recalls. "I took the opportunity to start a new chapter to ensure that the policies did not get in the way of individuals in getting equipment and just, in general, having access to mobility. Mobility is such an essential thing." 
Discussions with a local senior center nurse showed her that while insurance sometimes funds aids for those covered, necessary features aren't guaranteed. For example, if a senior needs a walker, they may be able to get a basic model, but it won't necessarily have a seat for them to rest if they are walking outside. 
She recalls a wheelchair delivery to a senior veteran who had lost a leg during his service. He described how much it would help him in his daily life and was happy to know that someone cared about the difficulties both he and other seniors and veterans were facing. In other words, he felt heard. 
"The most important thing I've learned is how important it is to connect with people that you're serving on a deeper level and to try to understand them,' she says. "That makes your service more impactful. I've learned how important it is to just establish trust with the people whom you serve." 
Upon learning of her work, the community has jumped in with support in the form of donations and references for people who might need devices. Many are happy to have a place to bring DME they no longer want or need. Not only does it feel good to help someone, but it prevents a lot of unnecessary medical waste.  
"It's important to both be generous and to have a spirit of conservation in general, not for just medical items," Dhwani mentions in reference to donations. 
Friends and fellow students have also banded together behind the cause assisting in outreach, social media, and collection and delivery. Angelina Pham, a school friend who now acts as a publicist for Get a Cane, started donating her time after Dhwani convinced her of the need for the work. 
"Her motivations are just really pure and genuine. She's very on top of things. And she's also pretty good at getting others to join the cause. She's very persistent,"  Angelina says. 
Angela, too, has seen the value DME can have on people's lives. 
"I realized that just lending a small helping hand can make such a big difference in other people's lives, and that's kind of beautiful to see." 
Now, Dhwani and Get a Cane are working on a research project that will dive deeper into some of the problems people are facing when trying to obtain DME both with and without insurance. They hope to publish it on their website to highlight why this cause is so important and to assist people in making more informed decisions about donating. 
"Oftentimes, we have simple things, and we think everyone else has them too. It's super important to recognize that not everything that we have is available to everyone else as well. My dad has really taught me to think in that manner," she states. 
As she applies to college, Dhwani focuses on her interest in biology and public health and hopes to open another chapter of her nonprofit to help the area surrounding her future campus. In the meantime, she's happy to provide guidance to anyone looking to follow her lead and encourages anyone looking to volunteer to give it a try. She can be reached through their website. 
Do you want to make a difference in your community like Dhwani? Find local volunteer opportunities.
Share this post