High Schooler Founds Nonprofit to Share Music with Community
Meet Daily Point of Light Award honoree Anna Johnson. Read her story and nominate an outstanding volunteer or family as a Daily Point of Light.
Anna Johnson says she has been a musician for her entire life. The seventeen-year-old violinist and saxophonist performed in competitions, participated in several music groups, and even in her free time, would play for local retirement homes. But when the highly competitive nature of the music world started to make her feel bitter, Anna decided to reconcile those feelings by using her musical talents, as well as her experiences playing for senior citizens, to bring the joy of music to her community.
During her sophomore year of high school, the Augura Hills, Calif. native created the nonprofit Harmonic Youth Orchestra, Inc., as a way to continue to serve both audiences and fellow musicians. The orchestra, which now consists of over 100 middle and high school students, is free and all-inclusive, regardless of playing level, and is focused on creating a fun, pressure-free environment for the performers. The group performs for at least one retirement home each weekend, as well as other events such as a Ronald McDonald House Los Angeles fundraiser for childhood cancer awareness and the 100th anniversary of the city library. Outside of practicing together, the orchestra also provides a peer mentoring program to any interested students, helping to foster the community feel toward music that Anna aspired for when she set out to create her organization.
Describe your volunteer role with Harmonic Youth Orchestra, Inc.
I completely started it toward my sophomore year. Now I'm a senior, so this is it's third year. My whole life, I've been a musician — different instruments, different groups. The inspiration for this group came out of a number of things. First of all it came from my grandpa. He recently passed away, but when I was younger, he would volunteer at the retirement home and take me every weekend when we lived in Maryland. We would go and he would sit there with the patients. I was really little, but I would watch him, talk to them, room by room. People couldn't even leave their room. It was more hospice. It was really inspiring and beautiful, so I had those memories from my youth. At the same time, on my own I had gone and played for different retirement homes as a musician. Every time you go, there's this huge sense of gratefulness and everyone is so happy to hear your play. It's a really peaceful, happy environment. There's seniors who hum along. Definitely a really inspiring way to give back everything musicians have.
Another thing was at the time, I had been a really competitive musician, so I did competitions and I did more solo work. I was growing a little bit bitter toward that competitive nature of music, and trying to edge each other out as musicians and competing against each other. I was in all these groups and you had to pay thousands of dollars just to play with them. This had been turning myself against everything I had done since I was little. I was growing bitter. So I wanted to do something that was completely inclusive of all musicians, completely free. No matter your playing level, everyone appreciates you. I wanted to do something inclusive and focused on service and giving back, and not the more competitiveness and bettering yourself, but bettering the community through music. As a leader in my orchestra at school, I wanted to give the musicians at my school and schools all around these opportunities to feel the same way I did in playing for the retirement homes.
At the beginning of my sophomore year — I'm from a family of attorneys, so we all got together and sat down, got all the paperwork done. We filed a nonprofit and I developed a board. Most are my friends from orchestra, but the board consists of people from different high schools all around the county. We all started recruiting musicians. Right now, we have over 100 student musicians. We used social media and we used all the Google calendar stuff to connect and collaborate and play in concerts across the county, different retirement homes, community events. [We're] a network of chamber musicians and performers, open to everyone, just to enrich the community through music and focus on that aspect.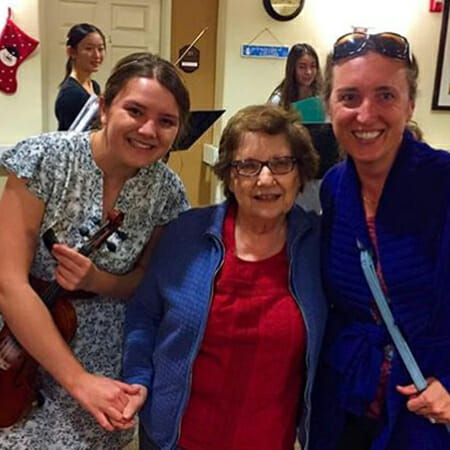 Can you describe the Music Peer Mentoring Program?
Basically, at our school we use the top ambassadors from each subcategory of music. As part of my board for Harmonic, I have it divided into subcategories. We have one for jazz, one for orchestra, one for concert band and one for choir. The leaders of each of those groups offer up their time at whichever high school they're located at, and we'll come in early mornings and we'll sit with students. We offer peer tutoring for any music help they need. We don't have a lot of tests for our music classes, so just nailing down their parts, preparing for performances, helping with recordings for different competitions or for school, stuff like that. Those are for more experienced musicians, but there are also kids at our school who are just starting an instrument for their first time in high school, or want to pick up a new instrument, or just want to learn something new. It varies anywhere from really first-time, inexperienced musicians to experienced musicians — tutoring, helping teach music in a peer-mentoring, friendly, free-of-expense way.
Why is music important to you?
I actually am the first musician in my family, so it didn't come through the family. I experimented with so many different things when I was younger and for some reason music just always stuck with me. I think I have a lot of passion and emotion, and I feel like I can express all of that through music. Stress, anxiety, fear, it all comes out through music. The way you feel when you're playing is beautiful. More so than that, my interest in music doesn't really lie with the technicalities of the instrument or the logistics in playing. It really lies with the community. That's why I decided to start this nonprofit and that's why everything I've done with music in my later-high school years has revolved around community music. I do love the instrument itself, but what I really love about it is how it feels to play together and make music together with a group and with your friends.
Why do you want to spread music to your community and to youth who may not have other access to learning music?
I think like most things, it kind of can be compared to any global debate. Music is something that's incredibly beautiful. It's psychologically proven to have incredible connective powers and it just makes you feel good. It makes your feel great. It brings the community together in a way that nothing else really does. It connects people across generations, which I think is really cool. We'll play music for the seniors at the retirement home and they'll remember it and sing with us, everyone together at once, and it's a really unique and powerful feeling.
That being said, I really don't think that anybody should be discriminated in obtaining or having the opportunity to learn music or experience that feeling. That's why we try to teach music to anybody who wants to learn music, and that's why it's incredibly important to spread it throughout your community.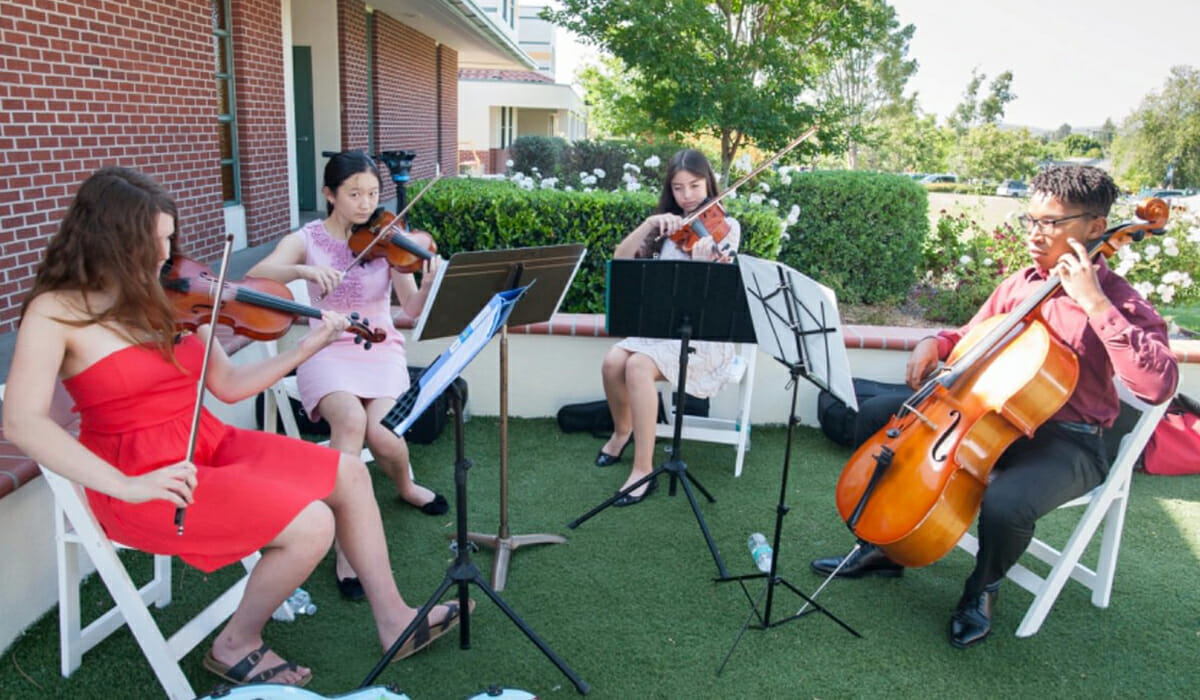 What kind of feedback have you gotten from those who listen to your performances as well as those who are involved in the orchestra?
We perform at the retirement homes and almost always, all the seniors will come up and they'll give us hugs and kisses. It's something you've never experienced before. I think they're more grateful than any other audience member I've ever performed for. They find so much beauty in it. It's really special. It's kind of like a light in their day and it reminds them of their past. For the seniors, we try to play music more from their generation that reminds them of that. They'll come up after and tell us stories. We've had people who were music teachers in their youth or musicians, and they'll tell us all their memories and stories. It's a way of connecting.
The students themselves I think are really grateful for the organization. We've gotten so many involved and I think that speaks for itself. On top of that, I think for almost anyone I've ever talked to and for myself included, I think it's one of the most enriching music experiences we have in the community because it's not stressful. There's no pressure. It's just kind and grateful and everyone appreciates you and it's fun and it's just with your friends. I think everyone really thoroughly enjoys it.
What's been the most rewarding part of your work?
Probably the most rewarding part is being able to get to this point in the organization where it's become extremely self sufficient and self run. Starting at the beginning, it was a lot of work to get everything going. You had to hammer musicians to show up to play and recruit musicians. It was hard to organize performances. Now I feel like I've gotten to a position where the board is very organized and very efficient and can kind of run on our own and I can depend on everyone. We have all these partnerships with different retirement homes across the county and people know us when we show up and play. All the weight has been lifted off recently for me and now it's completely about enjoying the music, and feeling that sense of satisfaction and pride that this is something I created. Watching all these musicians start scheduling things on their own and performing for retirement homes even if I'm not there — I feel like it's extended way beyond myself and will continue after I'm gone, which is one of the most rewarding feelings.
Why do you think it's important for others to give back to their communities?
For every reason, but most importantly I think that community is really all we have at the end of the day. I think it's the most important thing. I think when all else goes crazy, all else fails, community is something that always stands. Recently in my area, we've had a lot going on. Last year, we had those crazy wildfires. We all had to get evacuated, and we had those wildfires again this year. Last year, we had a few shootings in our local area. Especially during those times, you notice when all else goes crazy, community stands together and at the end of the day they're always there for each other. That's really all we have at the end of the day. It's the most important foundation of anything, community supporting each other. I think it's not only a privilege, but it also should be every individual's duty to serve their communities.
What do you want people to learn from your story?
I would want people to take from my story what I kind of learned from my own personal journey, which was I would encourage people to use their talents and their skills in a more service-oriented way and think of how they can use their talents to give back to the community, and not only serve themselves but serve others.
Do you want to make a difference in your community like Anna? Find local volunteer opportunities.
Share this post
---