Houston Woman Honors America's Heroes with Trip of a Lifetime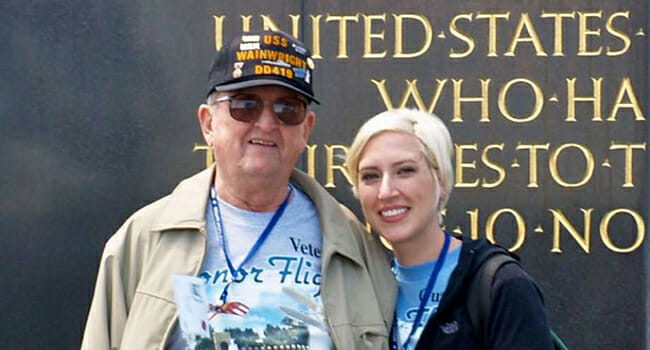 Daniel Kelly was a jack of all trades, serving as a Seaman first class for the Navy during World War II in both the Atlantic and Pacific fronts. Kelly had once told his granddaughter, Ashley French, that manning the turret guns on his ship, trying to shoot down kamikaze pilots, was the scariest thing he ever had to do. But when French thinks about her grandfather's service, she's grateful.
"It makes me feel really proud to look at that picture and know he's all of 18 [years old]…to see and know he experienced that, and fought for our country," said French.
That gratitude explains how French became involved with Honor Flight Houston. As chairman, French helps veterans travel to the nation's capital to visit memorials that were built in recognition of their service. Working tirelessly to raise funds and connect with veterans in her community, she's passionate about serving men and women just like her grandfather.
French remembers each and every veteran who has ever taken a trip, but she said veteran Jack Thomas made a lasting impression. Thomas was taken as a prisoner of war during World War II in the Battle of the Bulge, and he had carried his German-issued dog tag with him ever since being released. He brought it to Washington D.C. and proudly told his story to perfect strangers who came up asking about the tag.
Thomas' daughter, Terry Smith, said the trip reenergized her father, telling her that it was a trip of a lifetime. French said the impact extends beyond the two day trip.
"It's more than just getting them to see these memorials," Smith said. "It's a lot about getting them to have renewed relationships with veterans and their communities. They start sharing stories."
Sterling Baker was one of those veterans who started sharing his war stories only recently. Even his family had been kept in the dark about his time overseas. Knowing he wanted to go fight for his country, Baker said the Navy had asked for volunteers that were "single, could swim good and didn't have close family ties." In August of 1942, Baker was accepted into the first class of Amphibious Scouts, known today as Navy SEALs, and was immediately sent off for training.
Baker vividly remembers details of fighting, saying he was a gunner on one of the 20 mm caliber machine guns up on the flying bridge of his ship. His task: to shoot enemy planes down. Baker said the captain of the ship would usually come out and stand by his machine gun, ordering the men to fire at targets.
"The captain would hit me on my helmet and say shoot, shoot, shoot!"
Asked why the Texas native never shared his stories with his wife of 71 years, or his family? He didn't have an answer. It just didn't come up.
But that changed recently. Baker said French's work in organizing "Mail Call" for the veterans – a day so many looked forward to while stationed overseas – made a lasting impression on him.
"We were treated royally," Baker recalled. "The most impressive thing? Going back to Houston, they gave us a package, [and] in that package was a lot of letters, from school children, talking to us about our service and thanking us."
French doesn't do it alone. She has a team she works with, but Patrick Kelly, the vice chairman of Honor Flight Houston, said French is an "old soul" who's a natural at connecting with the veterans. The vets, many of whom returned home and went straight to work, get overdue recognition on their trip with Honor Flight, according to Kelly.
"A lot of them didn't get ticker tape parades and for them, this is just a grand trip," Kelly explained. "A lot of them say this is the best trip they've ever been on. They get to see the parts of history that they made."
When Jack Thomas was rescued from the Nazis and finally made it back to America, a parade was held in San Antonio celebrating the men home from war, but Smith said her father was instead marched to a basement with the other vets. Thomas had told his daughter they were a "motley" looking group, their uniforms "not as nice looking." Instead, veterans who served stateside were sent out to march because they "looked better," Smith remembered her father saying.
Smith lost her father last year, and called French's mission urgent.
"One day, their job with the World War II vets will be over because there won't be any, and it's just life. Their focus is urgent, it can't be put off."
She credits French and the other Honor Flight Houston volunteers for their dedication and commitment to making sure as many veterans as possible get to take this trip, saying the memory of the trip with her father stayed with him until the very end.
"We re-lived it up until he couldn't talk anymore," said Smith.
French said vets tell her they're amazed people are still remembering them more than 70 years later. She wants to change that, and tells veterans, "Where would we be if [you] hadn't won the war?" She wants to make sure their stories are remembered.
Some of the veterans have become like family to French. While French lost her grandfather, Daniel Kelly, just over a year ago, French said she's thankful that her children get to know some of the veterans she works with.
"They get that living history, of the greatest generation," she said.
Her 4-year-old son, who attends some of the welcome home ceremonies and waves an American flag welcoming the veterans back from their trip, told her, "I want to be a soldier…I want to fight for my country."
And for these veterans, who sacrificed so much for their country, Smith said that Honor Flight Houston and French's work finally made her father feel like his service was recognized.
"All these years later, he finally got to be in the parade," said Smith. "I think that was his parade. And I think that's why it meant so much to him. He finally made it to the parade."
Ashley French's work with Honor Flight Houston leaves a lasting impact for these veterans. If you are in the Houston area, you can take part in the "Welcome Home" homecoming celebrations at Houston Hobby airport, which take place upon arrival of Honor Flight Houston's flights back home.
Email [email protected] to learn more about how you can get involved and other volunteer opportunities. If you don't live in Texas, check out All For Good, for opportunities to help veterans in your area.
Share this post