How a Data Engineer Used Tech Skills to Help Rescue 35,000 Disaster Victims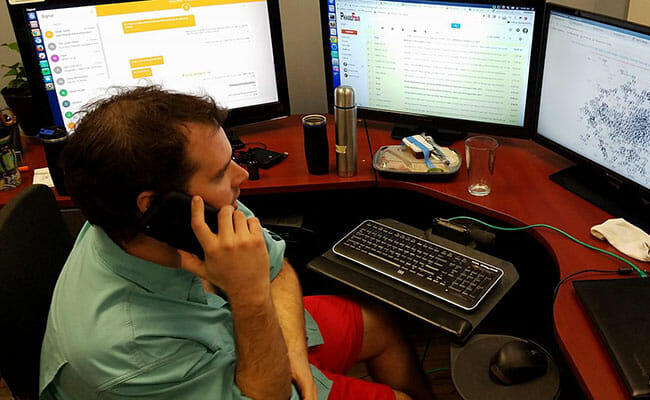 As Texas, Florida and Puerto Rico face the aftermath of Hurricanes Harvey, Irma and Maria, Points of Light is honoring everyday citizens who stepped up to serve their communities during the immediate response and to embark on the long road to recovery. Meet Daily Point of Light Award honoree Matthew Marchetti, and nominate an outstanding volunteer you know as a point of light.
After spending a chaotic day on a boat rescuing people from Hurricane Harvey floodwaters, Matthew Marchetti set out to see if he could put his data engineering skills to work to find a more organized way to save those affected by the storm damage. He created a platform called CrowdSource Rescue to connect victims with volunteers while local officials and the U.S. Coast Guard were inundated with calls. Within hours of setting up the platform, Matthew received thousands of requests for rescue. Thankfully, people from all around the world stepped up to to volunteer their time to rescue those in need. So far, CrowdSource Rescue has been used to aid victims of Hurricanes Harvey, Irma and Maria, as well as victims of the Mexico City earthquake. In the course of just a couple months, the platform has helped connect more than 12,000 volunteers to rescue more than 35,000 people affected by these natural disasters, and it is still being used in Puerto Rico's ongoing Hurricane Maria response efforts.
We spoke with Matthew to learn more about his experiences using technology as a tool to connect disaster victims with volunteers who are ready and able to help.
What is CrowdSource Rescue?
On the first day of Harvey, I was out in a boat helping rescue flooded people in my neighborhood. It was such a disorganized, chaotic mess. That night, my friend and I sat down and created a website that we could use to upload rescue cases and coordinate neighborhood rescues, and I texted it out to my friends.
I went to bed that night with maybe 50 rescue requests that had been entered and woke up the next morning to thousands. I freaked out. How were our three boats going to rescue all these people? Did we just give thousands of people false hope and make a terrible situation even worse?
I popped on Zello, a walkie-talkie app most people were using to coordinate, and heard the most beautiful thing though: we had gone viral overnight and average citizens were self-organizing around our technology to coordinate rescues on a massive scale. We had thousands of rescues requests, but that number was dropping as more people logged onto the site and more rescuers checked in.
CrowdSource Rescue became bigger than me or my friends in an instant – it was, and is, a tool for all of us to help all of us. Rather than bottlenecks or tightly controlled information, we placed the information and tools in the hands of everyday citizens and volunteers, and people organized around it.
Rescuers came from all across the country and were dispatched by people all across the globe. A victim would submit a rescue request and a rescuer would often be dispatched by a volunteer in less than 10 minutes. We had 60,000 people on the site at one point calling rescuers and victims, each coordinating, rescuing, and dispatching in their own zones.
All told, we had about 8,000 civilian rescuers sign up on the site to help rescue close to 30,000 people from their homes using our data and technology. We then turned around and used the same system in Hurricane Irma, Hurricane Maria, Hurricane Nate (where we thankfully weren't needed), and Mexico City.
What is your role?
I put "Conductor of the Crazy Train" on my e-mail signature. In truth, I help set the overall vision, lead the development team, create key partnerships, and beat the war drums for rescuer recruitment. However, the beauty of decentralized leadership is no one person is critical to the movement. In fact, going a step further, I'd say CrowdSource Rescue worked despite me, thanks to all of our volunteers and rescuers giving it their all. If it were all up to me, this wouldn't have worked.
Describe how CrowdSource Rescue has been used in responding to the recent hurricanes.
Our website has morphed into a rescue and early relief technology that is used to connect disaster victims needing help (be it rescue, medical attention, supplies, or evacuation) with qualified volunteers. It has an intake form for rescuees, a dispatch system for rescuers, volunteer coordination aspects, and some nifty mapping resources that help empower local volunteers and first responders to cut through the noise of a disaster.
It's turned into a decentralized movement of citizen responders that has been used to help connect volunteers with about 30,000 people during Harvey, 1,200 people in Irma, 20 people in Mexico City after the earthquake, and more than 4,000 people so far in Puerto Rico.
We've also been working with organizations, local governments and universities to use the rescue data gathered to help in relief and recovery. The Red Cross and FEMA have been using our scrubbed data to place upcoming shelters. We are working with Rice University data scientists and the City of Houston to understand the impact of Harvey, and we have partnered with several local recovery agencies that are following up on our rescue cases.
What has been the most rewarding part of the experience so far?
I had a front-row seat to a nation of helpers and volunteers. The amount of human compassion has been overwhelming. It was beautiful, life changing and I don't think I'll ever be the same.
At some point, my personal cell phone got posted and shared virally online as a hotline to call if you were a rescuer heading to Houston. My phone never stopped ringing! I received 2,500 calls during Hurricane Harvey from regular, everyday citizens who dropped everything they were doing for a week and spent thousands of dollars to drive across the country in order to help rescue people they never met … all for no other reason than because it was the right thing to do. Incredible.
What have you learned through your experiences as a volunteer?
In Harvey and Irma, I realized that I would subconsciously breathe a sigh of relief when I heard a Cajun accent responding to a call. If you know a Cajun Navy member, please buy them a beer.
Why do you think it's important for others to get involved and make a difference in their community?

You are the best person to help your community. In Puerto Rico for instance, we are focused on local Puerto Rican volunteers helping other local Puerto Ricans because they know what's best for their community.
Are there any future partnerships, programs, or events that you are excited about?
This technology is game-changing and we want it to be the future of disaster response. We are working with a couple organizations and universities to make that happen. If you are interested in helping or have ideas, please reach out to me!
What do you want people to learn from your story?
You have the capacity to make real change just by doing what you know and focusing on your community. I used my skills as a data engineer to help where I could in my neighborhood and wound up accidentally creating an international volunteer movement. I didn't exactly plan for that, but thanks to the nature of the technology and the goodness of humanity we were able to save lives.
Email Matthew Marchetti or visit crowdsourcerescue.com to learn more or get involved.
Learn about Points of Light's disaster response work, and find out how you can help.
Share this post