Humanitarian Takes Action and Brings Love and Hope to Atlanta's Homeless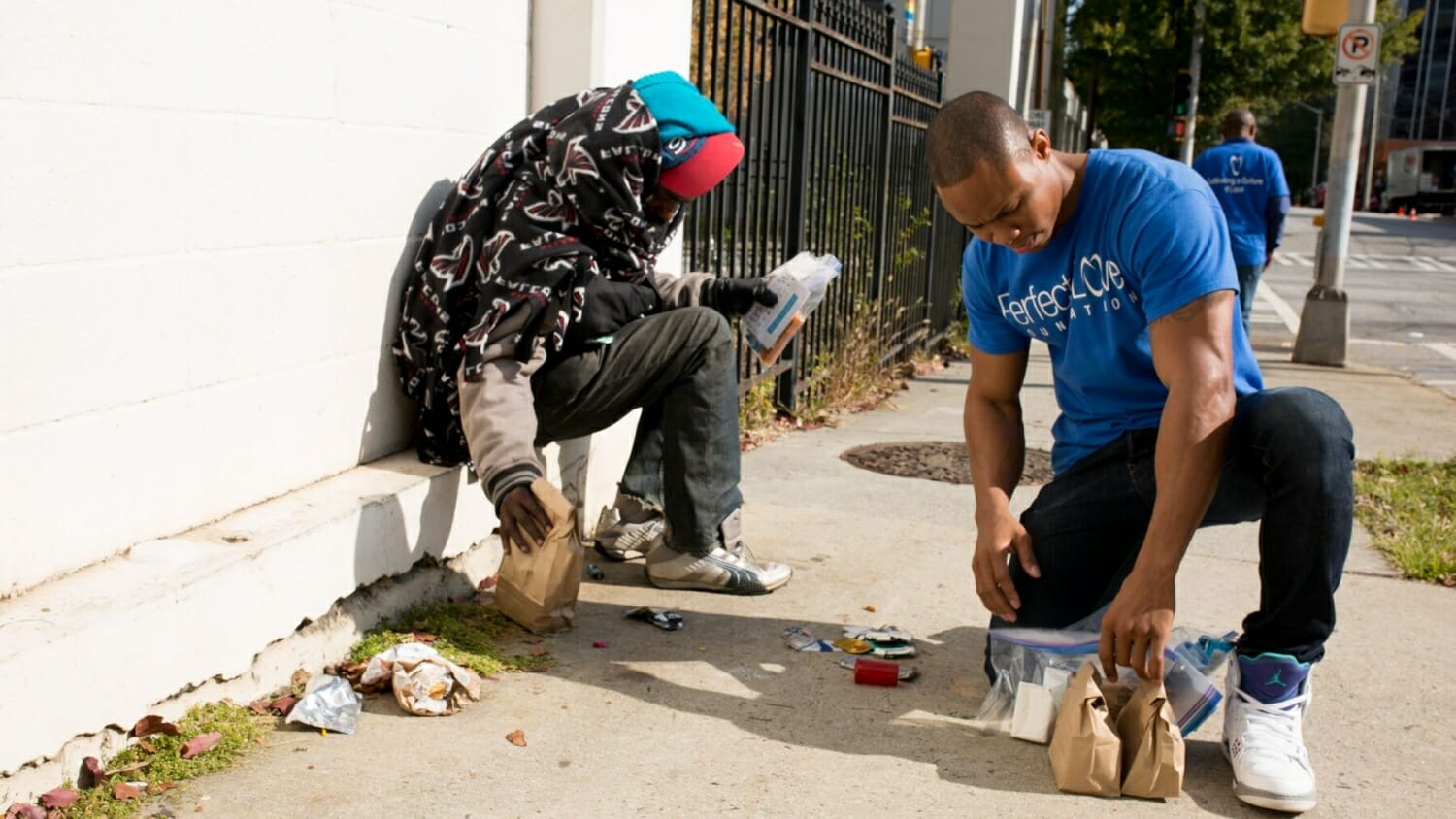 Taos Wynn is an Emory University graduate who majored in economics with a concentration in finance. He grew up with a family committed to volunteering, but it was a mission trip overseas to Haiti that completely changed his perspective.
While in Haiti, his group of volunteers was assisting with the construction of an orphanage and also leading youth activities with children. It was there Taos witnessed extreme poverty firsthand. Upon his return to Atlanta, he had a heightened sense of awareness that poverty existed in his own city. His desire to perform good deeds grew into an urgent need to help.
He founded Perfect Love Foundation, an Atlanta based nonprofit organization that leads community outreach activities in Atlanta and packages and distributes food, hygiene kits and affirmation notes to Georgia's homeless. The Foundation received its 501(c)3 status in 2014 and has been gaining momentum ever since. Its goals are to create hope and encourage people to love.
During the 2017 year, Taos and 72 volunteers distributed 3,347 meals, 3,246 affirmation notes and 1,576 hygiene kits through Perfect Love. We recently talked to Taos to find out why he thinks it is important for others to give back and what his future plans are for Perfect Love Foundation.
What inspired you to volunteer?
I grew up in a family where my parents led by example. They always opened up our house and invited the neighborhood kids over for meals and snacks, talked to them and offered rides to extracurricular activities. It didn't occur to me to ask why at the time. Now, I understand that their intentions were to provide a safe space and offer mentorship. My parents were my models for volunteerism.
Describe your volunteer role with Perfect Love.
In my role with Perfect Love, I develop relationships on behalf of the Foundation. Also, I am involved in the resource packing events in the community such as creating and planning the distribution of hygiene kits and meals. I spend time planning future initiatives such as Leading Hope and Unify America.
Why do you think it's important for others to give back?
I think there is a responsibility to give back. The responsibility to make change and the obligation to love mutually belongs to all of us — no one shares a proportionately greater or lesser degree of either opportunity. Everyone can give back, no matter at what level.
What's been the most rewarding part of your work?
I see the impact of our work every day and that is rewarding. We had a homeless student who needed help with college application fees and Perfect Love stepped in and was able to pay for the associated fees. Later, we received a thank-you note from that student stating he had been accepted to Georgia State University. Moments like that are priceless. We see these success stories all the time, but we are mindful of the realities and know more needs to be done. Systematic changes need to be made and we need to attack the core issue.
What have you learned through your experiences as a volunteer?
I've learned everyone can make a difference. I've learned that everyone matters and everyone needs love.
Are there any future partnerships, programs, or events that you are excited about?
I am so fired up about our Leading Hope initiative. Leading Hope is a movement promoting educational excellence and empowering student leaders for community and generational change. Our program seeks to create a systematic means of disrupting the cycles of poverty, insecurity and limited exposure for students.
Leading Hope offers students valuable experiential learning and exposure opportunities that better prepare them for real life application. Through Leading Hope, students have access to our unique curriculum (which covers a wide variety of topics from leadership and business to diversity and cultural awareness), service opportunities, hands-on activities and expeditions. We are looking to start this program in the fall.
Also, this year we led the Unify Georgia initiative at the Georgia State Capitol on March 9th. The initiative brought more than a 100 individuals together to encourage lawmakers to look past their differences and promote gender and racial equality.
Going forward, we would like to replicate our Unify Georgia model and make it more widespread into other states to promote a message of love and unity as Unify America.
What do you want people to learn from your story?
I want people to know their stories can become someone else's life inspiration.
This post was written by Karen Cohen.
Do you want to make a difference in your community like Taos? Visit All For Good to find local volunteer opportunities.
Share this post