Inspired by a Family Value of Giving Back, Teen Leads Foundation to Empower At-Risk Girls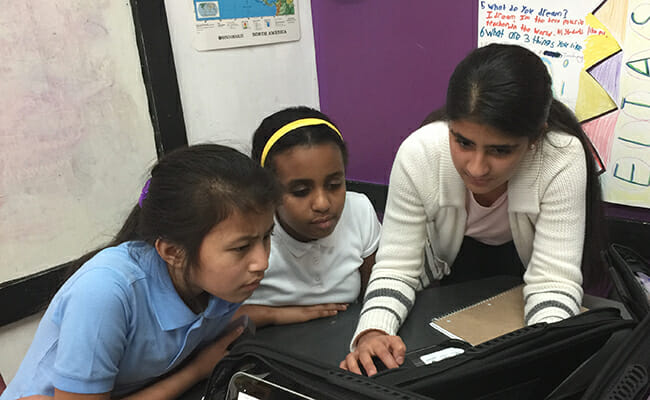 When Shreya Mantha's grandmother was diagnosed with a terminal illness, her last wish was for her two granddaughters to honor her memory by doing something to help vulnerable girls. Inspired by the example set by their parents – who engaged the girls in volunteering activities from a young age – Shreya and her younger sister Sahana set out to honor their grandmother's wish by making a difference for at-risk girls in their hometown of Charlotte, North Carolina.
Founded in 2014, when Shreya was just 12 years old, Foundation For Girls is a youth-led social venture that endeavors to change the life trajectory for at-risk girls and youth in the greater Charlotte area through programs in financial literacy, character-based leadership, digital literacy, and health and well-being. Shreya and Sahana established partnerships with community organizations to reach youth where they already are: in shelters, safe homes, rescue and rehabilitation facilities, schools, community centers and crisis centers. They currently work with homeless youth, trafficking survivors, refugees, domestic violence victims, foster children and teen moms. Guided by the belief that their past does not define an individual, Foundation For Girls focuses on providing access to opportunities, caring coaches and scaffolding for personal and professional success.
To date, Foundation For Girls has served more 1,000 youth through 267 workshops in personal finance, leadership, technology and digital literacy skills. With more than 40 dedicated volunteers and youth ambassadors, they have raised more than $75,000 – and they are just getting started. We spoke with Shreya, now 17, about her passion for empowering youth to make a difference, and her dreams for Foundation For Girls.
What inspired you to start Foundation For Girls?
Our parents are our inspiration, and their focus on giving us a strong foundation is where the name "Foundation For Girls" originated. At an early age, our parents encouraged us to expand our horizons by actively engaging in our broader community beyond our school, family and friends, and emphasized the importance of character and core values in realizing our fullest potential. Our parents began taking my sister and I to homeless shelters and crisis centers to see how we could get involved in the community. When we saw the need in a place like Charlotte, our hometown, we knew we had to do something more than just volunteering. That is when we began to think of the idea of Foundation For Girls.
In 2014, our paternal grandmother was diagnosed with pancreatic cancer. Her last wish was that we help vulnerable girls, including those in India. We promised to fulfill that wish, and it gave us something to do to keep her memory alive. She directed her wish towards India, however, my sister and I knew that we should start first in our local community in Charlotte, where we were born and brought up, and then grow global. At that point, we decided to expand our work and, in December 2014, we became a 501(c)(3).
What have you learned through your experience starting Foundation For Girls?
There is a magic in giving that cannot be compared to anything else. When my sister and I started Foundation For Girls, we thought it would be a small venture. We never imagined that it would grow as fast and become as big as it has become in the past three years. I have realized that it is not easy to lead and run a social venture. Most importantly, it takes a team to succeed. It is all about the teamwork and collaboration.
This has been a tremendous learning experience and growth experience for me. I learned to be persistent, patient, and that I have to have a plan and be organized before I can expect that from anyone else. I have learned a lot from presenting to investors, large corporations, and philanthropists, managing partnerships, organizing workshops, and coordinating with the program leaders. Nothing is more fulfilling than knowing that my team and I are working to change the lives of at-risk youth in our community. Every day we are making an impact. While we are helping the at-risk youth, we are also gaining new perspectives on life. Above all, today, I have tremendous gratitude for what I have been blessed with, and I do not take things for granted.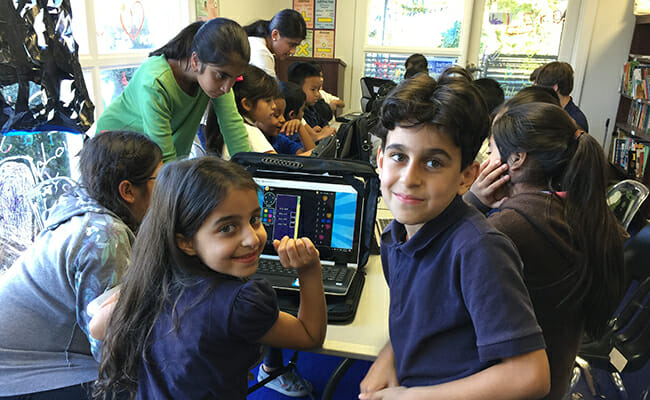 What is your favorite memory from your work with Foundation For Girls?
I have many memories and rewarding experiences from my work with Foundation For Girls. Every Thursday from 4- 6 p.m., I go with my digital literacy program team to an after-school program for refugee children from more than 30 countries. It is great to see the children's growth and development by the end of the six-month digital literacy curriculum. I never knew that teaching children and helping them grow both academically and personally would be such a rewarding experience.
My favorite memory is when, over the summer of 2017, I was able to teach a group of girls from Guatemala a beginner's session of programming and coding in Spanish. When I realized that they could not understand the instruction in English, I quickly stepped in and shared with them that I know Spanish and I could help them. It was great to see the joy on their faces because they were not limited as they did not communicate in English and I was able to make learning possible for them.
What is your dream for Foundation For Girls in five years?
It will be great to see Foundation For Girls grow and expand beyond Charlotte. I want to take this work to other states. I have a goal to reach 2,600 girls and youth by 2020. Currently, I am working with the board of directors to plan the growth beyond 2020.
When I head to college, I will continue to expand our work. I have to raise money to support the expansion. I am also working on plans to make this a self-sustaining organization and I hope to continue to build partnerships and collaborations for expansion and greater community impact.
An offshoot project from Foundation For Girls, called HOURZ, is underway to connect these girls and youth to economic opportunities and jobs. I am currently seeking funding for this work and looking for philanthropic investments.
Why do you think it is important for others to get involved and make a difference intheir community?
The youth will define the future, and therefore, it is crucial for them to evaluate the needs of their communities and get involved. We can all make a difference, and no one is ever too young to start making a difference in their community.
We all hope and dream of a better future and for that, we are responsible and should take personal action. We are the change; we have to make a change in what we see is not right, we cannot leave it to someone else. When you give back to the community you are not only improving the lives of others, it is great for us as well as it is one of the most fulfilling experiences. Everything big starts small, and if more people get involved and start with the little things, we will see a change in our community, our country, our world, faster than we can imagine. We can all make a difference, whether big or small, if we come together to work toward a common goal.
Share this post