Inspired by Best Friend's Struggle, Teen Volunteers to Help Pediatric Students Succeed in School
Meet Daily Point of Light Award honoree Akhil Paulraj. Read his story and nominate an outstanding volunteer or family as a Daily Point of Light.
When Akhil Paulraj's best friend was diagnosed with leukemia, the Plainsboro, New Jersey teen says he felt powerless watching his lifelong friend struggle. The now 17-year-old Akhil says he was inspired by how his friend persevered as he battled cancer and then worked to catch up in school, and decided that he wanted to build support for other students with cancer struggling to rebound.
Launching Hope for STEAM Learning (HFSL), Akhil is helping pediatric cancer patients pursue their academic dreams and rekindle their interest in STEAM. Nearly 16,000 children under the age of 19 are diagnosed with cancer annually, and these youth face subsequent stress as they try to balance treatment and catch up in school, sometimes lacking the resources to make up for lost time. Helping dozens of students across the United States through free virtual mentorship, Akhil is relieving stress for cancer patients and their families through his service.
What inspires you to volunteer?
By volunteering, you're helping marginalized or underprivileged people and giving them an opportunity to succeed. Volunteering is almost like an addiction at that point, because you realize how powerful your super small actions are. Even something as simple as helping a student with a math problem, that drives me to continue serving others.
Your volunteerism is motivated by a very personal experience. Explain.
It was a low point in my life when my friend was diagnosed with leukemia. I felt powerless watching him struggle. He was successful in his fight against cancer, but he had to undergo treatment for over a year which meant he missed his entire freshman year of high school, and he was really far behind in academics. This caused a lot of stress for him and his parents. When he returned to school he had a hard time integrating. Recognizing this challenge motivated me to support other pediatric patients, as they often face a lot of stress, even with academic support systems. My friend is currently in remission, he's great now. We worked on our college applications together.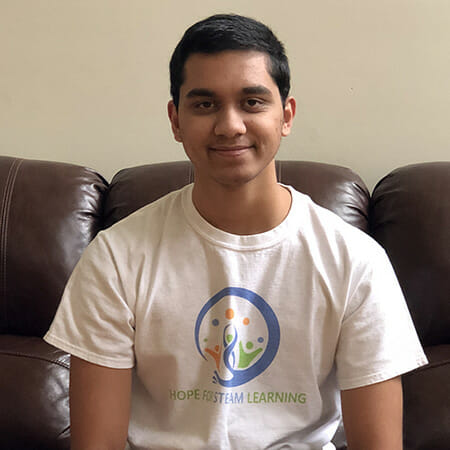 Describe your volunteerism with HFSL.
As founder, I manage communications and our social media presence. I also drive outreach to pediatric students through collaborations with community organizations. We have high school student volunteers in New Jersey and Minneapolis that support our online mentoring. Each volunteer works one-on-one with a student to address the various aspects of being a student while battling cancer, both academically and socially. We hope to expand and offer mentorship to international students one day.
Share one personal story with me from your volunteerism.
The first student I worked with joined our program as a 12-year-old. Diagnosed with leukemia, I met with the student's mother first via Zoom to better understand her situation. Through our conversations, her mom characterized how her daughter was struggling, and told me she was scared for her daughter's future. I realized that mentorship could not only help with the girl's academic learning, but also, her confidence. Those two things are really interconnected at the end of the day, and after working with her for two months on topics including math, things completely turned around. She had newfound confidence, and seeing her happiness and her mother's happiness was really fulfilling for me.
Why do you think it's important for others to give back?
Giving back is an essential aspect in society given how many people are disadvantaged from the get go. What I experience day-to-day is nothing compared to what these pediatric students have to go through. It's our responsibility to support people who are disadvantaged.
What's been the most rewarding part of your service?
It's been rewarding to witness the power of HFSL learning and see the effects on the students, and also, on their parents. We often overlook how these kind of almost tragedies in pediatric patients affect families as well as the students themselves. Observing the change when they gain happiness and confidence is really rewarding.
How have you continued to volunteer throughout the pandemic?
The pandemic posed a lot of challenges for cancer patients, and that has inspired us to fundraise to increase support for them. We raised more than $1500 for CHOP which went to essential materials including PPE. We also received increased enrollment once in-person learning was disrupted. Imagine students having to overcome what they missed in years of school on top of virtual school during a pandemic. Virtual learning posed a challenge for all of us, even for me!
In one word, what does volunteering mean to you?
Heartening.
When you're not busy with school or volunteering, what do you do for fun?
I'm really passionate about STEM. I like physics, math, computer science. My dad suffered a heart attack, and as a project, I studied coronary flow. That's another example of my tendency to address problems I come across.
How can readers help?
We are currently fundraising to support our mentoring efforts. For more information about how you can help, please visit our website.
Do you want to make a difference in your community like Akhil Paulraj? Find local volunteer opportunities.
Share this post