'Dream Team' Travels New Jersey to Deliver Meals to Residents Homebound During the Pandemic
Meet Daily Point of Light Award honorees Ava Reinfeld and Steve Delman. Read their story and nominate an outstanding volunteer or family as a Point of Light.
Each week, the homebound clients of Jewish Family Service of MetroWest New Jersey's meal delivery service can expect a bag full of groceries along with a welcoming smile when it's coming from dedicated volunteers Ava Reinfeld and Steve Delman.
Since the beginning of the COVID-19 pandemic earlier this year, Ava and Steve have traveled twice a week through New Jersey's Essex and Hudson counties to deliver meals to homebound and isolated elderly residents and Holocaust survivors. The program, which was set up specifically in response to the pandemic, is run through Jewish Family Service's RSVP [Retired Seniors Volunteer Program] Center, which mobilizes individuals aged 55 or older to volunteer throughout the community.
Steve estimates they have delivered hundreds of meals in the past eight months, with an average of 20 meals delivered each week. Once or twice a month, the duo will also deliver care packages with items such as toilet paper and cleaning supplies.
Steve and Ava, who have been significant others for three years, do each delivery together with Steve driving and Ava bringing the food to the door. She does her best to always wear a mask with a plastic covering over her mouth so each meal recipient can see her smile.
"I think it's very important that they see most of my face because of the human and emotional touch there," Ava said. "I feel it's very important that we have a connection with the people we deliver to."
A connection has certainly been developed between Steve and Ava and their clients, who will ask questions about their families and wish them a happy holiday or a good Sabbath. One of their usual meal recipients even gave them flowers for the holidays. Steve said for some of the clients who aren't able to get out of the house for several days at a time, just having someone to stop by for a moment can make a huge difference in their lives.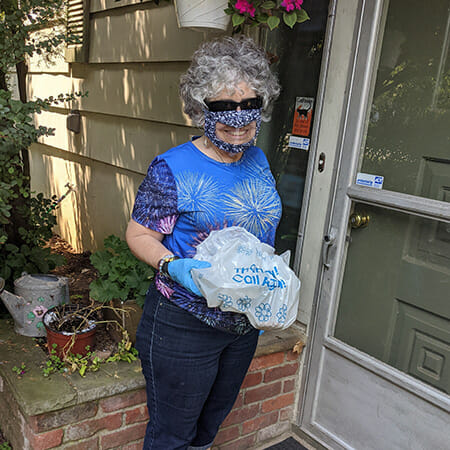 "Even if they only open the door for 10, 15, 20 seconds, you can look into somebody's eyes and get such a tremendous feeling of welcome and hospitality and warmth," Steve said. "You can feel that just from making eye contact."
Stephanie Grove, Jewish Family Service of MetroWest New Jersey's Senior Director of Volunteer Services, said Steve and Ava are RSVP's "dream team."
She said each week, RSVP will release a sign-up sheet online for volunteers to choose which towns they want to deliver the meals to. Steve and Ava always wait until everyone else in the program has signed up so they can deliver to the list's remaining towns, which are generally the farthest to drive to.
"Steve and Ava are really filling in the gaps where we need them the most and it's so appreciated," Stephanie said. "I really can't say enough good things about them."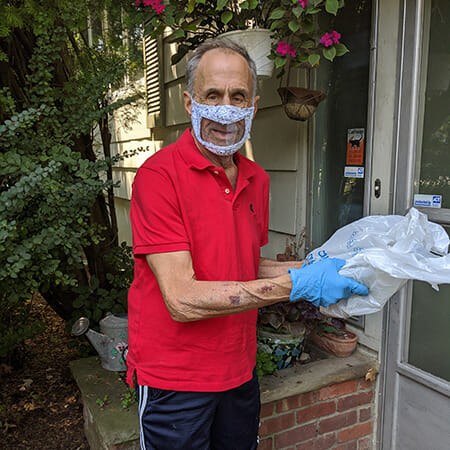 Steve has been an active volunteer since he was 16 years old, starting as the New York Chairman of Teens Against Polio while he was in high school. His first memory in life was experiencing polio when he was four years old, and ever since recovering from the illness, he has "felt that people who had their health should give back to people who didn't." Similarly, Ava's volunteer spirit was developed at an early age due to her upbringing in the Jewish faith.
Steve has volunteered through RSVP for the past four years, and Ava started volunteering alongside him this year. In addition to the food delivery service, Steve is also a part of RSVP's Reading Buddies program, which mobilizes volunteers to read to public school children in kindergarten through second grade. Prior to the pandemic, Steve would visit the school each week, but now instead he reads to the classroom virtually through Zoom.
"I pride myself in communicating with people in a positive way," Steve said. "This gives me an opportunity to do what I do best. Not as full blown as before, but it gives me an opportunity to be useful in the community, and that's what I always strive to do."
Ava said the feeling of accomplishment after the deliveries are finished gives her and Steve even more than the duo give to their clients.
"It allows me to complete the mission my parents kind of gave me in life about giving back," she said. "It makes me feel better."
"Same thing," Steve agreed. "I just get that warm and fuzzy feeling. It's going to be years before we can hug somebody. This is as close as we can get."
Do you want to make a difference in your community like Ava and Steve? Find local volunteer opportunities.
Share this post