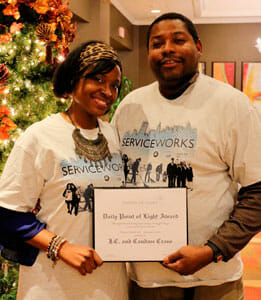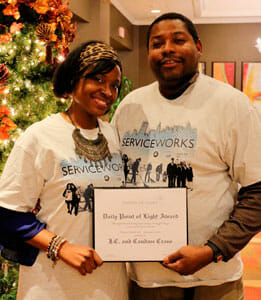 J.C. and Candace Crane have shared a lot in the five years they've been married.
But in the past year, the St. Louis couple has taken their shared values to another level by volunteering together to mentor at-risk youth enrolled in ServiceWorks.
Now in its second year, the program is a combined effort of Points of Light, the Citi Foundation and AmeriCorp to give low-to-moderate income youth 16-24 a better pathway to college or career through service learning.
And service isn't a new concept to either of the Cranes. Candace, 36, was raised in a Baptist home, with church and community a central theme in her life.
For her husband J.C., 48, who grew up in a tough neighborhood on the south side of Chicago, working with young people through church and community programming has been a part of his life for almost 18 years.
"Where I come from is a bad place, with drug and gang activity," said J.C. "I know from experience that impoverished youth need to be uplifted to succeed."
It was about a year ago the couple discovered ServiceWorks and its Service Scholars program, a five-week mentoring program that provides a service-based education in areas ranging from project management to resume building to networking and leadership development.
J.C. jumped in first. He volunteered to facilitate weekly sessions geared towards the 16-24 year-old Scholars. "We might talk about conflict resolution, communication skills, personal finance, motivation techniques," he explained. The 90-minute interactive sessions start with a presentation, then the class breaks into smaller groups with volunteer success coaches.
J.C.'s enthusiasm spilled over at home, and Candace signed on as a volunteer success coach. During her first cohort, she worked with two young adults, ages 20 and 24. "There are suggested topics for us to discuss, like resume writing and how to deal with conflict, but we also get into issues relating to their personal relationships, friendships and family life. I try to be there to encourage them – sometimes life happens, challenges come up, but they can get through it," she said.
Winning her charges over didn't happen overnight. "They've both been through a lot," she said. "They were guarded, not so open to talking at first." But with continued support and understanding, her first two mentees graduated successfully from the ServiceWorks program.
Sharing a commitment to helping these young people move forward and achieve their goals has brought the couple closer together, said Candace. J.C. agreed. "We don't have children at this time, and listening to these young people helps us stay connected to the younger generation. We have a lot to talk about. We understand that many of these kids probably feel trapped, or that no one cares. But I want these Scholars to know that I care, that my wife cares. We're here to use the gifts God has given us through our church and community to positively affect these young people and make their world a better place."
Share this post