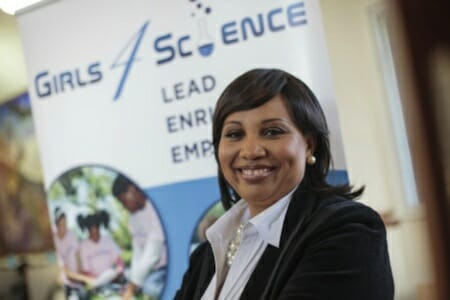 Meet Daily Point of Light Award honoree Jackie Lomax. Read her story and nominate an outstanding volunteer or organization as a Point of Light.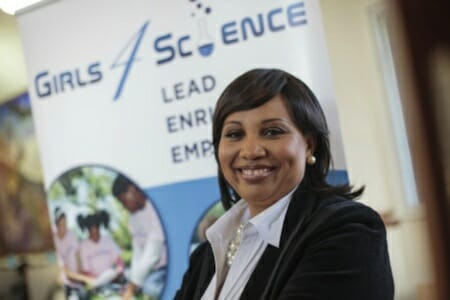 Jackie Lomax
During a routine visit in 2008, Jackie Lomax's 9-year-old daughter, Lauren, peppered her dentist with questions. What kind of education was necessary to become a dentist? What were the tools and X-ray protection pad for? What exactly was going to be done inside her mouth?
As the dentist patiently answered Lauren's questions, something stirred deep inside of Lomax – a wistful recollection of her own early fascination with science.
As a teen in Chicago, she had considered a career as an occupational therapist, but never pursued it. Instead, she studied communications, the first person in her family to go to college.
Both her parents worked – her father in construction, her mother as a housekeeper. In her world, there simply was no encouragement for girls to pursue what's commonly known today as STEM (science, technology, engineering and math) careers.
In that dentist's office, Lomax decided to change the paradigm for her own daughter, to "reverse the curse," as she now puts it. She wanted Lauren to feel free – and more importantly, be encouraged – to pursue anything that sparked an interest.
The organization that sprung from this contemplation, Girls 4 Science, took off quickly. Over the past six years, more than 500 girls in and around Chicago, ages 10-18, have taken part in free Saturday Science Academy sessions now held on six consecutive Saturdays four times a year.
Lomax had recently been laid off as an administrative assistant and was running a small educational tour company part time when she had the idea for Girls 4 Science. Then she happened to see Linda McGill Boasmond – the nation's first African-American woman to run a chemical plant – doing a television interview. Lomax looked up Boasmond and invited her to lunch.
The head of Cedar Concepts Corp., Boasmond recalls she accepted the invite because Lomax seemed sincere and her goals coincided with Boasmond's own "wish to do something to get more girls, particularly from underserved communities, involved with science."
The two hit it off and soon went to work, calling on scientists, getting legal help to write a viable business plan, getting Boasmond's staff members involved, creating a board of directors, developing partnerships and finding space for the first Saturday session at Olive Harvey Community College through a church choir connection. As plans came together, more people were brought in to figure out the curriculum, format and details.
Lomax and Boasmond spread the word simply at first – putting up fliers in their churches and schools. Forty girls attended the first program session in 2009, where they learned to make, label and brand shampoo, combining science and entrepreneurship skills.
Subjects at subsequent sessions have run the gamut, from physics to chemistry to biology and beyond – in labs and on field trips. Through Girls 4 Science, participants have access to internships, college scholarships and other opportunities.
"Science opens up your world to unlimited possibilities," Boasmond says. "Had I had access to a program like this, my grades would have been better, it would have impacted the types of colleges I could have attended and I wouldn't have had to feel like I was trying to catch up."
Through the program, Lomax's daughter, Lauren – now a high school junior – has an internship, job-shadowing a doctor in a lab.
"My daughter is in the generation that inspired me," Lomax says. "I've just been taking it one step at a time, and it's working."
Share this post