James Bailey and Blayne Alexander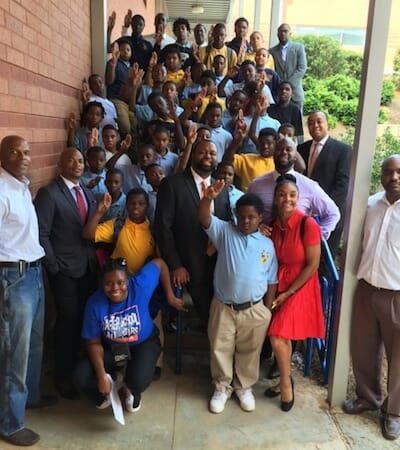 Meet Daily Point of Light Award honorees James Bailey and Blayne Alexander. Read their story and nominate an outstanding volunteer, family or organization as a Point of Light.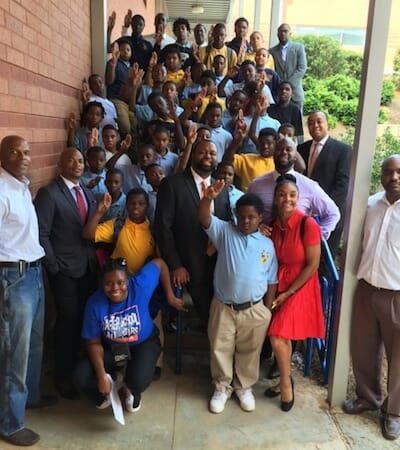 James Bailey (front, center) stands with Boy Scout Troop 100 leaders, scouts and volunteers.
Impressed by his barber's flashy Mustang, 11-year-old James "Jay" Bailey determined he, too, would become an entrepreneur – fast.
A year later, he achieved that goal by starting a car stereo installation business called The House of Boom. Before he was 30, he made his first million, investing in Atlanta real estate.
But it was the quick downward spiral he suffered after mismanaging his fortune that would lead to the work he does today. With the Phoenix Leadership Foundation, a nonprofit he co-founded, he's ensuring that the city's young black males get the experience and encouragement they need to succeed.
"I had money, cars, houses, but I had no one to guide me," Bailey says. "I had nothing to really show for my success. I wasn't leaving a mark."
Struggling to recover from his losses, he opened a regional office for the global nonprofit Operation HOPE, which focuses on economic empowerment, and soon expanded its reach in the Southeast to 19 offices.
He thought he could do more.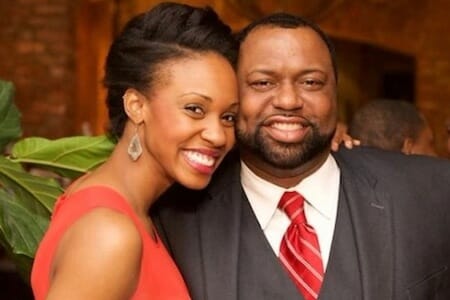 Blayne Alexander and James Bailey
Talking with his fiancée, Blayne Alexander – a news anchor in Atlanta, where the two live – he had an epiphany.
"I began to see that the thing that most leads to a poverty mindset is lack of exposure," he says. Statistics help drive that mindset – only about a third of black males in urban areas graduate from high school, and a similar proportion serve time in jail at some point in their lives.
"The thing that drew us together is this desire to mentor kids," says Alexander of Bailey. "I had great models in my parents. We lived a charmed life. They embodied the concept of 'exposure' for me. I saw right away that what Jay said made sense."
The idea gelled into the Phoenix Leadership Foundation, which has the motto, "We will change the way the world sees young black men."
But, really, says Bailey, the nonprofit is about changing the way young black men see the world.
"I've worked with kids who get excited about just riding on the highway or seeing a big house out of the bus window," Bailey says. "They're just not used to going beyond their neighborhoods. So, that's what we're doing with the foundation. We're saying, 'You want to be a doctor? Let's get you in front of one.'"
In the fall, the foundation will launch its Leadership Institute, a six-month program for about 50 boys – nominated by teachers and counselors and chosen via a competitive process – who will shadow professionals, attend college classes, meet with civic leaders and enjoy the kinds of field trips that, says Bailey, "schools don't offer anymore."
This year, Bailey says, the foundation's overall goal is to engage with 5,000 youth through its various mentoring programs.
"We want to put as many kids as possible in the position that tells them they are worthy and everything they want is possible," he says.
Share this post