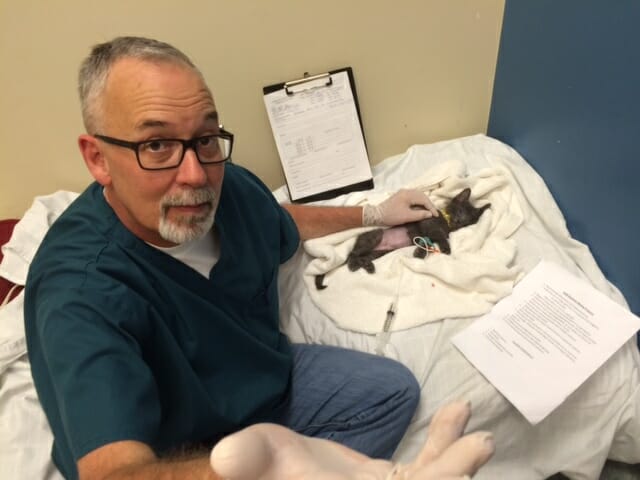 Working with animals was so important to James Roach that he retired early from his job to become a volunteer with Citizens for Animal Protection (CAP) in Houston. He learned early from his mother about the importance of giving back to others, and for him, animals fit that bill.
"My passion for animals filled that void for me," he said. "There are so many abandoned or abused that have no one to speak for them."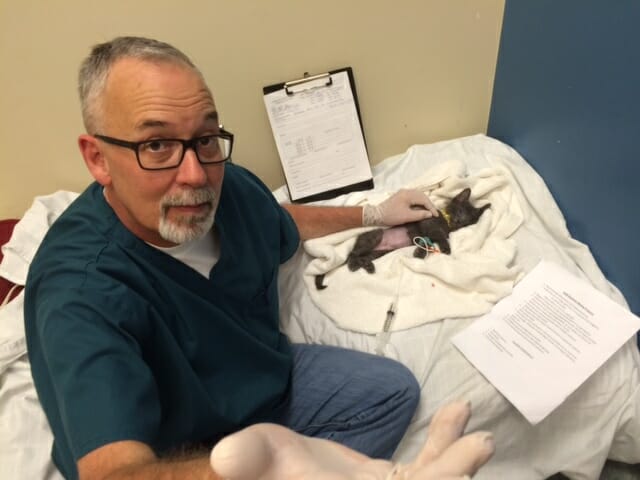 James Roach helping a furry friend in need.
In his previous career, Roach, 55, worked for a hand surgeon. In 2013, he pivoted to apply those skills to working with animals who come into veterinarian offices for surgery. Today, he works three-to-four days a week, fulfilling almost any job available in the clinics.
Since his first day, he's devoted 1,086 hours to making dogs and cats comfortable before, during, and after surgical procedures. His typical day begins at 8:45 a.m., preparing rooms and tools for various cases, as well as setting out food for the animals when they wake. During surgeries, he monitors their heart rate, oxygen levels, and blood pressure to report any changes to the veterinarian as they occur.
After surgeries, Roach makes sure the animals recover well from the anesthesia and keeps them warm. He said he feels he makes a significant impact for veterinarians, the pet owners, and the animals because he gives so much of his time and pitches in wherever the needs are greatest.
While he finds fulfillment working with animals, he advocated that everyone find a volunteer opportunity that feeds into something they feel strongly about.
"Definitely do whatever you're passionate about. My passion is animals, but there are lots of things you can be passionate about – working with the elderly, the homeless, or the hungry," he said. "There's so much opportunity out there. There's something for everyone."
To find opportunities near you, check out All for Good for projects that you're passionate about!
Share this post