Suzanne Chimera became a cosmetologist upon graduating from high school in 1990. She began working at Manny Roberts Hair Replacement in 1994. Since 2006, Chimera has traveled to countless cosmetology classrooms to lecture on the devastating effects hair loss can have on a person.
After one of Chimera's clients appeared on 20/20 in an episode about strange afflictions, Chimera received a call from the mother of a 13-year-old with alopecia, who said she would "do anything for that wig." The young girl was severely depressed and was being home schooled because she could not face the bullying from her classmates. The cost and maintenance of a custom made human hair wig was something this family could not afford. Chimera made a promise to get that wig; she posted on Facebook asking the community for blonde ponytails. In one week, she received 42 ponytails and the wig was made from hair donated by her friends and family and Hair We Share was born.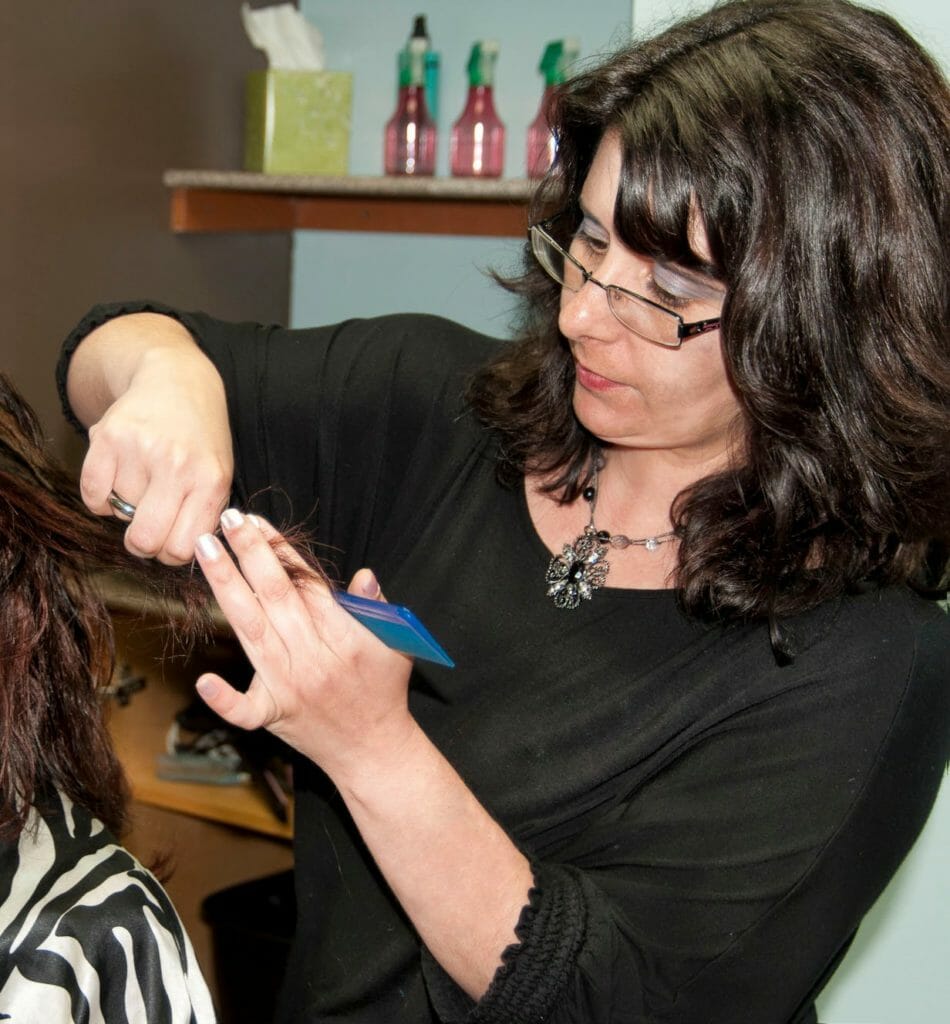 Suzanne Chimera
Chimera is now the president and co-founder of Hair We Share. Hair We Share makes wigs using donated ponytails and gives them to people with medical hair loss at no cost. Chimera matches ponytail donors to recipients.
Most of the ponytails come from children. It is a very special experience because they get to see who received their precious gift. Recipients of the wigs receive them for free. The wigs are custom made human hair that would not otherwise be affordable to the average person. The recipients get a sense of community when they see all of these people that get together to make this happen.
As a wig designer for 20 years Chimera has seen many different people suffering hair loss for many different reasons, but they all have the same feeling of being alone and afraid of what other people will think of them. She has serviced clients for several reasons ranging from chemotherapy, car accidents, burns to violent attacks.
Chimera has helped 12 people with custom-made wigs in the last year. She has made a huge impact in the lives of young girls helping them to feel beautiful, confident, and a sense of community. Each wig is designed for the recipient, this means the hair is selected based on color, texture, length and density, the cap is constructed to fit the recipients head exactly and the cap materials used are chosen based on the type of hair loss. It is personal "celebrity style" service and the results are like no other.
Chimera has taken the effort to create a way for those with medical hair loss to be made whole while getting the community to get involved. You can find ways to get involved too by checking out All for Good for projects near you!
Share this post