Wicksburg Volunteer Fire and Rescue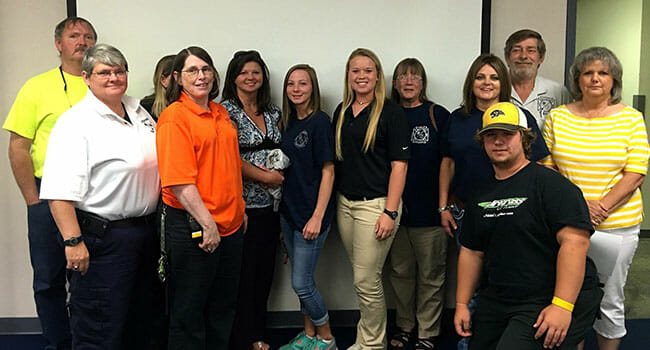 The call can come when he's cutting grass or watching his 8-year-old son play baseball on a Sunday morning when he's sitting in a church pew or a Tuesday night when he's in a deep slumber. When it happens, Chad Dickerson, 33, is ready and on his way in seconds. As a member of the all-volunteer Fire & Rescue Department in Wicksburg, Alabama, Dickerson is prepared — whether it's to respond to a fire or to help an elderly person who has fallen.
"I consider every call important, and it's always a team effort — so I can't let anybody down," he says. "It's a lot of pressure — but very rewarding. The folks we help always end up apologizing for interrupting us. We're trying to take care of them and they're watching out for us."
Dickerson says he sometimes works 24 hours straight if a natural disaster like a major storm occurs, while other weeks all is calm and he uses the time to "take care of things around the station like fixing flats and repairing the equipment. Then," he adds with a laugh, "the full moon arrives and things pick up again."
For Dickerson, who works full-time as a heavy equipment operator for the State of Alabama, volunteering in this way is a family affair. His grandfather was involved with founding the department 40 years ago and, as a young boy, Dickerson often accompanied his dad on emergency runs. These days, even his wife volunteers as an emergency medical technician.
Fire Chief Wanda Andress, 46, is also following in her family's footsteps. Two of her older brothers volunteered for the department while she was in high school and as soon as she graduated, she joined them. Nearly 30 years later, she's still at it. A teacher by day, she heads to the station as soon as school is over and starts what amounts to a second job — putting in about 25 hours a week to dispatch volunteers and take care of administrative tasks.
Her team makes about 600 calls a year, about three-quarters of which are rescue runs. "We take care of a little bit of everything from helping stranded people to ambulance calls for heart attacks to removing children from house fires. We also go into the schools to talk about fire safety and prevention," she says.
The department serves about 40,000 people in an unincorporated part of Houston County. "It could take 30-45 minutes to get an ambulance or fire truck from elsewhere out here," Andress says. "So although it's a hard thing for volunteers to mix this into their work and personal lives, they're committed because they know if we didn't do it, our community would suffer."
Andress says she can always use more volunteers but for those who can't spare the time, there are other ways to help. For example, several times a year, the department stages fundraisers or offers raffles to raise money for equipment.
"The outpouring of people who help in so many ways makes me proud," says Dickerson. "We're like a family — we're all in this together. We're a small community and I reckon I'm stuck in the old world where everyone helps their neighbor."
Share this post