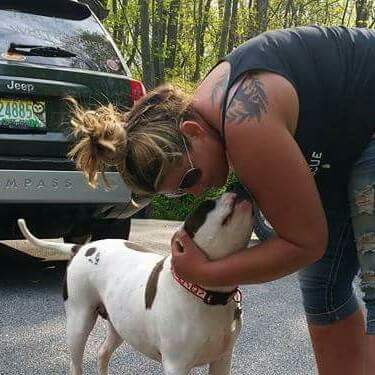 Janine Guido created Speranza Animal Rescue to save and rehabilitate the severely neglected and abused animals of Mechanicsburg, PA. Speranza is committed to saving as many animals as possible and finding them their forever homes. Converting the spare stalls in the horse barn of her parents' farm into kennels and using every penny to her name, Guido started rescuing as many dogs as possible from high kill shelters and other unfortunate circumstances.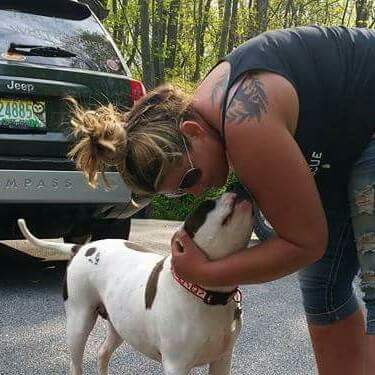 Guido giving one of her dogs some much needed love and attention.
Speranza is a long-term residence for many of the dogs that come there, something that is unique in the world of animal rescue. Guido has also organized events that allow the community to visit the farm and she has also coordinated events to assist other charities in the area.
Guido has rescued and loved the most abused and unloved animals. She has taken dogs and other animals out of abusive situations and found them loving homes. Guido gives her all, often sitting for hours in pouring rain or freezing cold to catch a stray.
Guido has saved the lives of many dogs, educated the community about the often misunderstood pit bull and bully breeds and has also organized community events at the farm where the rescue is located. Most recently, Guido hosted an Easter egg hunt on the farm for the kids and families of the community so they could come out and meet some of the animals in need of a home.
All of the vet bills, food and rescue expenses are paid for by the dedicated Speranza supporters. Guido has never stopped caring for these animals, even in times when the cash flow slowed. Her day is spent working to support Speranza and then visiting, loving and caring for the animals as they wait for their new home. Guido will go above and beyond to bring a scared dog into the farm, sometimes waiting for hours in the cold rain until the dog is ready to come with her. Her nurturing soul provides unrelenting support to animals who have been neglected and pushed aside.
Guido has always had a passion for helping animals in need. At the age of 27, she realized that this was more than a hobby to her; this was her purpose in life.
Share this post