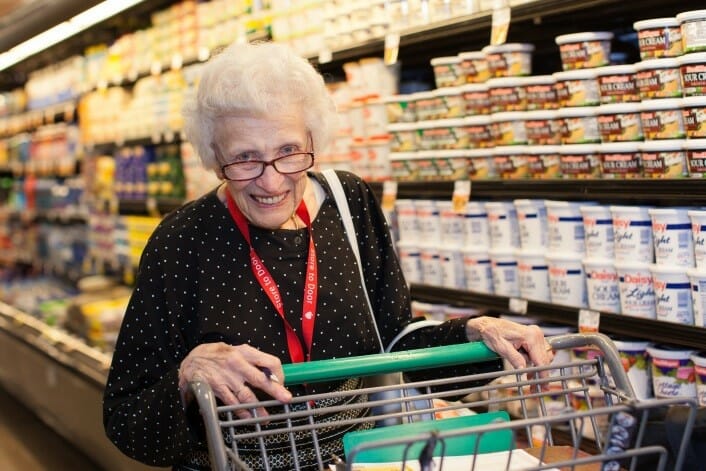 When Jean Pierce began volunteering, it was simply what women did. Young wives didn't work – they cooked, parented children, and volunteered their time. It didn't take long, though, for service to others to become her way of life and the key to her longevity.
"When I was married, volunteering was just the thing you did. It made me feel better to help someone else," said Pierce, who, at 90, has been volunteering the majority of her life. "There aren't very many people my age who are volunteering. As a matter of fact, I've outlived most of my friends, and I think it's one of the reasons I've managed to live this long."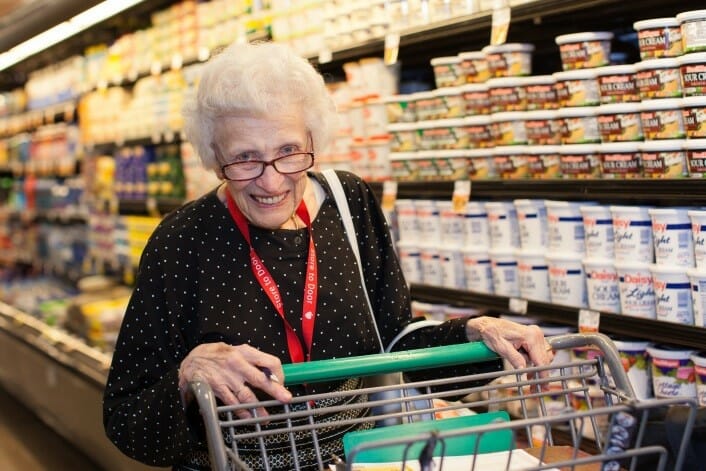 Pierce shopping at Store to Door.
Currently, Pierce spends time once or twice a week with Store to Door, a Portland-based organization that provides low-cost, volunteer-based grocery shopping and delivery for low-income and older individuals. She's responsible for purchasing food, household items, and prescriptions for people who aren't able to get to the store themselves.
When Store to Door launched in 1989, it served 25 clients. In 2015, it served 536 clients, delivering 8,322 grocery orders. Over the organization's existence, it's served 8,000 people and made roughly 140,000 deliveries. Pierce now serves on the Board of Directors, and during her tenure the number of clients and volunteers have spiked 53 percent and 42 percent, respectively.
Pierce's dedication to volunteerism emerged before her time with Store to Door, however. She previously served on the Citizens Review Board for the Oregon Judicial Department, reviewing cases on foster care and foster children. She also gave her time to CASA, another foster children's advocacy group.
Although she's never worked directly with the people her donated time has helped, Pierce said volunteering is one of the most impactful things anyone can do.
"I talk to all kinds of people about volunteering because I know what it's done for me, and I'm really sold on the idea," she said. "I'm starting to see more and more young people are getting involved, and I really think that's great. At the same time volunteers are helping others, they get benefits, too."
Share this post