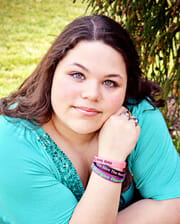 Jessica Vance of Blacksburg, Virginia started a service project at 11-years-old in the sixth grade as part of a school homework project. For her service project, Vance decided to crochet preemie and newborn baby hats, booties, and blankets for local hospitals to distribute to mothers in need. Vance found the service project such an enjoyable and heartwarming experience that she decided to continue it, and thus founded One Square at a Time.
Now a high school senior, Vance's organization, One Square at a Time, has provided more than 3,000 baby hat and bootie sets, 616 baby blankets, 12 baby sacks, 178 newborn sweaters, 318 newborn clothing items, 12 lapghans, 14 stoma covers, five Hokie Healing blankets, 117 preemie blankets, 283 preemie hat and bootie sets, four preemie diaper sets, 31 preemie gowns, five baby capes/ponchos, 67 crocheted toys, 56 baby bibs, 10 crocheted Christmas stockings, 21 teen/tween hats, and the numbers continue to grow each day.
One Square at a Time provides these baby items to hospitals, resource centers, and Indian reservations across the country, as well as in many countries around the world.
Share this post