Kentucky Man Practices Inclusion in Building a Better Tomorrow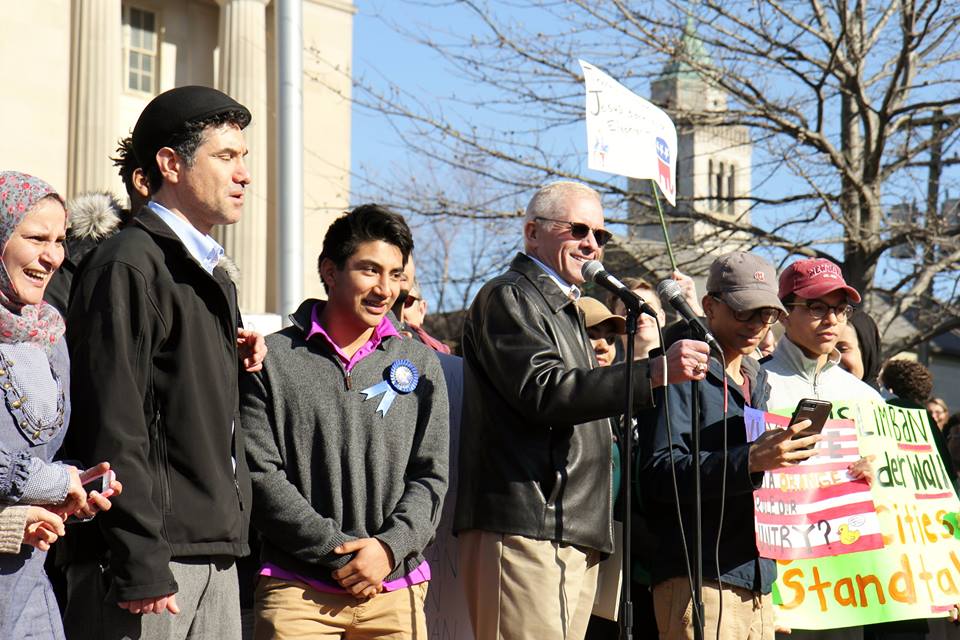 Stan "JR" Zerkowski's mission is to unite those of varying faiths and beliefs – even non believers are welcome – behind one common goal. As the founder of Lexington UNITED Interfaith Encounters and Dialogues, it's his message: inclusiveness and the power of unity, that is driving change in his community.
As our greater society encounters increasing divisiveness and barriers, the Lexington, Kentucky resident is confronting those challenges and extending his reach to serve the common good, celebrate diversity and facilitate productive conversations and encounters, regardless of an individual's creed, color or preference.
Bettering his community by bridging the differences, Stan is today's Daily Point of Light award honoree. Points of Light spoke to Stan to learn more about his volunteerism.
What inspires you to volunteer?
It was always instilled in me to give back to the community. The thing that compels me to continue volunteering is the tremendous hope that I have for a world where people can come together and celebrate each other's differences and defend each other's dignity. I firmly believe we can make that happen if we work together for the common good.
Describe your volunteer role at Lexington UNITED Interfaith Encounters and Dialogues
As the founder and director, I organize, plan, conceive, promote, and otherwise orchestrate our events and projects. I volunteer at least 8 – 10 hours each week, and alongside me are our many volunteers from every faith tradition and from the civic community. I happen to be the public face of the organization, however this is far bigger than me personally. This is about people building a better tomorrow by valuing our differences. To date, we've gotten 23 different communities of faith and civic leaders to come together to serve the common good and celebrate diversity and our common unity.
Soon after the Pulse Nightclub tragedy in Orlando, in which 49 people were killed, I thought that we should be reaching out to the LGBTQ community here in Lexington. We held a memorial concert in honor of the victims, and I saw the power in all of the various interfaith leaders, civic leaders and others coming together for a specific cause. Through our Encounters program, we encourage individuals to share music, prayer, literature that is unique to their particular traditions, so that we can all grow from those experiences. The idea is that we're standing together in solidarity and in public witness celebrating the uniqueness of each other and realizing that we don't have to believe in the same thing to stand next to each other and respect the traditions of each other. To date, more than 6,000 people have come together for Encounters.
How has volunteerism changed you personally?
I have really learned the plight and the situation of folks that are often marginalized. We recently held a downtown pilgrimage, "Share the Journey" which was held in solidarity with immigrants and refugees. And in October of 2018, we stood in solidarity with our Jewish family members during the Tree of Life Memorial Service following the Pittsburgh shooting. I've become deeply aware that there is more that unites us – which sounds sort of corny, but it's true, than our differences.
Explain how your service unites people.
This is one thing that everyone can do. We are creating opportunities for encounters. And anyone can do it. Ask someone that's different from you to lunch or coffee, get together a group that might be different and someone that speaks very differently than you, or with someone who has a different outlook on community or life, and share your stories. Typically, ideologies are put aside because we realize that the person sitting in front of us is a sister or brother. We're not trying to change anybody's mind, we're trying to understand and walk together to create a common world.
What's one thing you want readers to take away from your service?
Despite our differences, also called uniqueness, we are united in something different. United in love, humanity and hope. How can we find ways to celebrate that and to encourage that? That really is what we're here for.
Tell me about an upcoming event that you are excited about.
Please check our Facebook page for information about upcoming events: https://www.facebook.com/pages/category/Community-Organization/Lexington-United-Interfaith-Encounters-988661547920489/.
Do you want to make a difference in your community like Stan "JR" Zerkowski ? Visit All For Good for local volunteer opportunities.
Post written by Marlena Militana.
Share this post