Teen Creates Epilepsy Blankets to Bring Comfort During Unexpected Seizures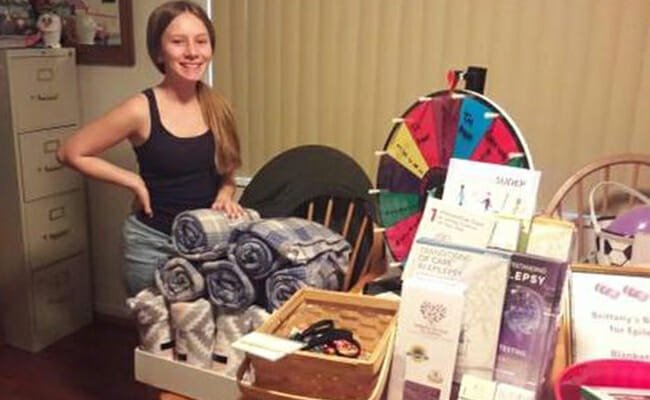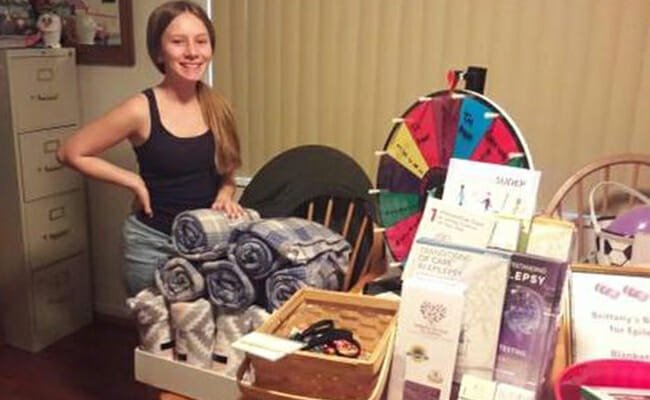 Brittany VanHook is no ordinary 15-year-old. After experiencing an epileptic seizure in a public mall, she was inspired to create something that would give peace and privacy to those who may face a similar circumstance. With help from her mother and father, Brittany created her first epilepsy blanket in her living room– and from there, she began giving back to those in need through Brittany's Blankets for Epilepsy.
Brittany was diagnosed with epilepsy when she was 7 years old. Epilepsy is a common, yet serious neurological disorder that affects people of all ages. One of its main characteristics is unpredictable seizures, which Brittany has experienced firsthand. Every time Brittany seizes, diastat medicine must be inserted rectally – an invasive but necessary procedure. And when seizures occur in public places, like the mall in Tampa, Florida, where Brittany's seizure occurred, an already traumatic experience can become even more difficult for the person involved.
Partnering with the Epilepsy Service Foundation, Brittany invented a five-in-one epilepsy blanket that can be worn as a backpack, used as a sleeping bag, has a specific pocket for medicine, is a pillow and has extra fabric that can cover someone receiving medication in public.
Brittany's Blankets for Epilepsy takes in donated fabric to create epilepsy blankets, which have been mailed to kids and teens with epilepsy across the country. The organization also collects ordinary blankets to distribute to the homeless, troops overseas and hospitalized kids.
One of the organization's biggest contributors has been Walmart, which donated blankets to be distributed at St. Joseph's Hospital. As one of Brittany's favorite memories, the Brittany's Blankets for Epilepsy team got to see the reactions of recipients when the hospital brought together all of the kids to pass out blankets to.
"I've learned to serve others even if you aren't getting anything back," said Brittany. Her accomplishments even caught the attention of the Tampa Bay Lighting, which presented her with a $50,000 grant for the Epilepsy Foundation, made Brittany her own hockey jersey and named her a community hero.
Brittany is excited to celebrate the 2019 Purple Day, an annual international grassroots effort dedicated to increasing awareness about epilepsy. This year's Purple Day will bring together people around the world on March 26 to wear purple and host community events. Brittany's Blankets for Epilepsy has already experienced an increase in requests for the epilepsy blanket, and will continue to spread awareness throughout her community.
"I believe that we are put on Earth not for ourselves," Brittany said. "You want to make sure that if you see someone who is not happy, you do something."
Do you want to make a difference in your community like Brittany? Visit All For Good for local volunteer opportunities.
Share this post