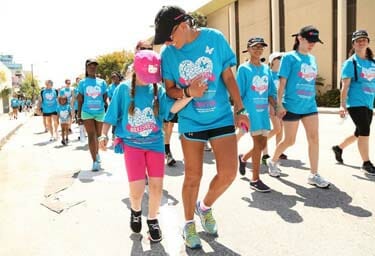 Meet Lauren Book, today's Daily Point of Light Award winner and a 2013 Women of Worth honoree. Read her story and nominate someone you know as a Daily Point of Light.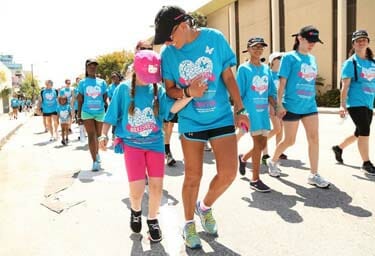 Lauren Book, center, participates in a walk her organization founded to raise awareness about child sexual abuse.
When Lauren Book was 11, her nanny started routinely sexually abusing her. The torment lasted six years.
Book was ashamed and embarrassed, but eventually she found the courage to tell a friend and a guidance counselor what was happening. With support from her father, Book was able to see her abuser successfully prosecuted.
Book also learned she was not alone. There are an estimated 42 million survivors of child sexual abuse in the U.S. By their 18th birthdays, one in three girls and one in five boys are victims of sexual abuse.
In 2009, armed with the knowledge that most childhood sexual abuse can be prevented through education and awareness, Book created Lauren's Kids, a South Florida nonprofit devoted to advocating stronger sexual abuse laws and to developing curricula for school children aimed at stopping sexual abuse. The group also provides counseling to abuse victims in crisis.
"As an advocate for the prevention of sexual abuse, I face a lot of challenges," says Book. "Some stem from the fact that sexual abuse – especially child sexual abuse – is a taboo subject and difficult to talk about. I myself had to get to a place in my own recovery where I could let go of the shame, blame and embarrassment, so that I could share my story with others."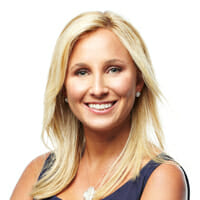 Since its founding, Lauren's Kids has won passage of more than two dozen laws to fight sexual abuse. And with assistance from a child psychologist, Book developed an anti-abuse curriculum for elementary school children that is taught throughout the Miami-Dade County school system.
Lauren's Kids also holds an annual 1,500-mile walk across Florida – Walk in My Shoes. The walk brings together victims of abuse and supporters to raise awareness of the issue and promote stronger legislation. Walk in My Shoes is now in its sixth year, and tens of thousands of Floridians have participated.
Book has also authored a memoir, "It's Okay to Tell," to shed light on the sensitive topic of child abuse and empower people to address abuse in their own lives.
Book says her inspiration for devoting herself to public service is her father, Ronald Book, who was an active community volunteer when she was growing up. He now serves as president of Lauren's Kids.
In her role as Lauren's Kids CEO, Book works daily with advocates, teachers and volunteers to educate Floridians about abuse prevention and healing. She also meets with lawmakers, raises funds and talks to abuse survivors.
"As much as we like to think that protecting children is a simple commitment, addressing the issue is extremely difficult," says Book. "We've changed this in Florida by raising the voices of survivors who were conditioned to be silent. … Change is happening and lives are being saved."
Share this post