Man with Autism Volunteers to Support Affordable Housing in Tucson
Meet Daily Point of Light Award honoree Matt Steiner. Read his story and nominate an outstanding volunteer or family as a Daily Point of Light.
"Fueled passion…staple at the store…genuinely cares," these are just some of the ways Matt Steiner's volunteerism is described. As a volunteer at the Habitat for Humanity Tucson HabiStore, the 32-year-old Tucson, Arizona resident is helping to support Habitat's mission of building a world where everyone has the opportunity to live in affordable housing.
The HabiStore is Habitat for Humanity Tucson's home improvement outlet which is open to the public. The store accepts new and used building materials, furniture, appliances, lighting fixtures and other home goods, and sells items to raise money for Habitat homebuilding projects. Matt, who has autism, volunteers at the store five days a week cleaning and tidying to ensure a safe and clean space for customers, and because of his efforts, the store is able to save money paying for custodial services.
Dedicated and committed to inspiring others through his service work, Matt makes it a point to enthusiastically support his fellow volunteers and other store staff as he volunteers, logging over 4,000 hours since 2017.
Points of Light spoke with Matt and his father, Doug, to learn more about his volunteerism.
What inspires you to volunteer?
Matt: Volunteering makes me feel good inside. It makes me feel that you're helping and giving back to all of Arizona, not just Tucson.
Doug: Matt has been volunteering for years. He loves being at the HabiStore and interacting with the people.
Describe your role with the Habitat for Humanity Tucson HabiStore.
Matt: I have a cleaning cart that I refurbished and use at the store. Because of HabiStore, 1040 tons of items are saved from the landfill annually, my cleaning cart was one of those saved items. We have 150 active volunteers at the store and I wash the volunteer aprons which is a very big help, so the volunteers have clean uniforms every time they volunteer. I keep the break room tidy and I work hard to keep our store clean, safe and shoppable for customers. I'm inspiring to others. I make sure all my other coworkers and pals are having a good day. I help to run the morning meeting with a morning montage, cheering on the other volunteers. Teamwork is very important, I teamwork with all my pals.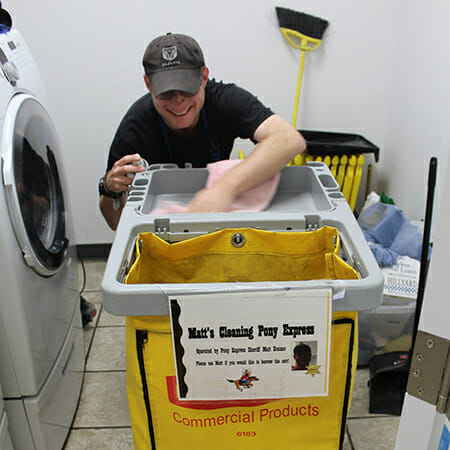 Your cleaning cart has a name. Tell me about it.
Matt: I'm a huge Kentucky Derby fanatic. I named my cleaning cart "the cleaning pony", because it's like my Secretariat (one of the greatest horses in racing history). Based on the recognition I've received for my service, It's like winning the Triple Crown!
You have been praised for your positivity and enthusiasm for Habitat's mission. Share one personal story with me from your volunteerism.
Matt: I now join the biweekly operations meetings because I have ideas that contribute to the store's success. All of the board directors once left a note, a thank you letter, from all of them because of my work.
What's one way you hope that Matt's service can inspire others?
Doug: I hope they see that if somebody like Matthew can do this, anybody can and should do this. Habitat helps people of all abilities. Matt can be a springboard for other people to volunteer.
Matt's service has been praised by leaders at HabiStore, he even sings as he volunteers. What does that mean to you?
Doug: It makes me happy that Matt is happy, and that he can interact with all these people and they appreciate him. Matt's one of these guys, if you tell him what to do, he'll do it, he'll dust, anything.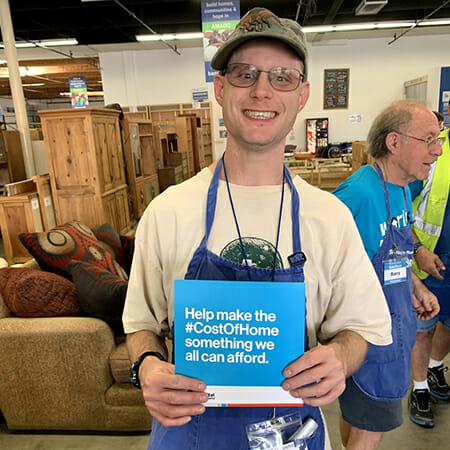 When you're not busy volunteering, what do you do for fun?
Matt: I love to go shopping. I love coffee shops and music. I do photo albums too!
Doug: He enjoys doing his shopping, going out to get chile rellenos, just going out with his parents. He loves socializing with his sisters and brother.
In one word, what does volunteering mean to you?
Matt: Helpful. Volunteering means I'm very helpful and informative because I'm learning new stuff day by day.
What have you learned through your experiences as a volunteer?
Matt: I've learned independence and responsibility. I am maintaining the store through my service work and I enjoy it.
How can readers help?
The HabiStore has temporarily closed as a result of the Covid-19 pandemic, but as soon as they reopen, donations can be dropped off or scheduled for pick up. Please visit the Habitat HabiStore website for more information about how you can help.
Do you want to make a difference in your community like Matt Steiner? Find local volunteer opportunities.
Share this post