Maryland Volunteer Spreads Cheer for Sick Kids Through the Mail
Meet Daily Point of Light Award honoree Jan Street. Read her story and nominate an outstanding volunteer or family as a Daily Point of Light.
Cards are sent to honor happy occasions like birthdays, holidays and milestones, and also to cheer recipients experiencing loss and struggle. Reminding sick children and others in need that they are not alone, Jan Street has taken card giving to the next level through her volunteerism.
As a volunteer for Zippy Zebra Smiles and Hugs, Jan sends handmade cards monthly to chronically or seriously ill kids and special needs children, in addition to senior citizens. Making more than 600 cards alongside her teen daughters since the start of the COVID-19 pandemic, Jan is sharing heartfelt positive spirit with many in her community.
Describe your volunteerism with Zippy Zebra Smiles and Hugs.
Through Zippy Zebra Smiles and Hugs, I send cards monthly to children with health issues and their siblings, in addition to senior citizens. Anyone can send cards through this organization, from a senior to church parishioner to a college or high school student.
What inspires you to volunteer?
As a mom, it's a good feeling to see your kids smile when they are feeling bad. I hope the cards bring a smile to all of their faces.
What does it mean to you that your children are able to join you in service?
It's great that my daughters enjoy helping when they can. They love to do for others and love to see everyone smiling and happy.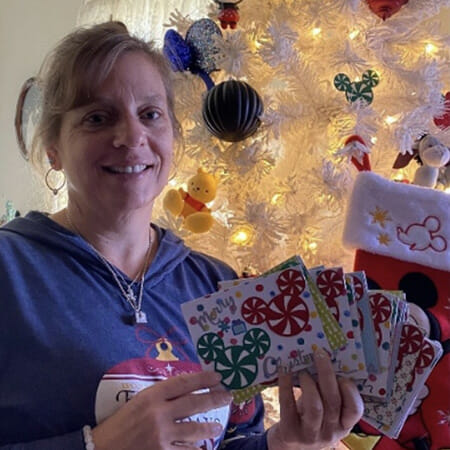 Share one personal story with me from your volunteerism.
It's nice to see photos parents share when their children receive cards. It's a good feeling when a mom shares that their child was feeling bad, or having an especially tough day, and my card really brightened their day.
Why do you think it's important for others to give back?
Volunteering makes the world a better place. If you're in a place where you can help to make a difference, you should.
What's been the most rewarding part of your service?
It's been rewarding knowing that I bring a smile to a child's face, and maybe their parent's face too!
Your volunteerism is an "encouragement to others." How have you learned through your experiences as a volunteer?
Not everyone views volunteering as important, but I think it's super important. Everyone can help someone, and we all should! (Your volunteerism) doesn't have to be cards for kids, it can be time spent sorting items to go to a shelter, shopping for Toys for Tots or (serving) at an animal shelter. There is a way for everyone to give back.
How have you continued to volunteer throughout the pandemic?
I am continuing to make cards. I think it's even more important (to volunteer) now than at other times.
In one word, what does volunteering mean to you?
Connection. To others and their needs.
How can readers help?
Zippy Zebra Smiles and Hugs is in serious need of card senders. Please visit their website for more information about how to help.
Do you want to make a difference in your community like Jan Street? Find local volunteer opportunities.
Share this post