Teen Spreads Awareness and Education Globally on Child Trafficking
Meet Daily Point of Light Award honoree Anooshkha Shetty. Read her story and nominate an outstanding volunteer or family as a Point of Light.
Anooshkha Shetty was shocked to find out child trafficking was present in her area after reading about a sex trafficking victim in Oakland, Calif., near her home in Los Altos. She immediately knew she wanted to do something to help fight this form of modern-day slavery. Three years ago, Anooshkha started the awareness campaign No Child Trafficking as part of her project for her Girl Scout Gold Award, which is the highest award a Girl Scout can earn.
Through No Child Trafficking, the 17-year-old travels to schools in both the Bay Area as well as India in order to educate middle and high schoolers on the issue and on techniques used by traffickers. Since the COVID-19 pandemic has prevented her from giving in-person presentations, she has instead been spreading awareness by writing articles and blogs on child trafficking. Anooshkha, who is currently a high school senior, plans to study computer science and artificial intelligence, particularly image recognition, so she can combine the work with human rights by using image recognition to help find traffickers and identify missing persons.
Describe your volunteer role with No Child Trafficking.
My project focuses on raising awareness of child trafficking. I address this problem by educating middle schoolers and high schoolers globally about different recruitment scams and techniques that are used by labor and sex traffickers. I also encourage them to spread this awareness.
What inspired you to start this?
I was browsing online one day when I read a story about a sex trafficking victim who was in Oakland. I was really disturbed personally because she was my age at the time and this happened so close to my home. This was in my area. I was completely shocked because in school I had learned about slavery, and I had believed this was something that happened in the past and had been abolished, but this was slavery and it was happening in the present day. Human trafficking is modern slavery. It was an issue that I really cared about and I wanted to do something to help.
What kind of feedback do you get from students after your presentations?
I gave presentations in India and in the Bay Area. When I gave presentations in India, the kids kind of knew what I was talking about because trafficking there is clearly visible. You can see kids in the streets cleaning tables, really young kids, so they knew what I was talking about. But when I came to the Bay Area, it was more, "Oh, that doesn't happen here, that only happens in third-world countries." So it was a bit of a shock to them that it actually happens in places like where they live.
Why do you think this issue resonated with you so much?
I think because I've grown up going to India and seeing these kids, and a lot of them were younger than me and my younger sister's age. I remember thinking, why aren't they in school? Why aren't they being kids? Why are they in the streets? I remember thinking all these thoughts and it's something that stuck with me for a really long time.
What's been the most rewarding part of your work?
The most rewarding part of my work was probably getting an email from a traffic survivor. I was in a path of my advocacy where I wasn't sure whether the work I was doing was really beneficial. Getting a email from her thanking me for what I was doing and saying what I was doing meant so much to her, that other people cared about this issue — that helped me, and it energized me to fight more for the victims who can't fight for themselves.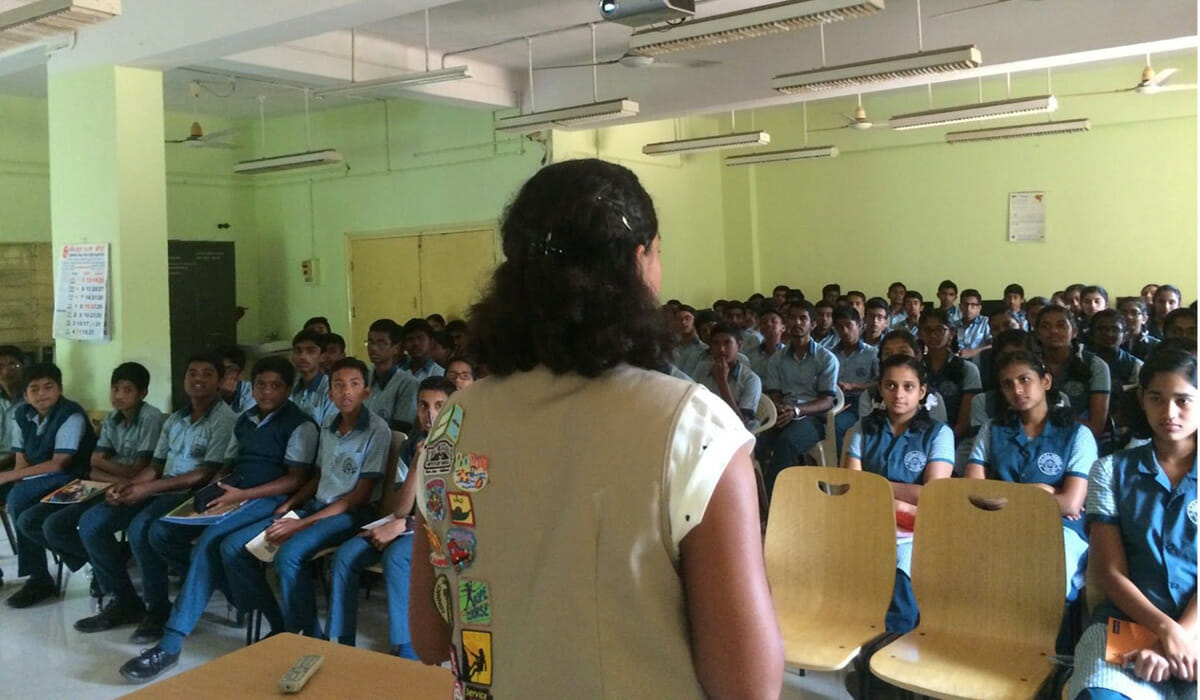 What do you want people to learn from your story?
Trafficking is not something that is very well known so I would like them to understand what it is. The basic form of trafficking is the buying and selling of children for the purpose of labor or sexual exploitation. I think a widespread belief is that it mostly happens in third-world countries, so for them to have awareness that it does happen in the Bay Area and it can happen anywhere.
Why do you think it's important for others to give back?
I think it's important for people to give back because they can. This is an issue that I really care about and I'm able to do all this. If I imagine myself in that situation, I would feel so helpless, so I want to be that hope and light that can help these people.
Do you want to make a difference in your community like Anooshkha? Find local volunteer opportunities.
Share this post