Military Veteran Helps Animal Shelter Pets Find Forever Homes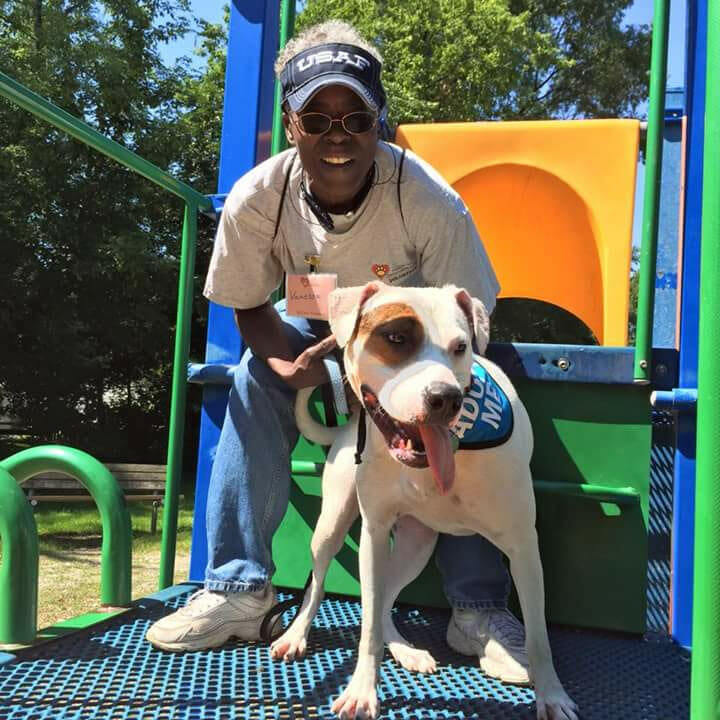 Detroit native and Air Force retiree Vanessa Williams has traded in her military dog tags for a new life helping dogs – and cats – get tagged with new owners.
Williams has become one of the most active volunteers with Friends for Animals of Metro Detroit, based in Dearborn, Mich. She's a trained and trusted member of the animal shelter's Pit Crew, which prepares special breeds of dogs, including pit bulls, to become suitable for adoption. Twice a year, she participates in adoption events, where a large number of pets are shown and often matched with prospective owners. Williams uses her own vehicle to transport cats to collaborating pet stores, where she visits them weekly until they are adopted – cleaning their areas and playing with them.
Williams tells Points of Light why helping animals is a win-win for herself, the pets, and their future owners.
What exactly do you do at the animal shelter?
What don't I do? I'm on the Pit Crew. I take dogs out twice a month to the park. I organized a pet partnership at the PetCo in Detroit. I go there on a weekly basis to clean, show pets and play with them. I help with outside events in the community where they require a Pet Crew member. My list is so long.
What is the Pit Crew?
We're specially trained to handle special types of dogs. A lot of them are pit bulls. We're authorized to take them out one-on-one, to play with them and get them socialized. Especially those who were abandoned — they're kind of scared. We give them one-on-one attention so they can be adopted.
Is that successful? Are you able to get them to the point where they are adopted?
Yes. It's a lot of work, though. It takes time and patience. They've got to trust you, and that takes work. Twice a month, there's a park at a nearby college and on Sundays, when the students aren't using the trail, we take the dogs out and just walk them, let them smell the grass and see things outside the shelter. We still need to handle them safely – we can't let them get too close to each other. But that way, we can show them how to properly walk on leashes, how to take treats, how to drink water, you know, without being aggressive. We give them exercise and trust me, when they come back, they're tired.
We do this regardless of weather conditions, including winter time and when it's raining (laughs). We just have to dress accordingly. It's fun. We enjoy working with them and a lot of them get adopted. We do off-site adoption events and Pit Crew members are the only ones authorized to take them out of their crates to show them to people. People can see how we tell them to sit and how they take commands.
What do you do with cats?
We have various off-site stores that partner with us. I go and get the cats. I set their rooms up (at the pet stores). I clean and sanitize and deodorize. I make them comfortable. Once a week, I go back and clean the rooms again, litter box and everything. I take each of them out and we go into a little room and I give them a little playtime so they can stretch their legs.
What inspired you to start volunteering?
I had a girlfriend who did it and she urged me. I have two dogs (of my own) so I thought I'd try it. I have an SUV, so I can transport a lot of animals. I started looking on their website and if I saw they needed a volunteer for this or that, I thought "I could do that."
How do you use your individual strengths and skills to help this organization?
With my military training and all, I'm able to show them how to organize things. I'm a multi-tasker. For example, I suggested to them to expand their area for doing off-site adoptions. I suggested they expand into Detroit, not just Dearborn. The more you expand, the more you can get exposure. Ever since they did that, after a year or two, we adopted 70 cats out of that PetCo alone. It's word of mouth.
Another strength I have, I can talk to people in a heartbeat. I'm good at sizing up people and matching them with pets. Because you just don't want to give pets out to just anybody. You've got to be selective.
What is the most rewarding aspect of your volunteer work?
Getting animals out of the shelter and getting them adopted. I think of them as kids. One vital thing I help do is weigh the dogs once or twice a month. That way, (the staff) can judge if they need to give them more food or if there is a health concern that we need to notify the vet about. It takes several hours. Some of them are big dogs – we have to bribe them to get them on the scale.
What have you learned from doing this work?
To care for all animals. I used to have the misconception that pit bulls were bad. I learned that pit bulls aren't bad at all. It's reversed my perception of pit bulls. Now, I'm a staunch believer that we're all misjudging them. They're as sweet as they can be.
Do you want to make a difference in your community like Vanessa? Visit All For Good to find local volunteer opportunities.
Share this post