Minnesotan Woman Helps Others Heal Through Equine Therapy
As a lifelong rider and equine fan, Laura Scott knows how transformative the riding experience can be. The powerful connection between horse and rider is therapeutic for everyone, which is why she's so thrilled to volunteer with We Can Ride, a non-profit that improves the lives of individuals with disabilities or special needs through equine assisted activities and therapy. Eager to be around horses, but without her own horse to ride, Laura found out about We Can Ride through a neighbor and has been working with the group for more than two years now. Whether she's cleaning stalls or walking alongside the horse and special needs rider, Laura knows she's making a difference.
Laura is committed to making a difference in her community and she is today's Daily Point of Light Award honoree. Points of Light spoke with her about her commitment to service.
What inspires you to volunteer?
I feel so very lucky to be doing something I love – being around horses- and play a small part in facilitating the horse-rider connection that is such a powerful force for good.
Describe your volunteer role.
I have several volunteer roles. I sidewalk – which means I besides a therapy horse and rider for hippotherapy classes – hippotherapy involves physical, occupational, or speech and language therapy on horseback, with both a therapist and volunteers assisting. I also regularly exercise the horses to keep them in shape for their therapy jobs. As a substitute feeder, I feed the horses twice a day and muck out their to paddocks and stalls. I also boot camp new horses – get them used to new surrounding. I've also co-chaired and raised money for We Can Ride's annual fund raising event. I am usually there four or five days a week.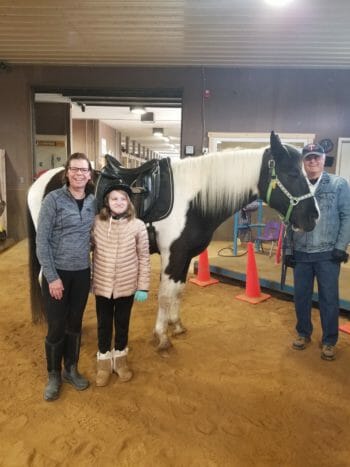 What's been the most rewarding part of your work?
Being able to see how the horses help these people is incredible. They sense the person's fears and disabilities and somehow a bond of trust is formed. That's a powerful thing – when a little girl says that her horse is her legs so she can run, how can it get better than that? Seeing the smiles and sense of accomplishment of our riders is the best reward.
What have you learned through your experiences as a volunteer?
I have learned watching and knowing all the volunteers and staff that the little things really do matter. A smile, a hug, a word of encouragement goes such a long way. I have learned that therapeutic riding changes lives for the better, even when the rider starts out afraid or hesitant.
Are there any future partnerships, programs, or events that you are excited about?
I am excited and hopeful to grow our organization to assist more people. We are opening our large clear span arena this spring – this will allow us to have so many more therapy clients and give the horses so much more room to do their jobs.
Why do you think it's important for others to give back?
If you are thinking about volunteering at all just find a place and jump in! In most cases you will receive far more than you give. I tell all my friends about We Can Ride – it's become like a second home for me.
What do you want people to learn from your story?
That being a small part of a change making organization is incredibly satisfying. I see lives changed daily and I am grateful to be a part of that. As someone who has a busy career in real estate, it's so rewarding to switch gears from making a living and be involved in something that just involves giving back.
Do you want to make a difference in your community like Laura? Click here to find local volunteer opportunities.
Share this post
---