Offering Horse-Assisted Therapy for Disabled, Retiree Gives Gift of Movement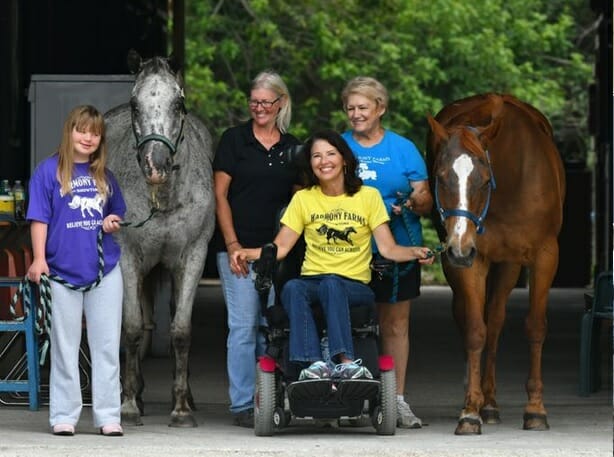 71-year-old Pamela Rogan says that as a teenager, she asked for a horse as a gift for every birthday and Christmas. However, by growing up in an apartment in Brooklyn, her wish never came true.
Today, the Melbourne, Florida resident has a stable of more than a dozen horses in nearby Cocoa, Florida where she provides horse-assisted therapy for individuals with physical, mental and behavioral disabilities through her organization, Harmony Farms, Inc. All riders, ranging in ages from three to over 70 years of age, are able to take advantage of the benefits of horse riding. These benefits include movement, increased muscle tone, verbalization and attention span development.
Impacting thousands of riders in the more than a quarter of a century since launching Harmony Farms, Inc., Pamela is making a difference in her community through the therapeutic power of horses, and is today's Daily Point of Light award honoree. Points of Light spoke to Pamela to learn more about her work with Harmony Farms, Inc.
What inspires you to volunteer?
I never volunteered as a child or young adult. Most of the time, my life was too busy with family, working and other things. Once I retired, I finally had the opportunity to volunteer and I'm continually inspired, mainly because it just feels good. If you have something you can help someone with or benefit by, why not share it?
Describe your volunteer role with Harmony Farms, Inc.
It's a 24/7 job, but a true labor of love. I work to add more programs for our riders and I fundraise to support those programs. I also organize events and I am the chief grant writer.
What kind of legacy do you want to leave behind?
That I made a positive difference in somebody's life, whether it was a volunteer or a rider. I'd like people to remember that I gave our volunteers an opportunity to help people and put more in our riders' lives than what they had before.
What's been the most rewarding part of your work?
Seeing our riders improve every day is rewarding because we see small miracles. When I have the parent of a 6-year-old child, who is riding for the first time, start crying and they tell me they are tears of joy because they've never heard their child giggle… that is worth it. That's worth everything.
Is there a future event you are excited about?
In December we will host our "Blizzard at the Barn," it's our holiday open house. Please check our website for more information.
What have you learned through your experiences as a volunteer?
When we have school children come out to visit us at the farm, I remind them that everybody on site helping the children are volunteers. When I ask the children what it means to be a volunteer, we always get a couple of kids who say, "To do something that you don't get paid for." Ask me if I get paid? Yes I do, but not in money. I get paid by feeling good for doing something good for someone else.
Why do you think it's important for others to give back?  
Start small and think about your own personality when deciding how you want to give back. In my career, I worked in business and management so taking on this farm and operation wasn't a big step for me. If you've got time, go volunteer and help somebody. In the volunteer world, it's either feast or famine. We always need help. There is no such thing as having too many people to help.
What's your life motto?
Do unto others as you would have others do unto you. That's what I try to encourage, especially with our young volunteers that come out. And that advice goes for our volunteers, our animals and everyone who visits us.
Do you want to make a difference in your community like Pamela Rogan? Visit All For Good for local volunteer opportunities.
Post written by Marlena Militana.
Share this post