Oregon Woman Speaks Up for Child Abuse Victims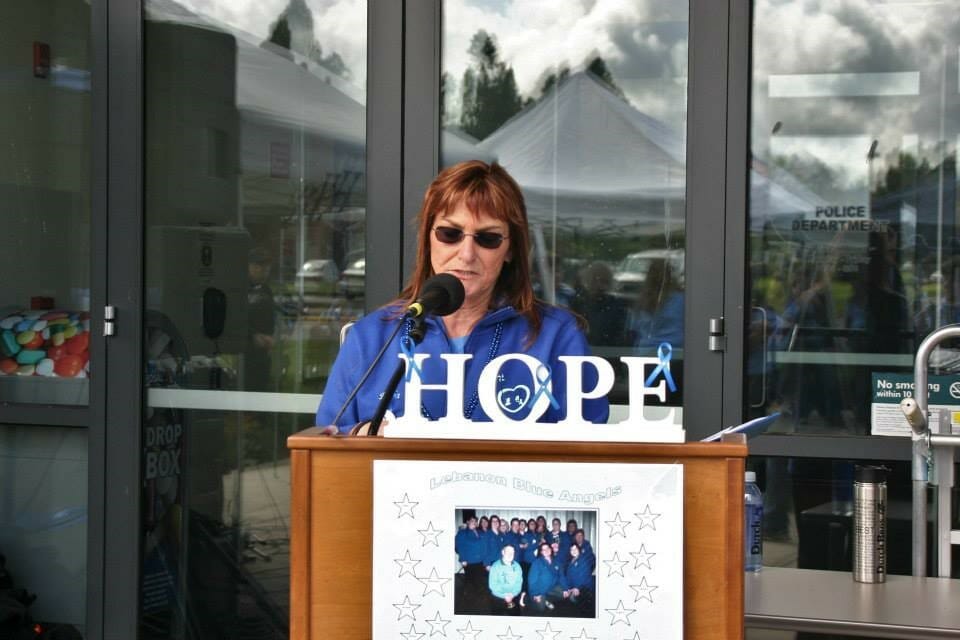 Dala Johnson is a Community Policing Officer in her hometown of Lebanon, Oregon, and the founder of Dala's Blue Angels, an organization that raises awareness of child abuse and provides resources and support in the greater community for abused or neglected children. Dala is making a difference in her community by acting for those who are often powerless, and is today's Daily Point of Light award honoree. Points of Light spoke to her to learn more about her work with Dala's Blue Angels.

How did the deaths of two little girls in your community make you take action?

My heart just broke thinking about Tesslynn O'Cull's death (the 3-year-old was brutally beat and abused and later died in 1997). They found her so close to where we lived and I thought to myself – how anyone could do that to a child. Chief Stevenson (Lebanon, Oregon Police Department) and I decided that Lebanon needed to be involved in Child Abuse Awareness month. We wanted to do something unusual so we started an event called "Walk a Mile for a Child". We dedicated our first year to Tesslynn so people could read and hear about what happened to know that child abuse is real and understand what we need to do to end abuse. Year 2 we dedicated to Karly (Karly Sheehan was 3-years-old when she was beaten to death). Her dad has been involved in our walk every year since. Our community needs to shine a light on this issue as there are so many abuse cases out there that go unreported and there are so many victims still that need our help to become survivors.
Your volunteers are recognized as the Blue Angels because of the blue ribbons you hang around town. How are you bringing child abuse out of the shadows with these ribbons?

There are 26 of us in total, and when we place ribbons up and down our main streets in honor of Child Abuse Awareness Month, we are making a statement that we are not hiding child abuse anymore. April is just the month that we turn Lebanon blue, but we do not let them forget the rest of the year. There has not been one year that while I have been out tying ribbons and turning the city blue that someone has not stopped and hugged me to say "thank you" for getting abuse out in the open. The Blue Angels do events year-round; parades, traffic patrol and more to raise money and awareness. We serve as a reminder of stopping abuse.

You've said that if you can help save one child, you've done your job.

I have made a difference in helping families understand that child abuse is NOT okay and they can come and report it and not feel horrible for doing so. Have I personally saved a life? I do not know. But I know in my heart that in the five years (since Dala's Angels was formed), our community has come to understand what the blue ribbons stand for, they know what the five foot metal blue ribbons are in front of our police department and they know what Dala's Blue Angels are. They know that child abuse will not be swept under the mat in our community and that we are here to increase awareness and protect our children.
How are you motivated to do more?

My drive is personal, as it is for many of our Blue Angels. I was a former abuse victim, and am now a survivor. I never talked about it until recently. We as adults are supposed to be protecting children, as they are so vulnerable. We have to take that responsibility on. A child's shoulders are not built for carrying that type of weight. The safety of our children comes first and foremost. Our goal is to let them know we care and that we will give them the resources they need to become survivors themselves.

What can people do in their own communities to help abused children?

People need to become advocates. Support policies and programs in your community that promote healthy child development and the prevention of abuse and neglect. The money Dala's Blue Angels raise goes to a local ABC House, which is a child abuse intervention center that provides services to over 3700 people annually. Contact a Darkness to Light facilitator in your area – they are advocates trained to keep children safe. There is evidence-based training that influences community behavior change. Let's all be superheroes for our children.
Share this post