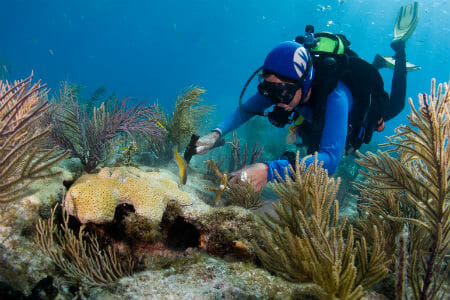 Meet Daily Point of Light Award honoree Patti Kirk Gross. Read her story and nominate an outstanding volunteer or organization as a Point of Light.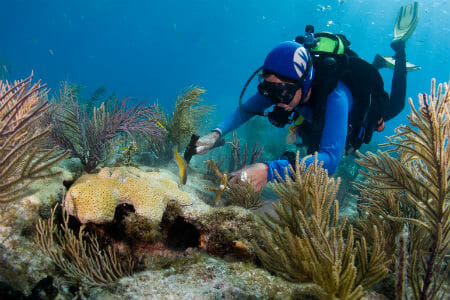 Patti Kirk Gross plants corals.
The year Patti Kirk Gross left Nebraska, where she'd grown up and attended college, she had just suffered through 30 straight days with subzero temperatures. "I said, 'I don't care where I'm going, but I'm going,'" she says with a laugh. She ended up in Las Vegas, working for the state government.
The decision would change her life.
It was on the job there that Gross started chatting with a police officer and learned that he was a scuba instructor. Having grown up in a landlocked state, the life aquatic had always called to Gross. Tagging along with her new friend, the cop, she slowly learned to dive, first in Lake Meade and then the ocean.
A few years and many lessons later, Gross took her scuba certifications and explored the Caribbean – St. Lucia, Turks and Caicos, then the Bahamas.
Ultimately, she returned to Las Vegas and met the man who would become her husband, David Gross, a native Floridian. Together they began visiting the islands of the Florida Keys, then relocated there.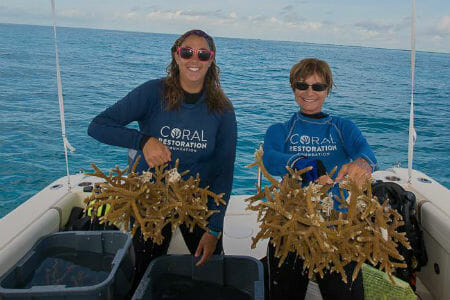 Patti Kirk Gross, right, and colleague Jessica Levy venture out on a coral restoration trip.
"It's like living in a time warp here, because it's a protected area," she says of the place she now calls home, Islamorada, Florida.
Shortly after arriving, Gross, now 62, met Ken Nedimyer, a marine scientist who was beginning an effort to restore the area's decimated coral reefs.
"At that point, it was just a family effort, and he was giving a presentation at one of the dive stores, looking for volunteers," she recalls. "I was absolutely fascinated. I knew that the reefs were dying off but I didn't realize that as a diver I could help and that I could contribute to a positive action to save them."
Now Gross dives several times a week as part of the Coral Restoration Foundation's ongoing efforts to repopulate reefs. The nonprofit's methods involve growing new corals, which are marine invertebrates, in off-shore underwater nurseries and having volunteer divers replant them at degraded sites.
"The healthy corals are too spread out on the reef to successfully spawn," Gross explains. "So divers collect healthy specimens, bring them back to the nursery where they are genetically tested and propagated, then re-plant the new coral in clusters that are strategically placed to encourage spawning of different genetic strains."
In one recent mission, Gross and her husband participated in the planting of 6,000 corals at the Alligator Lighthouse Reef, a local site they've "adopted." More than 12,000 corals were planted at another site, the Key Largo Dry Rocks; and Gross has also traveled to Jamaica, Bonaire and Mustique to assist in the education and training involved with the implementation of coral nurseries in those countries.
"I want future generations to experience the full beauty of the coral reefs," she says. "But I also understand that without the reefs, there are a lot of other benefits we lose, such as the oxygen they generate and the fish who live there. So much is dependent on the health of our reefs."
Share this post