Pennsylvania Teen Helps Raise more than $15,000 for Youth Cadet Camp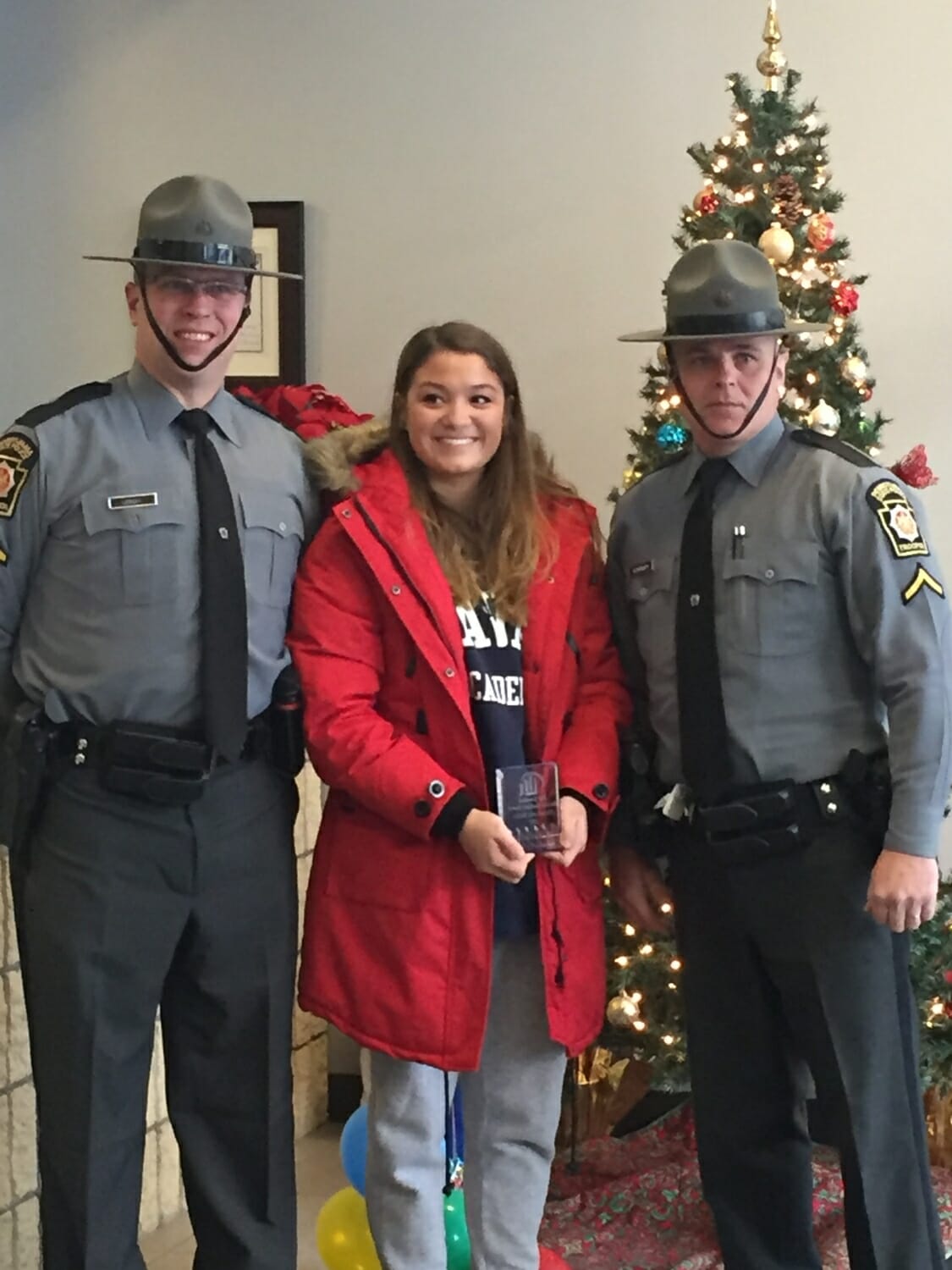 During the summer of 2015, Beth Felix attended the Cambria County Camp Cadet (CCCC) program. The camp, in Cresson, Pennsylvania, is free of charge and staffed by troopers and other volunteers with the goal to establish a positive relationship with law enforcement. The camp teaches participants about discipline, self-esteem, teamwork and addresses many other issues today's youth are facing.
Beth's experience was deeply impactful, and she returned from the camp with a deeper understanding of the world and wanted to make a difference in the community. As a result, she started a letter writing campaign to support the CCCC program. To date, her efforts have totaled $15,875.00 in raised funds.
Throughout the year, Beth works on letter writing campaigns to fundraise, market and raise awareness for the organization at community festivals. She also attends fundraising events, community awareness programs and community ceremonies. Before the camp begins, Beth volunteers to help prep for the annual week-long camp and during the camp she volunteers as a senior mentor to the campers.
During the summer and holidays, she also volunteers at the Winners' Circle Basketball Academy coordinating and planning clinics and educational events at the Greater Johnstown Community YMCA for the community kids.
She thinks it is important for others to give back because she believes it is a part of building communities to have people taking responsibilities for their actions to make improvements. "No matter how small each contribution is, they all make a difference and can lead to big changes in the long run," says Beth.
In addition to her volunteer work with the CCCC, she has co-founded two organizations with her brother, H.E.L.P. (Heroin Epidemic Lifeline Program), in partnership with Peniel Drug and Alcohol Treatment Center, and the 10,000 Bibles Campaign. "Our goal is to give 10,000 bibles to local youth organizations to reach children who might not otherwise be able to go to church."
Beth says the most rewarding part of her work has been hearing the responses of those she has helped and seeing how small changes in a person's life can make a huge impact.
"I recently had a church contact me about obtaining bibles for one of their programs in Haiti," Beth said. "It is hard to believe that a program we started such a short time ago is already going to be affecting people internationally."
Through service, Beth says she has learned the big picture and purpose in her life. "I've learned that life isn't about me, myself and I," she said. "Instead, it is more faith first, others second, and me third."
She hopes that others can learn from her story to listen to their heart when they are called to make a difference. "It will be the most rewarding and joyful time of your life knowing that you can make a difference in your community. If I can do it, I know anybody can."
Want to make a difference in your community like Beth? Visit All For Good for local volunteer opportunities.
Post written by Karen Cohen.
Share this post