Puerto Rico Native Organizes Hurricane Relief Effort for Residents of His Former Island Home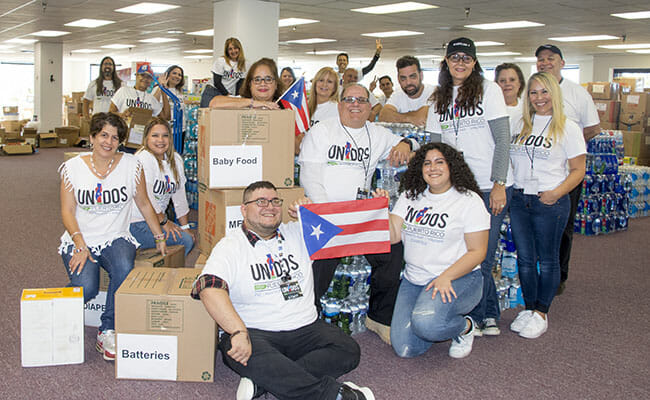 As Texas, Florida and Puerto Rico face the aftermath of Hurricanes Harvey, Irma and Maria, Points of Light is honoring everyday citizens who stepped up to serve their communities during the immediate response and to embark on the long road to recovery. Meet Daily Point of Light Award honoree Rafael Babilonia, and nominate an outstanding volunteer you know as a point of light.
Raised by parents who were heavily involved in the nonprofit sector, Rafael Babilonia learned early on the power of volunteerism and civic engagement. So it is no surprise that, as Hurricanes Irma and Maria threatened the Caribbean, the Puerto Rico native wasted no time in stepping up to help. He knew the devastation to the island he once called home would be substantial, so he began large-scale relief efforts before the storms had even passed.
Rafael organized Unidos por Puerto Rico – DMV, with support from Susana Slayton, CEO of Dynamic Animation Systems, where he works in Chantilly, Virginia. Rafael has been working tirelessly to collect supplies and get them to various aid organizations and Puerto Ricans in need – Unidos por Puerto Rico – DMV (District of Columbia, Maryland and Virginia) has already sent nine planes full of supplies to those in need and is not showing any signs of slowing down.
We spoke with Rafael to learn more about his efforts to help the people of Puerto Rico affected by Hurricanes Irma and Maria.
What inspired you to volunteer in response to Hurricanes Irma and Maria?
First, thanks to my parents Rafael and Hedda, who taught me that serving and helping others is the only way you can make a difference in your life. As former founders of Make-A-Wish Foundation of Puerto Rico, and members of many nonprofit organizations like Boy Scouts of America, Rotary Club, United Way and American Red Cross, at home we saw and witnessed the dedication given to helping others. Also, living in Puerto Rico during Hurricanes Hugo and George, which also destroyed our island, I worked as part of the Red Cross Humanitarian Mass Care and Damage Assessment teams.
When I saw on Monday, Sept. 18, a meteorologist from a Puerto Rican news channel crying on live TV, I knew this would be a major disaster for Puerto Rico. I contacted my company's CEO, Susana Slayton, and asked her for support. She and I have traveled many times recently to Puerto Rico because we want to open an office there. Susana immediately converted the company warehouse into a collection center before the hurricane made landfall in Puerto Rico. In this way, she and I began our project, Unidos por Puerto Rico – DMV.
How did Unidos por Puerto Rico – DMV start and what is your role as a volunteer leader?
Unidos por Puerto Rico is a movement created by Puerto Rico First Lady Beatriz Rossello to help people before Hurricane Irma passed through Puerto Rico, and then Hurricane María. As the coordinator and founder in partnership with Susana Slayton, we added DMV to the name to distinguish our "chapter" from others around the country. My role and my partner's role is to promote donations, provide the resources and space to accommodate all donations, and manage the logistics needed so that supplies are delivered as soon as possible to the people in Puerto Rico. We work hard so that donations do not just sit in warehouses. We also have more than 200 volunteers who are a very important part of this operation.
How is Unidos por Puerto Rico – DMV supporting Puerto Rico?
As of today, we have flown nine major shipments with almost 200,000 pounds of supplies to Puerto Rico in private planes, commercial airline flights and National Guard flights. Our shipments include pallets of medical supplies, canned food, water, clothing, tools, baby food, baby formula, diapers, pet food and other needed supplies. At our warehouse we currently have more than 166 skids ready for delivery with a total weight of more than 250,000 pounds. We are getting ready to ship another 250,000 pounds of supplies at another collection center that we opened. As part of our efforts, we have shipped medical supplies for the Health Department, supplies for the Puerto Rican Police Department and for our soldiers through the 1st Mission Support Command. This is in addition to supplies we sent directly to many of the hardest hit municipalities in Puerto Rico.
What has been the most rewarding part of the experience so far?
To see a picture or a video of my Boricuas, when the supplies are in their hands, how their faces change. To be able to make a difference in their lives is the highest reward.
What have you learned through your experiences as a volunteer?
That the only way to help others and make wishes come true is with the great support of your family, your company, volunteers, and making strategic partnerships with people who have resources that can help. There are many, many people who want to help. We need to reach out in every direction to find them and make the connection. It is all about relationships.
Why do you think it's important for others to get involved and make a difference in their community?
Everyone can contribute and make a difference in the lives of others and the world. If you don't have money, you can work or use your other talents to help. If everyone works together, giving what they can, and thinking of those in need, then everyone can make a real difference and make the world a better place. It takes dedication and sacrifice for others but it is so worth it.
What do you want people to learn from your story?
That, no matter what you dream or you wish to do to help others, put all your spirit and soul towards your goals, and always count on your family, friends, and other good people in this world.
What is next for Unidos por Puerto Rico – DMV?
We remain dedicated to helping Puerto Rico as long as they need help. Hurricane Maria was a disaster like no other and the need will be great for a long time. We will not stop doing what we do until the people of Puerto Rico tell us they do not need our help anymore.
How can people support Unidos por Puerto Rico – DMV's work moving forward?
We need help with securing flights and other transportation so we can move the supplies quickly into the hands of those in need. We will continue to need donations of supplies. We can also accept monetary donations that will be used to purchase urgently needed supplies and help pay to expedite shipments. Also pray that we will be able to continue operations as long as needed, pray for our volunteers, but most of all pray for all the people of Puerto Rico. Only with everyone's support can we rise and make Puerto Rico "La Isla del Encanto" (The Island of Enchantment) again.
Visit the Unidos por Puerto Rico – DMV Disaster Relief Fund.
Share this post