Texas Nurse Finds Joy in Helping Underserved Populations and Disaster Victims Through Skills-Based Volunteering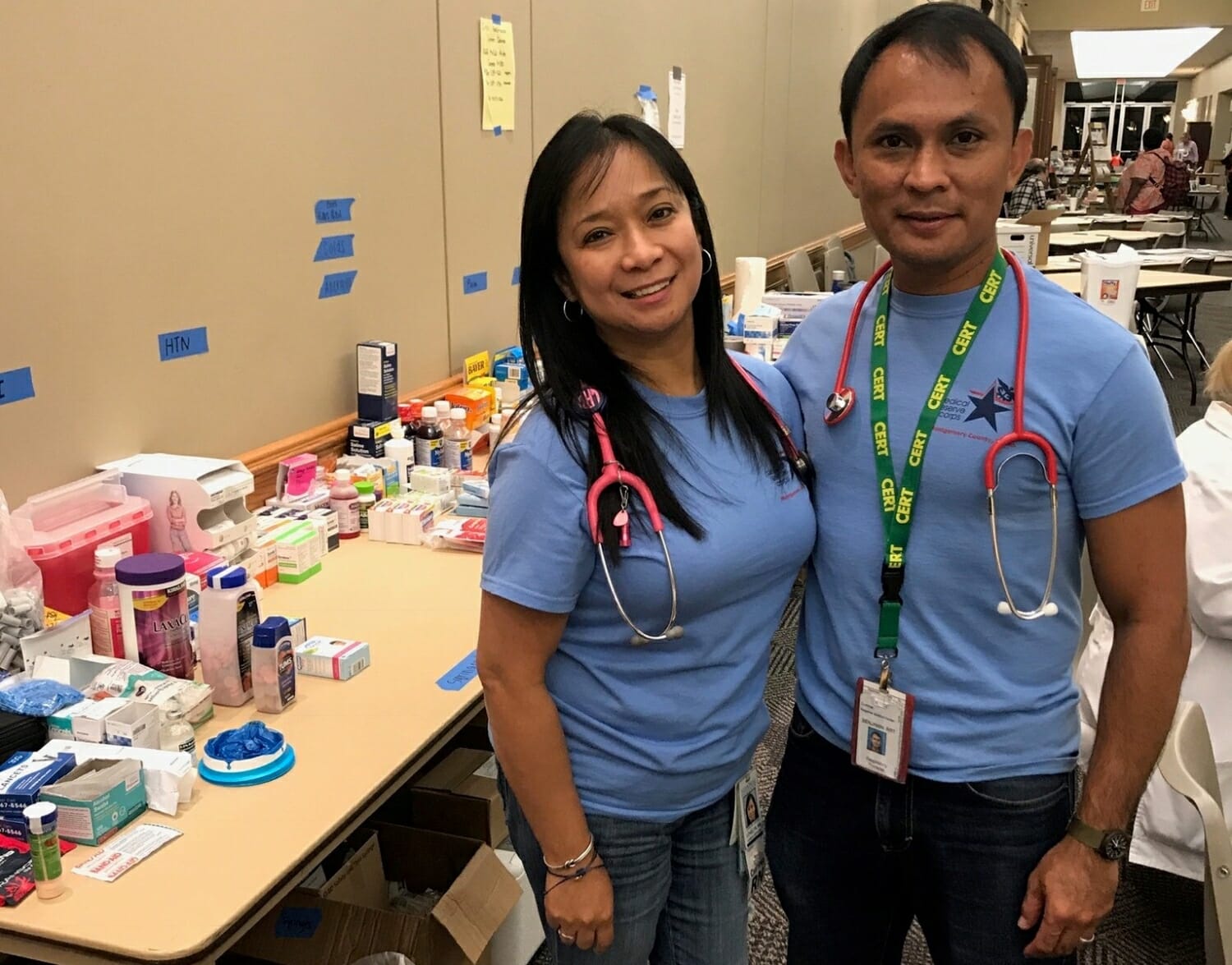 As a nurse, Lovelyn Agleam knows the importance of meeting the needs of others. She's a full-time charge nurse in the observation unit of Memorial Hermann The Woodlands in Texas, but her work to help others extends beyond the hospital walls.
Lovelyn keeps a busy schedule, but she still finds time to volunteer her nursing skills with the Medical Reserve Corp, assessing patients, monitoring vital signs and meeting basic patient needs. In addition, she also volunteers through her church and other community organizations.
Points of Light spoke with Lovelyn about her volunteer service and the impact she's made.
How did you first get involved with the Medical Reserve Corp?
I was involved with medical research for three years. My husband encouraged me because he was active with community service, and I thought, "Why not?" I'm a nurse — I've been a nurse for more than 25 years. And, for me, being a nurse isn't limited to taking care of sick people in the hospital. You also can extend it by helping your community, especially those in need of help medically. Recently, Texas was affected by Hurricane Harvey, and my husband and I decided to volunteer, sharing our medical skills and helping those people in the area just to make sure they were okay. Being a nurse is trying to share your knowledge and skills, especially when taking care of sick and indigent people who are in need of my help.
What are your responsibilities in that role?
Usually, because I'm an RN, they're asking for me to make sure to assess the patient in relation to their complaints of hypertension. So, I take their blood pressure to make sure everything is normal. If something is wrong with our assessment, we inform the doctor or nurse practitioner in charge. It could be something that needs to be treated at that time.
How frequently do you volunteer your nursing services?
We usually receive an email, especially during a calamity. If we're available, we help during our free time. During Hurricane Harvey, our hospital was activated, and the Code Team we were part of needed to stay in the hospital. So, I stayed there for three days. If I have time, and during my off days, I usually go with my husband. We always go together because he's a respiratory therapist. We usually go to the shelter nearby or to some designated places where the Medical Reserve Corps needs help.
We've helped about 50 people, and they were all sick. Their issues could be minor or major. If there are already major issues, we usually make a referral that they be admitted to the hospital.
What other volunteer services have you done?
I've been a member of Sacred Heart Catholic Church for 14 years from the time I came to the United States. I started volunteering there four years ago. We usually help the church during fundraisers to raise money for indigent people. I usually do this once or twice a month for three hours.
Also, at the Society of St. Vincent De Paul Conroe Texas, I volunteer in the clothing section that provides clothes to the homeless and low-income families of the Montgomery area. We're trying to help them meet people's basic needs.
Why do you think it's important to volunteer?
It totally makes a difference. It makes me feel that I'm really a part of the community. It's not only one way of helping your community, but it's also one way of socializing with multicultural people with different needs. I really love doing it.
Do you want to make a difference in your community like Lovelyn? Visit All for Good to find local volunteer opportunities.
Share this post