Volunteer Helps Build Community, One Cup of Coffee at a Time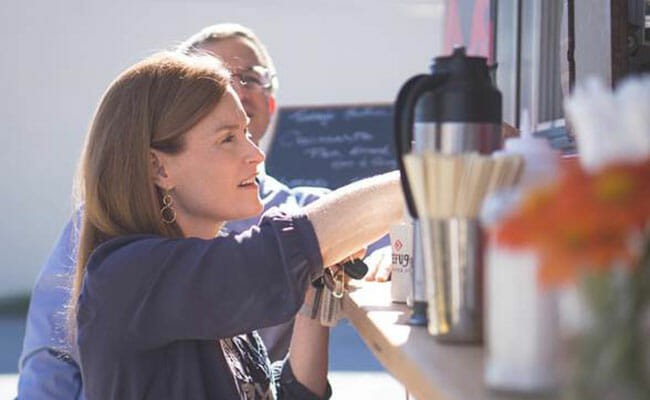 As the first volunteer for Refuge Coffee in Clarkston, Georgia – an area that hosts the most diverse square mile in the country and is home to over 60 native-spoken languages – Karen Guess brings together people from all walks of life over the universal language of coffee and tea. She moved to the area at the same time as Refuge Coffee founder Kitti Murray, who had a dream of creating just such a communal place.
"She asked me to be her No. 1 volunteer, so I said yes," Karen said. "We met every week to plan this coffee shop and the logical next steps. In that first year, my role was really to take her big dream and process it with her. I love idea vetting and participating behind the scenes, so this was a great role for me."
Selling coffee from a bright red food truck in a used car lot, Refuge Coffee has made its presence in Clarkston known. The team hopes to create a vibrant community, as well as create hope and opportunities for resettled refugees through employment, training and mentoring. Sticking to its mission, Refuge Coffee provides job training and employment with livable wages to refugees, helping to create a diverse and welcoming experience for those resettling to the United States.
Refuge is also committed to addressing gaps seen in the community through awareness, hospitality and opportunity. Many in the greater Atlanta area are unaware of the growing refugee population; the Refuge team is working to fix that by providing a place for locals and refugees to connect and learn from one another. Many immigrants have never been inside the home of Americans; Refuge serves as a gathering place where locals and refugees can mingle and foster relationships. And, while the number of people in Clarkston without jobs is extremely high, Refuge seeks to fix that by providing jobs and employment training.
Karen is part of a team of volunteers who have been the backbone that keeps Refuge going. She supports events, works to support the trainees and helps refugees find their way in a new community through unofficial tours. She helps fundraise and share the story of the community and organization. But she says for as much as she gives, she gets even more out of her experience.
"Being part of building Refuge and the Clarkston community has been a huge turning point in the way I see and interact with the world," Karen said. "I've changed who and how I am because of this community; there's a strength of community here that just doesn't exist in most places."
When it comes to encouraging others to volunteer, she says go for it.
"For me, I've never regretted walking through an open door," Karen said. "Sometimes I stand at the threshold a little bit, but I've never regretted it. If you're feeling drawn toward something, just walk through the first open door and see what happens. We live in a world where we are super busy and highly tuned people. We want things to be efficient and sometimes aligning your passions with the needs of the world takes time, experimenting and patience, but it's worth it to take the journey."
Find opportunities to get involved in your community at www.allforgood.org.
Share this post