Retired Navy Pilot Helps Others Heal with His Golden Retriever Therapy Dog
Meet Daily Point of Light Award honoree Rocklin Gmeiner. Read his story and nominate an outstanding volunteer or family as a Daily Point of Light.  
Rocklin (Rocky) Gmeiner didn't sit still once he retired from being a U.S. Navy pilot. Instead, Rocky filled his years of retirement with volunteerism and service — and he wasn't alone. Rocky and his dog Bella have become a dynamic duo of therapy and kindness across Seneca, South Carolina, and bring smiles to a multitude of faces across their community.  
In 2018, Rocky partnered with therapy dog organizations, like Alliance of Therapy Dogs and SC Dogs Therapy, and has now completed more than 570 therapy dog visits with his golden retriever, Bella. From children with special needs to memory care units in senior citizen homes, Rocky and Bella are dedicated to spreading hope wherever they visit. 
Describe your volunteerism with your dog Bella and how you became a therapy dog team. 
I grew up in a small town in Wisconsin, attended the U.S. Naval Academy and spent 30 years as a U.S. Navy pilot. Then I worked for a big defense contractor for 19 years before retiring. When a lot of people retire, they look for something to do. I've been an active person all my life. When you retire, if you're able to, it's a good time to pay if forward to do something for somebody else.  
I made it to South Carolina and started looking for something to do. I spent four years helping Habitat for Humanity build houses, but then I hurt my foot. While I was recovering, people were telling me, 'Hey you have this beautiful dog, why don't you do some research and find something to do with her?' In 2018, I looked up what we could do, and I knew my dog Bella could pass the requirements to be a therapy dog.  
There are therapy dog organizations all around the country, and one of the biggest is called Alliance of Therapy Dogs, which is one I volunteered with. We've also helped SC Dogs Therapy, where Bella is actually one of the dog testers to test the new dogs. As a therapy dog team, we're meeting new people all of the time who have incredible stories. To be honest, I was also looking to do something with my dog because it's really nice when you can take your dog to work. I've been blessed in life, and in retirement, I don't want to just sit around and play golf all the time. You have to do something for somebody else, and that's what Bella and I try to do.  
What are the benefits of dogs as a tool for therapy?
Dogs have been known to make people feel good… not all people, but a lot of people. When some people pet dogs or are around them, it actually helps boost endorphin levels. Taking your dog to a facility is a unique experience. What's unique about therapy dog volunteerism is that you have immediate visual feedback on what you're doing. Most of the time people start talking to your dog before speaking to you. They tell Bella that she's beautiful and soft, and hug and kiss her. You can stand there and watch how joyful a person is when your dog comes up to them.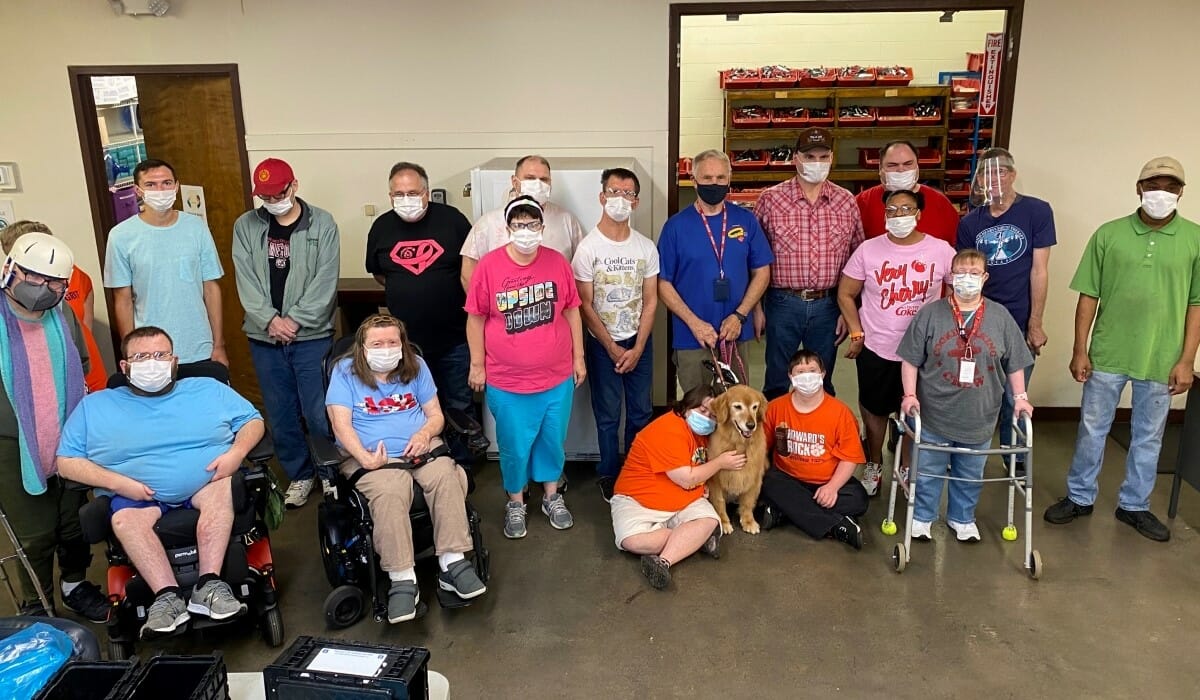 Describe the places that you and Bella visit in your community. 
Every Tuesday, Bella and I visit many elementary schools where kids who are having reading issues come in for an hour and practice their readings with the dogs. Reading to dogs is pretty non-threatening, and the kids are really happy to spend a little time petting Bella. We also get to visit the special education classroom. But every week and month can be different. Normally, Bella and I have about 25 different events scheduled each month that I can choose to participate in and each event will usually have five to six dogs in attendance.  
We regularly go out to senior citizen homes and visit the memory care units and normal apartment units. We also do a lot of things with colleges during their exam week or suicide prevention events. Bella and I are there to also help people register to vote in their communities. We get all kinds of calls for special events, too, like a buddy walk event where people run for special needs children.  
What inspires you to volunteer?
There's a lot of value in interacting with people and helping to make their lives better. I've been lucky to have a great life, but some people haven't. Going and visiting them and letting them pet Bella is rewarding for both them and me. It's just wonderful to be with your dog all of the time as well.  
What have you learned through your experience as a volunteer?
We usually have normal visits where we go in, everyone pets Bella and I talk to them — it's wonderful and everyone loves it. But every once in a while, something really special happens. Last year, there was a sweet young lady who was nonverbal and had trouble moving her arms and legs. We helped move her to where she could touch Bella, and she had the biggest smile you've ever seen in your life. She could hardly move in a wheelchair, but yet she was the happiest person in that moment. So these dogs really are intuitive and know that they're making others happy. These little things are so rewarding and we keep going back because every once in a while, something magical happens.  
Why is it important for others to get involved?
Helping others is really rewarding. You feel good when you're doing something for somebody else and not just yourself. And you've got to have something to do in retirement. The worst thing you can do is just sit around; you sort of lose the joy of life when you don't have something that's getting you up in the morning. Getting involved is so important. This is something that's bigger than just yourself, and it's the little things that make a huge difference. When you come home from volunteering, you feel good and like you've done something worthwhile.  
Are there any partnerships, programs or events that you are excited about?
We have camps coming up, which are a lot of fun. We're also starting to visit a facility for children. Colleges are clamoring for us to come visit as well. Clemson University is so close to us, and they do an athlete recognition every fall and spring that's a lot of fun. Bella and I get to interface with the athletes and they get to play with all of the dogs. During Christmas time, a lot of cities around here have parades and we decorate our dogs!  
Do you want to make a difference in your community like Rocklin? Find local volunteer opportunities. 
Share this post