Volunteer Returns to Roots to Feed Home Community
Meet Daily Point of Light Award honoree Marla P. Halbert-Goodwin. Read her story and nominate an outstanding volunteer or family as a Daily Point of Light. 
Marla P. Halbert-Goodwin grew up about 20 blocks away from the food pantry she opened in 2008, her volunteerism now dedicated to helping the community that raised her. 
Opening Jeremiah's Food Pantry in 2008, Marla says the areas surrounding the food pantry around East St. Louis are "food deserts," the residents lacking any convenient options for affordable and healthy foods. Since then, Marla, a 67-year-old Bellefontaine Neighbors, Missouri resident, has supported many across St. Clair County, Illinois through volunteerism.  
What inspires you to volunteer?
My husband and I have been in the church ministry for almost 50 years now. That gives us a heart for the people. What gets us up in the morning is to help someone and see how we can be of service not just within our home, but within our communities.  
Describe your volunteerism with Jeremiah's Food Pantry. 
There are no major grocery stores in this impoverished area, just little mom and pop shops. It was very, very important and vital that the neighborhood have a closer food resource. As founder and director of the food pantry, I am always looking for a social service that I can offer to my food pantry clients. We've offered our clients free savings accounts, free teeth cleaning, free eyeglasses, SNAP education and we even recently held a finance class. We have a group of about 19 very faithful and dedicated volunteers who support the pantry, which opens to clients once a week. Every month we hold community events including food fairs and free new clothes giveaways. Each year, we apply for grants and also receive support from Ameren Illinois, Walmart in Cahokia, IL and Illinois American Water. We've also given up to $19,000 in educational scholarships to college students and adults going back to college.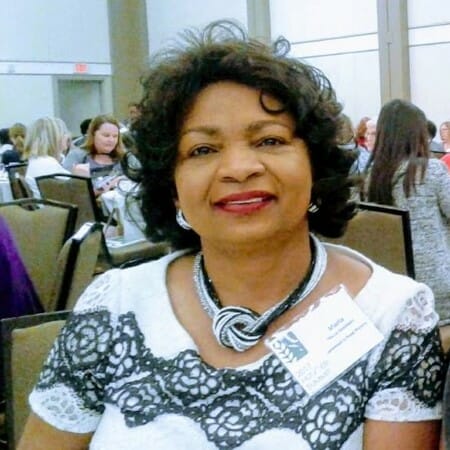 Share one personal story with me from your volunteerism. 
After serving the community for about six years, one client who was standing in line waiting to get some food solicited donations from other people standing in line. With those donations, that person bought a plaque and presented it to us, thanking us for what we are and who we are in the community. When that happened, I thought to myself, okay, now what else can I do for these people?  
Why do you think it's important for others to get involved?
It is so important for other people to get involved, not just giving money but giving of themselves. Volunteering gives you a joy that nothing else can do. It's a joy that's unspeakable, especially when you see the results. Service makes you complete.  
How have you continued to volunteer throughout the COVID-19 pandemic?
When the pandemic hit, some of my volunteers got COVID and we shut down for two months. People were still coming to the food pantry needing food, so we reopened using a no-contact food distribution system. Our clients would stay in their cars and we would put food in their trunks. We've continued the no-contact system but also now give our clients the opportunity to come inside and do their personal shopping like before. Before COVID, we fed over 550 families each month. We are still catching up, and we're currently feeding more than 400 each month. 
What do you want people to learn from your story?
Just one person can make a difference. It doesn't take an army. If you have a vision, seek that vision out and don't stop. Don't let anyone hinder you, make that goal happen.  
In one word, what does volunteering mean to you?
Joy. 
How can readers help?
We rely on monetary donations to support the individuals we serve at the food pantry. Please visit our Facebook page for more information about how you can help.  
Do you want to make a difference in your community like Marla P. Halbert-Goodwin? Find local volunteer opportunities. 
Share this post