Rich Yannaco and Fran DiChiappari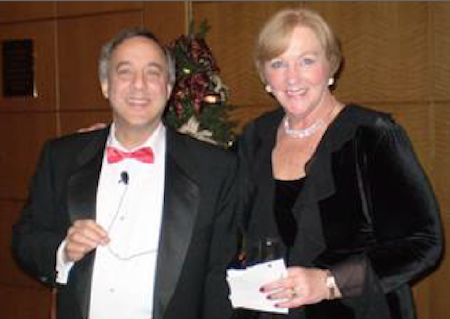 Meet Daily Point of Light Award honorees Rich Yannaco and Fran DiChiappari. Read their story and nominate an outstanding volunteer or organization as a Point of Light.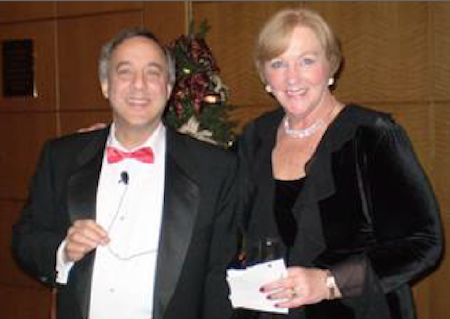 Rich Yannaco and Fran DiChiappari
Each year around this time, Fran DiChiappari starts planning a special year-end tradition at the Boston office of Oliver Wyman. She marshals as many of the management consulting firm's new recruits as she can to help, and together they begin brainstorming ideas on putting together the cocktail party, raffle, silent auction and – best of all – live auction that will precede the office holiday party.
Meanwhile, colleague Rich Yannaco starts practicing his rat-a-tat patter. A voluble sort, that latter duty comes easy.
"I just keep talking," he says of his auctioneering style. "If you make it entertaining, you're ahead of the game. I have a hat that lights up, all kinds of noisemakers and props."
For more than two decades, Yannaco, chief admin officer, and DiChiappari, director of office administration, have been the dynamic duo behind the annual Oliver Wyman Charity Auction. Most donated items come from within the firm and range from business-class air tickets to hand-knit caps, from dinners with executives to babysitting services.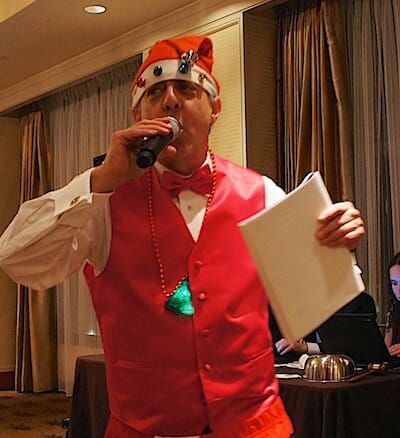 Rich Yannaco plays auctioneer at the annual Oliver Wyman Charity Auction.
The first time Yannaco and DiChiappari spearheaded this holiday effort, in 1994, they staged an impromptu happy hour and raised $21,000.
Last year, nearly everyone at the 250-person office participated, helping raise $112,000 that was distributed to local charities such as Boston Cares (part of Points of Light's HandsOn Network), which connects volunteers to area nonprofits; Children's Literacy Foundation, which donates books and offers literacy programs across New England; and One Acre Fund, which helps farmers in Rwanda maximize their arable land.
All three of those nonprofits were founded by former consultants at Oliver Wyman.
"We work with bright people, we're well-compensated, we're lucky," Yannaco says. "I look at it as part of my job to show the staff how easy it is to contribute no matter if they're baking a dozen chocolate chip cookies or paying $25 for them. They're having fun, while making a real difference with their contributions."
Share this post