San Juan Teen Supports His Neighbors Through Good Times and Bad
Meet Daily Point of Light Award honoree Omar Rosario-Lebrón. Read his story, and nominate an outstanding volunteer or family as a Daily Point of Light. 
As one of nine siblings, 15-year-old Omar Rosario-Lebrón has always been part of a big team or, in this case, family unit. His love of soccer and volleyball led him to join multiple sports teams. Regardless of who is by his side, Omar works with the people around him to reach a common goal whether it's convincing his parents of something or winning a game. As a resident of the Luis Llorens Torres Residential, a government-supported housing complex in San Juan,  Puerto Rico, his other team includes his friends and neighbors in the building. Omar made looking out for their needs official when he joined the Children and Youth Advisory Council of their Youth Center just five years ago and has been supporting the educational, cultural, recreational and material needs of his community ever since, spending over 732 hours of his time. 
He helped the committee in handing out non-perishable food, hygiene products and other basic necessities during the 2019 earthquakes and throughout the COVID-19 pandemic. Elderly, mobility-impaired and single mothers were especially grateful for the support, and Omar continues to deliver hot food to residents who need help, as well as snacks and school supplies to kids. He acts as a spokesperson for the needs and concerns of his young neighbors and pitches in on office work, activity planning and workshop organization. In his spare time, Omar has also gone through training for drug and alcohol abuse prevention, suicide prevention and disaster preparedness.  
Amidst keeping up with school work, acting as president of his student council and placing third at a recent science competition, he makes caring a priority. Omar's strong dedication to helping others and preparation for potential challenges make him a valued member of his community. He even has his sights set on becoming the future Governor of Puerto Rico.
What inspires you to volunteer?
I have a deep love for the community and the residents, especially the elderly, children and youth. I'm very passionate about the work I have done at Residencial Luis Llorens Torres. My family and teachers have taught me to help people since I was a child. I have also learned to help people through the Luis Llorens Torres Residents Council.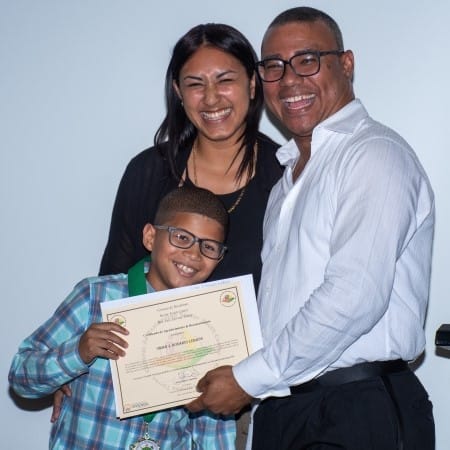 Tell us about your volunteer role with
the Consejo de Residentes Res. Luis Llorens Torres Sector Youth Center
.
I have represented children between the ages of 6 and 12 years since 2018. I propose educational and recreational activities, cultural, sports and fine arts for the benefit of children and young people. When I turned 13, I became a representative of young people between the ages of 13 and 17 doing the same work in addition to helping the Council as a volunteer in all the activities and workshops that were planned by the Council, the Department of Housing, the Public Housing Administration and the Managing Agent. Knowing the tastes, needs and problems of children and young people gives me the opportunity not only to suggest activities but also to be able to provide resources to face their daily challenges. 
What inspired you to get started with this initiative? 
What inspired me to volunteer was the direct voluntary work they do for the community and the residents. They are spokespersons for the needs of the residents and channel aid through government agencies and nonprofit organizations. 
What are your long-term plans or goals for the organization?
The Youth Center will continue its programs, projects and services to benefit the community. By the time I am 18 years old, the minimum age requirement, I want to be part of the board. Personally, my plans are to complete my high school studies and continue with university studies to be able to get a job. Another of my goals is to play in the National Senior Volleyball Team and be the Governor of Puerto Rico.  
What's been the most rewarding part of your work?
I have been recognized for my work for the welfare of my community. In addition, I have had the opportunity to develop skills and abilities that I've been able to put into practice in my personal and educational life. 
What have you learned through your experiences as a volunteer?
I've learned how to relate to the community; how to identify the problems, situations and needs of the residents and how we can find solutions to them. 
Why is it important for others to get involved with causes they care about?
It's important for people to get involved, because they can learn skills and abilities that can serve them in their personal, professional and educational lives. It will also help them relate to others, contribute to the improvement of society with the purpose of being better people and improve the quality of life of others, especially those with the most urgent needs. 
Any advice for people who want to start volunteering?
Contact a nonprofit or community-based organization to give a little of your time. No matter the number of hours or days that you can offer, that time contributes to the improvement of society and the quality of life of the people who are impacted. It can also help you learn and develop skills. 
What do you want people to learn from your story?
I've overcome many obstacles as a young person and community leader. The only impediment to achieving our goals is our own mind, the limits we can put on ourselves. We must look beyond ourselves and overcome them. We must be persistent with our goals if we want to achieve them. 
Do you want to make a difference in your community like Omar? Find local volunteer opportunities. 
Share this post