Young Woman Leads Myriad Initiatives in Community Close to Her Heart
Meet Daily Point of Light Award honoree Emelie Nguyen. Read her story, and nominate an outstanding volunteer or family as a Daily Point of Light. 
Emelie Nguyen has been dedicated to helping support and uplift the predominantly Chinese immigrant community of Flushing, New York, through her volunteer work with the Flushing Central Leo Club. After volunteering as a member for three years, she eventually became the chapter president, a role she's filled for two years. 
Emelie has successfully planned and executed a variety of outdoor service projects, including walkathons, beach cleanups and flower planting, as well as many other types of volunteer projects specific to the Flushing community's needs. Emelie also shows clear commitment to equitable healthcare access for this predominantly immigrant Chinese community, evident in her collaboration with EmblemHealth, where she organized free cancer screening centers with translation services. 
Emelie is now a freshman at Brown University. She has her eyes set on expanding her volunteerism to establish a local Leo Club chapter in her Rhode Island community. Read on to find out more about Emelie's passion for civic engagement and community service, and how this passion drives her to keep volunteering. 
What inspires you to volunteer?
It's the innate human satisfaction you get from helping another person. I come from Long Island, New York, and both my parents are immigrants and worked very hard to get me the education I have now. I come from a place of privilege. Having this privilege of not having to worry about paying for schooling or having something to eat, I have the ability and the leisure to do things I want. And since I have the time to not worry about those things, I have time to help others who do have to worry about those things.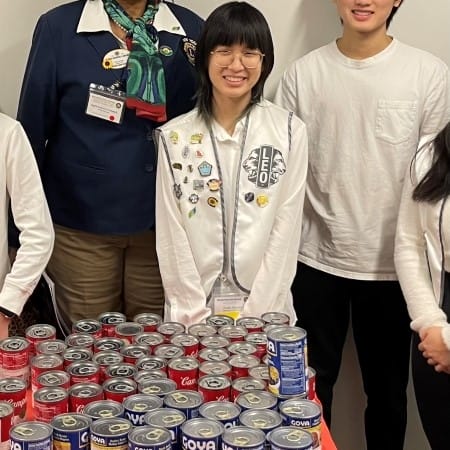 Most of our volunteering in the Leo Club is centered around the Asian American community in Flushing, who are also predominantly immigrant, like my parents. So, it's a cycle, in a way. My parents are both Asian American immigrants. They helped me get here. I'm trying to pay it back, in a way, by supporting and uplifting the Flushing community that they work in and that supported our family to get to where we are today. 
How did you get started with The Leo Club?
I had joined the Leo Club in 8th grade – in 2019. This is a youth organization of Lions Club International, the largest volunteer organization in the world at 1.5 million members. They have tons of different regional clubs around the world, from the United States to Europe and Asia. The club that I joined was the Flushing Central Leo Club in Flushing, New York – the biggest Chinatown in the United States.  
My parents both work in Flushing, and so every weekend, we would go there to get a haircut or go to the grocery store. Both of my parents were part of the Flushing Central Lions Club – the adult organization for the Leo Club. Through word of mouth, my mother heard about the Leo Club, and to give my sister and I something to do on the weekends, she put us into the club. From there, I've been participating in it for five years. I've learned a lot about what community service is. I came into it knowing nothing about community service – I was just some kid who was on my iPad all day. But after going to the community every weekend for five years, I've learned so much about volunteerism, service and community. 
Describe your volunteer role.
When I first joined in 8th grade, I was a member for three years before I became president for two years. We do a huge range of different humanitarian service work, but all of it centers around the region of Flushing. We do all types of service work that ranges from anything to walkathons to beach clean ups to park clean ups and bulb planting, volunteering in soup kitchens. The way we run projects, and this is something I really like about the Leo Club, is that it's not dedicated to one issue in particular. It's dedicated to a wide array of community needs in a specific region. It's a very community-based organization. Any issue that we personally see in the community, we vote on an initiative to tackle it that week or month.  
I'm a healthcare-oriented student, so I'm the only one interested in health. But I have other friends interested in finance and other things. So, we do all different types of projects. One of my favorite projects was a community health screening, and we even offered translation services. But for my friends interested in finance, the project where we offered free labor to businesses in the community was most interesting and allowed them to make connections with businesses in the community. It's a very multidisciplinary club. Everyone has their interests satisfied. 
What's been the most rewarding part of your volunteer work?
The most rewarding part of volunteering for the last five years is all the different types of people I've met. Every person knows something you don't. Everyone has something to offer you that you don't already know. That's especially been exemplified by all the different stories of immigrants I've heard from.  
It makes me reflect on myself and the world around me. I think we tend to get caught up in our own lives and issues. Hearing the stories of other people helps you realize you're not the only person in the world.  
Why is it important for people to get involved with the causes they care about?
I heard this quote the other day: "If you don't do it, who will?" It's simple but powerful. It speaks for itself. If you're not going to do something, if all you do is think about the issue, who's going to take action on it? 
Tell us about future partnerships, programs or events that you are excited about.
Since I'm now based in Rhode Island, I'm trying to start a Leo Club here, through the local Lions Club. There's a significant Hispanic immigrant population here, and I was thinking of shifting our focus to supporting the Hispanic immigrant population locally, instead of the predominantly Chinese immigrant population in Flushing.  
I want to carry that same mission that I did in Flushing. I speak decent Spanish and want to do be able to do some of the same things here that we did there, including health screenings, beautifying the community and more. 
Any advice for people who want to start volunteering?
I was pretty lucky in that my family heard about the Leo Club and then we were able to have the resources of the Lions Club chapter behind us so we could pursue our projects. I'd say always be on the lookout for opportunities around you. And if you truly think there are no opportunities to get involved with your community, make your own opportunities. Especially with technology, you can learn to do anything. There are infinite resources out there to help you get involved in a variety of ways, depending on your interests. 
Do you want to make a difference in your community like Emelie? Find local volunteer opportunities. 
Share this post