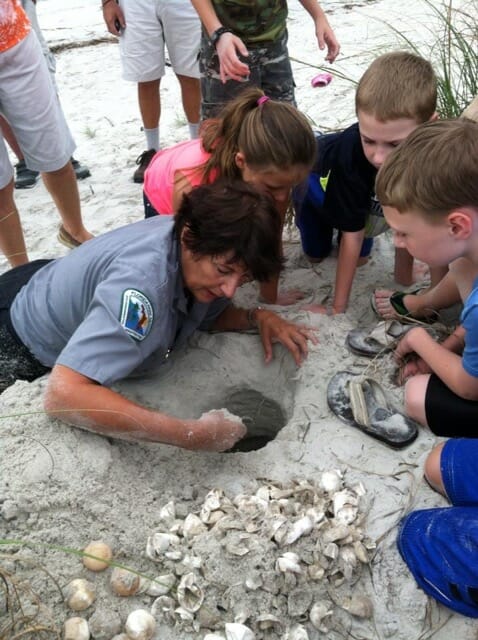 As an artist struggling to make ends meet, Sandra Baker-Hinton isn't in a position to retire. But the 72-year-old resident of Amelia Island, Florida's northernmost barrier island, still makes time to volunteer. "Honestly l can't afford the time I spend on turtle duty," she says "But I can't afford spiritually and emotionally not to do it. I've learned that you just have to make time for what you love."
A self-described "mountain girl from northeast Tennessee," Baker-Hinton has spent a lifetime vacationing at the beach, and finally moved to Florida with her husband in 2002. She'd always been service oriented, but in the past volunteering had revolved around her kids and church activities. "I knew I wanted to make a difference in our new home, but I wasn't sure what I wanted to do," she recalls.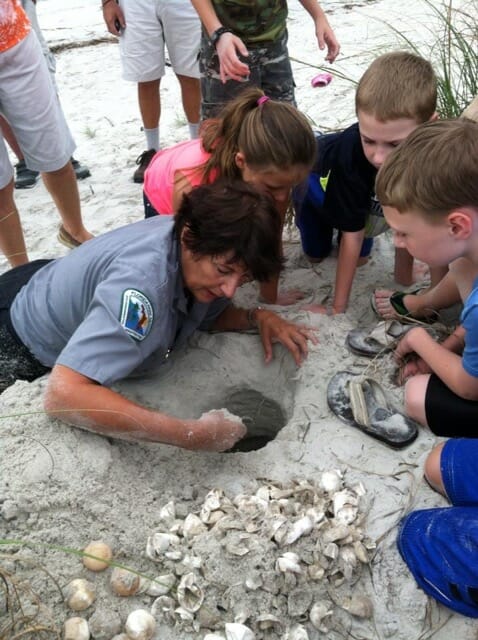 Volunteers watch and learn as Baker-Hinton excavates a nest.
Already familiar with the pristine beauty of nearby Cumberland Island, Baker-Hinton remembered seeing one of the park rangers going on "turtle patrol" – the systematic beachfront data collecting that helps keep endangered sea turtles safe and monitored during the nesting season. "I knew that's what I wanted to do," she says. Through an online volunteer clearing site, she was directed to Fort Clinch State Park on Amelia Island.
"I called up and said I want to help with the sea turtle program," she explains. "The girl really didn't know what to say – they'd never had a volunteer before," she recalls. "I kept calling – really nagged her until she told me to show up for training on such and such a day, so I did."
Baker-Hinton expected to find a group of volunteers that day, but she was the only one besides the rangers. After the day of training, a ranger rode along with her once and then she was on her own.
Ever since, the beginning of turtle season in the spring of 2002, Baker-Hinton has spent an average of three mornings a week May 1 to October 31 making an eight-mile round trip by beach buggy, combing the sand at dawn for signs of turtles, hatched eggs and nests.
Using social media, and a blog she calls Diary of a Mad Beach Woman, Baker-Hinton has raised awareness about the protected loggerhead, green and leatherback turtles and their environment. She is still the only regular volunteer at Fort Clinch and now trains the Park Rangers on how to do turtle patrol – earning her the nickname "the Turtle Lady."
"I'm happy because there are so many more turtles than there used to be," she says. "They're a beautiful part of the world and they deserve to be protected."
Share this post