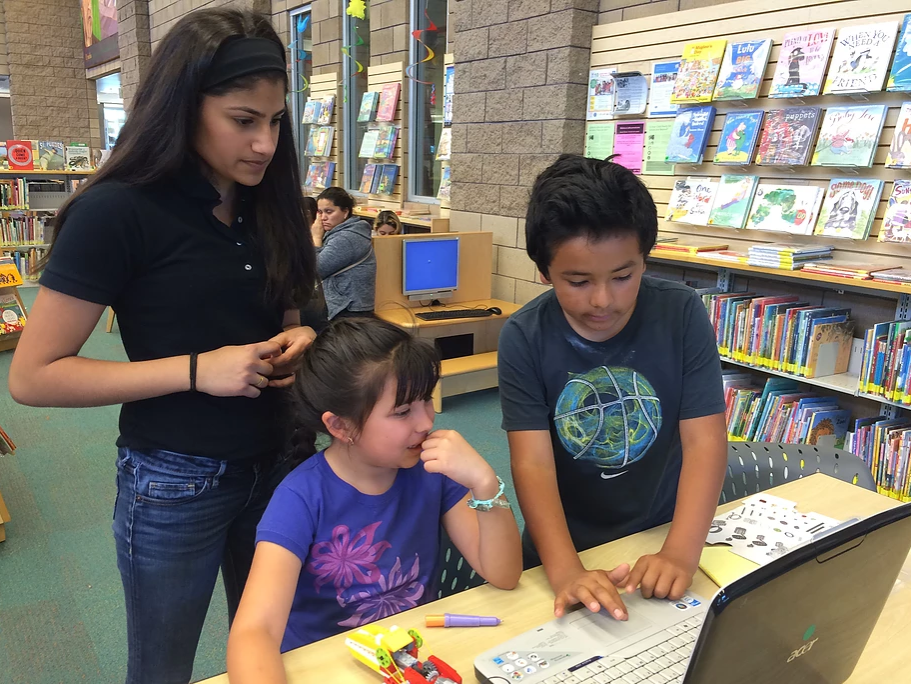 Three years ago, high school student Sapna Desai cofounded Silicon Valley Kids, a nonprofit dedicated to teaching kids about STEM-related topics, with her younger brother Avi. On weekends, the organization offers free workshops at libraries in underserved communities in the Northern California area. Sapna is today's Daily Point of Light honoree, and she talked with Points of Light about why she is committed to making learning fun and accessible for kids in need.
Describe your volunteer role.
I coordinate the [workshop] events with librarians, manage the registration process, and prepare all the necessary materials. When kids arrive for the workshop, I explain the lesson plan for the day and teach them how to build and program a robot. As Silicon Valley Kids started expanding, I reached out to other high school volunteers and trained them to also teach classes.
What inspired you to give back?
Growing up in Silicon Valley, I was always around math, science, and technology. After volunteering at my local library and with other organizations, I realized that there are many kids in my neighborhood who do not have the same access to resources or the opportunities to pursue STEM topics.
I had the idea to start a class of my own, that would teach science and technology in a fun way. My younger brother and I gathered donations of laptops and robot building kits, and started holding classes for children at libraries around the San Francisco Bay Area. The enthusiastic response from the community to our first few workshops inspired me to continue teaching and giving back.
What is the most important lesson you've learned through your experience as a volunteer?
Every weekend I talk to kids and parents of diverse backgrounds. The kids go to different schools, speak different languages, and face different struggles at home. But for those two hours that they are in my class, they all share the same goal: to build a really cool robot.
The most important lesson I've learned through my volunteer experience is that the smallest things can make a big difference in someone else's life. Week after week, I see kids excitedly return to class to learn something new. They tell me about a program they designed at school, or a pretend spaceship they built at home. It's incredible how a simple robot made of Lego pieces and wires can inspire a ten-year-old to join the robotics club at school, take more challenging classes, and someday even become a scientist or an engineer.
Why do you think it's important for other people to volunteer?
I think that it is important because it opens you up to new ways of thinking, and sparks a greater understanding of other people. It brings you face to face with the issues that there are in the community and what can be done to help. Volunteering is a way to be an active participant in the world around you. Everyone has their own unique skills and passions, and there is no better way to use them than to make a positive difference.
Do you want to make a difference in your community like Sapna? Visit All For Good to learn more about local volunteer opportunites.
Share this post